This is part one in a six-part series covering 3D printing developments in Taiwan. For the other parts in the series, find  parts two, three, four, five, and six here.

I'd never been to Taiwan, but my mother lived here for one year exactly 50 years ago. There, she would teach English at a business school in Taichung and meet her first husband, a man I've never met and have no biological connection to, but who is responsible for the Chinese portion of my last name. So, when I was invited by Prof. Jeng at National Taiwan University of Science and Technology (Taiwan Tech) to speak at the annual meeting of the Additive Manufacturing Association of Taiwan (AMAT), I had to say yes and take my wife, Danielle, along with me. And, while we had an opportunity to experience first-hand the country my mom fell in love with back in 1965, we also had the chance to see first-hand the cutting edge 3D printing technology that the country has to offer.
After the Communist revolution in China, the nationalist government fled to the island of Taiwan, where, throughout the latter half of the 20th century, the nation (though not yet officially recognized as such) adopted economic practices that would see Taiwanese industry develop rapidly and exports from the country grow dramatically. Today, the country maintains one of the strongest semiconductor industries in the world. Researchers in Taiwan have been exploring 3D printing technologies since their inception, but government funding for the tech began about three years ago, just as countries around the world started doing the same. In turn, this research received a much-needed boost, enabling some truly impressive 3D printing processes, materials, and businesses.
I met with Prof. Jeng Ywam-Jeng and a number of his research assistants at Taiwan Tech, where they showed me the groundbreaking work they're conducting, involving everything from polymers to metals and FDM to photopolymerization. Prof. Jeng is not only a Professor of Mechanical Engineering at Taiwan Tech, but he is also the Dean of the College of Engineering, President of the 3D Printing Association Taiwan, and a consultant for New Kinpo Group Taiwan and XYZprinting. When I caught him at Japanese fast food chain MOS Burger, he'd just come from Inside 3D Printing Shanghai, where he'd shown off his latest technology, something so impressive it had Terry Wohlers snapping photos: a smartphone-based 3D printer.
Albeit, a company called Solido3D had promised the world the OLO smartphone 3D printer, but we're still awaiting more information regarding the ~$99 device, and Lumi Industries announced last week that it would begin exploring similar technology.  Prof. Jeng's smartphone printer, however, is already quite far along and, once it goes into production, could change the world of 3D printing as we know it. Built with the students in his lab, such as research assistant Hanhsuan Lee and sophomore graduate student Xu Junhao, the Taiwan Tech phone printer is capable of using the light from the screen of any smartphone or tablet to cure resin layer by layer.
The phone printer works by placing a coated vat of specialty resin on top of a smartphone, or similar device. While the light from the phone cures the resin onto a metal printbed, held above the vat. With each layer cured, this z-axis platform lifts up until the print is complete. One key to this technology is the resin, also developed by the Taiwan Tech team, which can be hardened by visible light. Rather than use UV rays or a laser, the photopolymer from NTUST is cured by the dim light of a smartphone. So, all that is necessary to create a 3D print is a mechanism for raising the printing vat, layer by layer. "We've tried to 3D print a hollow ball and achieved layer thicknesses of about 100 microns. And there's no need to enclose the printer in a dark box. Just to shut the lights off in part of a room. As you know, the power of light on a smartphone is very low, so our print speed is still relatively slower than other vat polymerization machines now, but we are working hard to solve this problem and seem to getting promising results recently." Hanhsuan Lee explains. "However, there is a professor at Taiwan Tech, that has developed a DLP printer that can print a layer every two seconds. And we are working on a process for making the smartphone light more powerful."
The research group is in the process of tackling problems related to prints adhering to the print vat, which they envision being a disposable component, but they've worked up an ingenious app for print management. "Our first prototype was created about one year ago," says Hanhsuan. "At that time, we were using a computer to control the motor, but now we use just one app to synchronize the screen with the motor."
Because the printer and print management tool are one in the same, 3D models selected from an associated model library are instantly incorporated into the printing software, which slices the file to project a dynamic mask into the accompanying vat of resin, curing each slice and building up the complete 3D object. "We're already working with the school's IT department to create a cloud-based slicing software and model library," Hanhsuan tells me. This is the closest to one-click printing you can imagine. As a Bluetooth device, the printer is its print management software. Simply select a file, place the phone into the printer, and it takes care of the rest.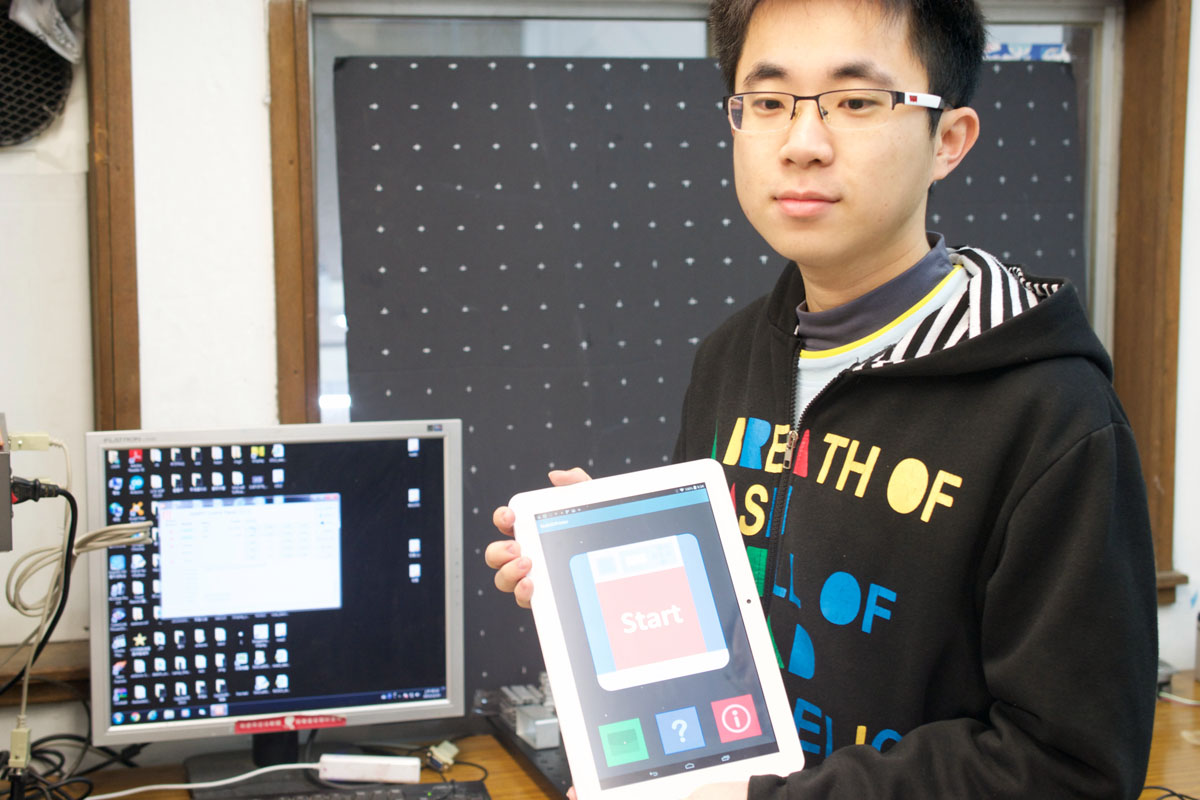 And, due to the visible light curing resin involved, the technology can be used in even larger displays, such as an iPad or even LCD TV. At the moment, the team is current extrapolating this process to tablet devices, but TVs may not be far off. Prof. Jeng is also developing 3D scanning software for the smartphone, which works by taking a photograph and using it as a texture map to wrap around a generic 3D model. Such an app could, in turn, lay the foundation for a complete scan to print platform.
Having won the Gold Award in Taiwan's "2015 3D Printing Innovation Application Contest", Prof. Jeng and his team have already applied for several patents at home and in the US.  The future for the school's phone printing technology is not set in stone, but options include: exploring potential business partnerships to license a consumer 3D printer and launching a Kickstarter for commercial production. "Right now, we're working on a commercial product," Hanhsuan continues. "This may not look perfect right now, but it definitely works."
Regardless of the route to commercialization, the technology will be extremely affordable, with a price point of around $100+, plus the cost of a smartphone. The same way that Google brought low-cost VR to the world with Cardboard and Occipital brought accessible 3D scanning to consumers with the Structure Sensor, Taiwan Tech is introducing a whole new form of low-cost 3D printing. This means that, while there are those arguing that we will never see a day in which everyone has a 3D printer in their home, Prof. Jeng and his team at Taiwan Tech are proving that there may even been a day in which everyone could have a 3D printer in their pocket. Paired with 3D scanning and VR, such a device would almost be an all-in-one mixed reality system for transferring physical objects to and from the digital world.  More immediately, with just about any consumer having access to a 3D printer at such a low price, the third industrial revolution could receive an even greater boost with the 2 billion people on the planet currently carrying smartphones demanding the most out of 3D printing technology.  In other words, Prof. Jeng and Taiwan Tech's technology could change everything.
Much of the other work being performed in the school's engineering department was off the record, but what I can say was that it was equally amazing and that the people behind it were some of the nicest and smartest folks I've met. In addition to taking me around their labs to see their work, they also took me around Taiwan, treating me with hospitality like I'd never experienced (not even in Chattanooga).
For instance, Prof. Jeng and his students took Danielle and I to what may be the most famous dim sum restaurant in the world, Din Tai Fung, where we tasted some of the most delicious food on the island.  A Michelin-star restaurant, Din Tai Fung doesn't just create perfect food, cooked almost the same way every time, but a perfect atmosphere.  The chain's founder, Mr. Yang Bingy, says he doesn't want to expand too much more because, as it stands with their eleven or so branches, Mr. Yang doesn't want to lose control over the cooking quality.  He also treats his employees with the philosophy that being good to them will translate into the food and over to the customer.
We've just gotten back to mainland USA and talk of xiaolongbao is making me hungry.  Hopefully this post has made you hungry, too, for the other exciting 3D printing developments taking place on this small island nation.  Because, in the next part of this series, you'll find out how full color 3D printing may soon be coming to an FDM 3D printer near you.