This is part two in a six-part series covering 3D printing developments in Taiwan. For the other parts in the series, find  parts one, three, four, five, and six here.

We still hadn't made it to Taichung, where my mom ended up teaching English to Taiwanese business students, but we'd already gotten a glimpse of the color that Taiwan had to offer in the North. The rainy days associated with Taipei's winter, cast the city in a fog not unlike the scenes in Blade Runner.  But, unlike Ridley Scott's adaptation of PKD's Do Androids Dream of Electric Sheep?, the city was quite human.
The main streets were filled with mopeds, one of the most common forms of personal transportation in the country, and the side streets of the night markets were filled with people on foot, shopping and eating from street vendors – the smell of stinky tofu filling the air.  And, bustling beneath the streets were places like Taipei Metro Mall, where high-end fashion reflects the subdued New York style of the well-dressed young people in the country.  Of course, there were also the people we met and got to know, while in Taipei, like Freeman Chen.  In addition to playing video games and doing karaoke with his girlfriend, Freeman is a PhD student of Taiwan Tech's Prof. Yih-Lin Cheng, under whom he is exploring full-color FDM 3D printing.
When you think about it, full color 3D printing does not serve much of a functional purpose. Unless you consider reflecting the vibrancy of human vision a purpose. But, despite color printing's inherent lack of critical function, bringing the complete color spectrum to the existing multitude of 3D printing processes is highly pursued, perhaps for the consumer appeal of full color prints or because it will be essential for 3D printing end products with the same visual qualities as mass manufactured equivalents. And, due to the high strength and low cost of FDM prints, numerous projects have been launched to bring the rainbow to FDM 3D printing.
For a brief rundown: Spectrom has developed an accessory for dying transparent filament before passing through an extruder; botObjects (acquired by 3D Systems) melts different colored filaments together before the material is deposited, as does the Diamond Hot End; and the Palette was a wild success on Kickstarter, suggesting the ability to automatically slice and combine different filaments through a desktop apparatus, as they head to the printhead. And, most recently, a-z-ia.net Ltd. announced the release of their the Lunavast CrafteHbot 3D printer, which is capable of dying prints, after they've been printed.
But, from what I've seen of full-color FDM, Taiwan Tech's research is actually among the farthest along. The prototype is still in its elementary stages, but it is definitely a successful proof of concept. And, in about 3-4 months, Freeman believes that a market-ready product will be completed. Some of the details of Freeman's work, including the exact materials and mechanics of the technology, is still under wraps, but what I can say publicly is that he has built a mechanism for spot dying printed objects as each layer of transparent filament is laid down, gradually building up to a complete, full-color print.  Exhibit A:
As graduate students, the goal was to demonstrate a proof of concept and not to create the most perfect prints, but they do have a proof of concept.  With this print, for instance, there is significant warping and the surface finish is quite rough.  This second quality is due to the humidity of the climate, which gradually caused the material to fizz like curly hair on a summer's day.  The weather also caused the transparent filament to take on a whiter color.
As with many 3D printing research projects, this one began with a RepRap, specifically a Prusa i3, which Freeman and his team outfitted with the coloring device.  This prototype was the first stage of the project, which is now being upgraded to a much larger and more professional machine that, rather than use syringes as seen in the above picture, will use an industrial-quality system, as glimpsed in the photo below.
To bring this project to the masses, Prof. Cheng's lab is working closely with a Taipei company called MicroJet. If you follow color printing closely, you might recognize this firm as one of the only other manufacturers of full-color binder jet 3D printers on the market, outside of 3D Systems. Though their ComeTrueⓇ printer is new, MicroJet has been producing thermal inkjet technology since 1996. In fact, the company's Product Manager, Rocky Cheng, tells me that MicroJet is one of very few companies in the world that still manufactures thermal inkjet heads, and that MicroJet is seeking to partner and supply their inkjet heads to the 3D printing industry.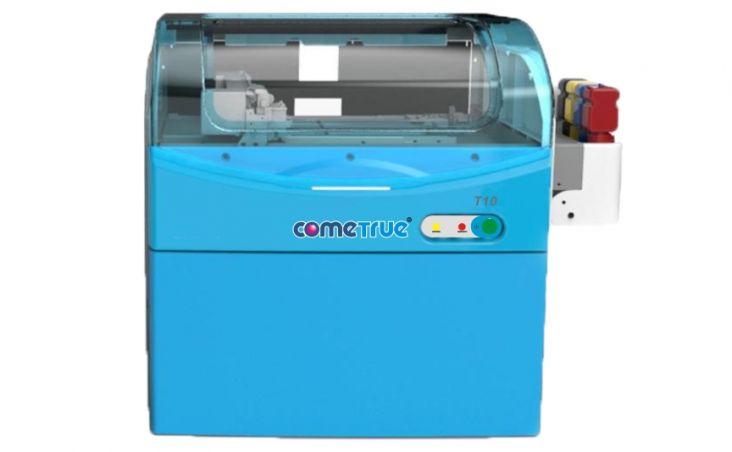 Rocky says that the company had the desire to branch out from their 2D printer business and, when they discovered inkjet heads being used for 3D printing applications, they decided they had found their next technology line. "In the past, the application of thermal inkjet heads has mostly been for office printers. We can compete with big OEMs technology-wise, but not in terms of financing. So, in recent years, we started searching for a new application. And, finally, we found 3D printing." Licensing technology from Tainan City's National Cheng Kung University, MicroJet began working on their own version of binder jetting about seven years or so. He adds, "It was perfect for our inkjet heads because it can be used with just a water-based binder."
Now, their ComeTrueⓇ 3D printer has been on the Taiwanese market for the past six months, as MicroJet tests the demand for their consumer binder jetting 3D printer. Those that may not need the frills of more advanced color printing can have the technology at a lower price.  The price, he hopes, will ultimately be less than $20,000, depending on the needs of the vendor.
MicroJet will be slowly releasing this product to the world in small steps to ensure that the company has the capacity to offer the necessary support. "Customer support is the most important part of this business," Rocky says. "To release the printer worldwide, the technical support system has to be built. And that takes time, so we're focusing entirely on desktop machines."
Like many of the developments I saw in Taiwan, MicroJet is working on some things for the future that I cannot discuss. What I can say is that they could impact color 3D printing in the future in important ways. I can also say that these developments reflect the vibrant color of the country itself.
Will these color 3D printing technologies ever be powerful enough to capture the details of Linjiang Night Market and the shops that line the alleyway selling fried squid and pork buns? Or the Taipei Metro Mall, filled with designer brands from all of the world? Even if they could, there's no way that they would be able to capture the feeling of actually being there.  And neither can my words here. Perhaps my next installment, regarding medical 3D printing in Taiwan, will fill in the details a little bit more. But it will never quite be enough, I'm sure.