With the RAPID+TCT 3D printing conference and trade show taking place next week, we take a look back at some of the recent history of what is one of the world's leading additive manufacturing events.
RAPID 2012
When 3D Printing Industry was launched in 2012, Objet, Mcor, envisionTEC and 3D Systems also all launched 3D printers at RAPID 2012. In the same year, GE Aviation acquired Morris Technologies and Rapid Quality Manufacturing. At the recent Materialise World Summit, Greg Morris enjoyed a hearty round of applause led by GE Additive Vice President, Additive Integration Mohammad Ehteshami.
In the five years that have passed, GE has added expertise and engineering from several other companies. At RAPID+TCT 2017, GE will be presenting their vision for the Brilliant Factories that will 3D print the 100,000 Additive parts to be manufactured at GE Aviation by 2020.
RAPID 2013
Materialise hosted the RAPID 2013 opening event at the Andy Warhol Museum in Pittsburgh. For RAPID 2017, the opening event takes place at the home of the Pittsburgh Steelers – Heinz Field.
Brett Lambert, Department of Defense Deputy-Assistant Secretary gave a keynote speech on the first day of the 2013 event, with leading additive manufacturing analyst Terry Wohlers speaking on day two. This year Wohlers will speak about The Future of Additive Manufacturing and 3D Printing on Thursday.
Thursday at RAPID+TCT also features a panel to discuss the global impact of announcements, product launches and technology advancements made during the show. Moderated by TCT's Jim Woodcock the panel includes Mark Cotteleer, Managing Director, Deloitte, Todd Grimm, President, T. A. Grimm & Associates, Inc, Graham Tromans, Owner and Principal Industry Consultant, GP Tromans Associates and Robin Wilson, Head of Manufacturing, Innovate UK.
You can read the 3D Printing Industry interview with Innovate UK's Robin Wilson here.
RAPID 2014
In 2014, RAPID took place in Detroit. EOS launched their M 290 Direct Metal Laser Sintering (DMLS) 3D printer, Optomec 3D printed functional electronics on an egg and Materialise sponsored a 3D Printed Slot Car Championship.
Ramille Shah, Northwestern University, gave a presentation on hyperealastic osteogenic bone substitute scaffolds. Jason Lopes, Legacy Effects Lead Systems Engineer, spoke about how Hollywood are using 3D scanning and 3D printing for blockbuster movies. With the 2014 3D printing conference taking place in Detroit, of course the city's most famous fictional son, as made by Legacy Effects, was represented.
RAPID 2015
SME's RAPID celebrated 25 years in 2015, and the conference achieved record attendance numbers. The additive manufacturing conference and exhibition took place in Long Beach, California, at the Long Beach Convention Center.
Made in Space's CEO Aaron Kemmer gave a keynote speech at RAPID 2015 and 3D bioprinting was the topic of choice for William Warren, PhD. Warren is the scientist who helped initiate the field of bioprinting as a program manager at DARPA (Defense Advanced Research Projects Agency).
Also, further details of Voxel 8, the 3D printing electronics company started by Professor Jennifer Lewis were given at RAPID 2015.
RAPID 2016
At RAPID 2016, EnvisionTEC introduced their Selective Lamination of Composite Object Manufacturing SLCOM1 3D printer with CEO Al Siblani setting out intentions to secure some of the Aerospace composite market for his company.
EOS founder and CEO Hans Langer was awarded the SME Additive Manufacturing Industry Achievement Award. While HP received the RAPID people's choice award for best display or booth at the show.
Last year was of course the year HP unveiled their long awaited Multi Jet Fusion 3D printing system. We understand that "silicon valley's original start-up" has more than a little bit of news for this years event and 3D Printing Industry will bring you the full details soon.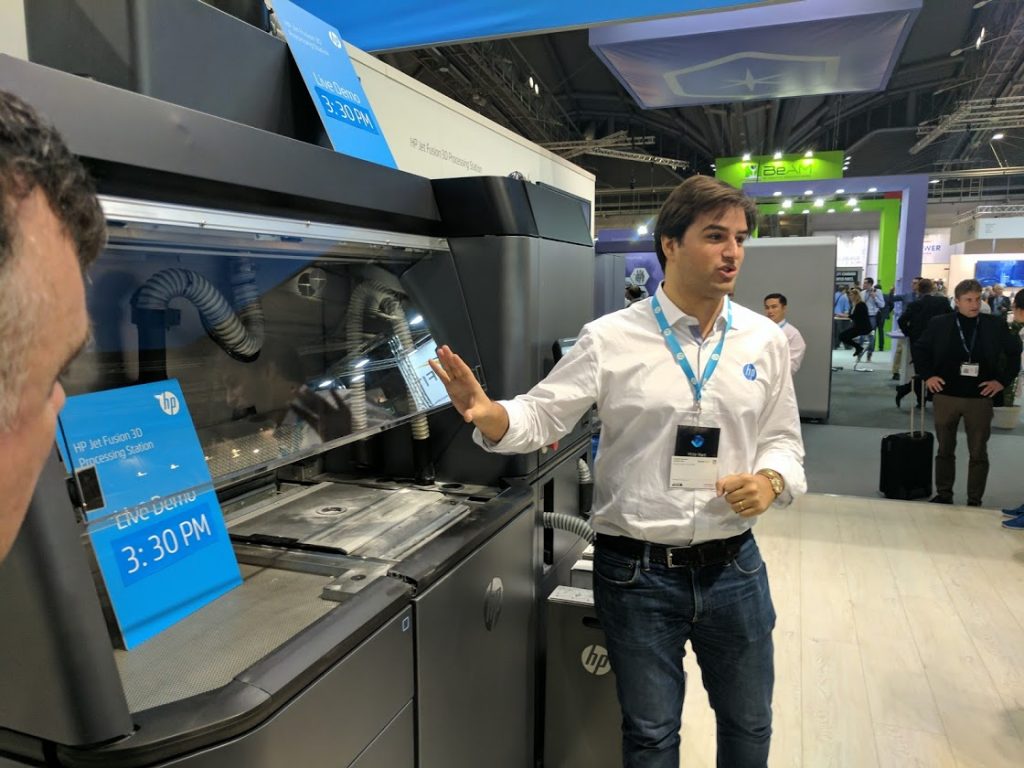 You can read the 3D Printing Industry report from inside HP's 3D R&D lab here.
RAPID+TCT 2017
To gain insight into what to expect for RAPID+TCT 2017, 3D Printing Industry spoke to the organizers of the RAPID+TCT 2017 event. Jim Woodcock, Head of Content at TCT told us that for 2017, "some trends are becoming immediately apparent — the most obvious of which is metals, metals, metals."
3D Printing Industry also took a look at some of the upcoming announcements for RAPID 2017, our preview of RAPID+TCT 2017 including BeAM Machines, MachineWorks, Aleph Objects, Laboratory Testing Inc, 3DPlatform, Materialise and more is here.
We have a whole lot more news about this year's event, but unfortunately we're not allowed to tell you yet. Make sure you subscribe to our newsletter and follow our active social media accounts if you want to be the first with all the latest 3D printing news.
3D Printing Industry will be in Pittsburgh for RAPID+TCT 2017. Say hello if you want to talk about 3D printing!
Also, the 3D Printing Industry Awards will take place on 20th May. Voting closes soon, so vote now.
Let us know your RAPID highlights in the comments below.
Feature image shows The FARO 3D Scanner capturing the Roberto Clemente Bridge. The scan will be used to create 3D printed replicas for the annual RAPID + TCT Puzzle Challenge. Photo via SME.