HP has officially announced the Material Development Kit (MDK) for their Multi Jet Fusion 3D printers.
I visited HP's Corvallis site in Oregon last week to learn first hand how the company, founded at what is considered the "Birthplace of Silicon Valley", plans to use the MDK to accelerate the next industrial revolution.
Accelerating the next industrial revolution
As the "original Silicon Valley start-up," HP has a longer time frame for advancing innovation than most companies. When I spoke with Shane Wall, Chief Technology Officer for HP and the Director of HP Labs, at the Gigaom Change conference in Austin, he told me, "when we entered this market we wanted to do something that was absolutely disruptive."
Speaking during the inaugural Voxel Vision press/analyst immersive event in Corvallis last week Tim Weber, Global Head of 3D Materials and Advanced Applications and General Manager,  said, "3D printing is a major portion of accelerating the next industrial revolution." The global manufacturing sector is valued at $12 trillion, and HP plan to disrupt this with their innovative Multi Jet Fusion 3D printers and now the Materials Development Kit.
Weber likens the MDK to the way software developers gain access to platforms like Apple's app store, and the vast market then available. "Apple made a developers kit to allow developers to create applications on the Apple platform," says Weber. With the MDK, HP plan to accelerate the range of materials available for the Multi Jet Fusion and this will simultaneous allow material developers to thrive, while increasing the adoption of the Multi Jet Fusion 3D printer range.
The HP Materials Development Kit
The MDK is a desktop unit that materials suppliers can use to advance new powder materials for HP Jet Fusion 3D Printers. The MDK facilitates early screening of 3D printing materials as part of the certification process under the HP Multi Jet Fusion Open Platform.
In the same way that Apple requires software developers to follow certain requirements, HP are setting standards for materials development and certification for use on the Multi Jet Fusion 3D printer. HP has already announced early materials partners, naming the world's largest chemical company BASF, 3D printing materials specialist Evonik, Arkema and Lehman & Voss in the first group.
Weber explains that in addition to these 4 enterprises, HP is working with a further 50 material supply companies. The MDK will allow these companies to rapidly move through the materials certification process and for HP to expand the range of materials currently available.
Early materials are Polyamide (PA) based with PA11 and PA12 available, and while the parts on display at Corvallis (and recent trade shows) are impressive for their similarity to injection molded parts, their complex geometries and dense cross sections, a common refrain during my visit to the Corvallis site references Henry Ford's quote, "any color so long as it is black." While 3D printing in color is under development by HP, the expansion of Multi Jet Fusion material's palette is also an area of significant research.
The MDK was developed in conjunction with Sigma Design. Bill Huseby President of Sigma Design Co says, "If 3D Systems and Stratasys aren't getting nervous they should be." Sigma Design recently took delivery of one of the first HP Multi Jet Fusion 3D printers and have used the machine with great success according to Huseby.
Huseby says, "HP are the Uber of the 3D printing market" and during my tour of HP's 3D Open Materials Development Lab I see some remarkable examples to support this bold claim. 3D Printing Industry will bring you a full report on the site later this week.
Inside the HP 3D Open Materials Development Lab
The MDK is in use at HP's Corvallis site as part of a 5 station lab. After donning an appropriate white lab coat I was led into the R&D lab by Tim Weber and given a tour of the stations.
Station 1 demonstrates the MDK. The machine is a testbed designed to use small samples of powder material under development for the HP Multi Jet Fusion 3D printer. Mike Monroe, a HP 3D Printing R&D Engineer, sprinkles a small amount of white powder onto a metal coupon. The coupon is inserted in the MDK testbed and the powder is spread by a roller. This allows early stage assessment of 3D printing materials, without the need to produce large volumes.
The testbed allows material characteristics such as "streakiness" and "balling" to be measured. Using a vision system the spreading of the powder on the coupon can be assessed in more detail. This vision system records how the powder performs in tests such as repeatedly covering the coupons inspection surface. The MDK at the test station is accompanied by a monitor that overlays a grid over the surface. "We're looking for a number as close to 100%," says Monroe regarding the percentage of coverage in each gird square.
Once the material passes the required tests performed on the MDK, material production can be scaled up and further tests performed. While the MDK uses 10 grams of material, the next stages require 5kg, then 50kg and finally 500kg. With this path to material certification HP believe they will make rapid progress on their materials roadmap, and accessing a substantial market opportunity.
An $8 trillion market opportunity
HP are certainly setting themselves a high target as Weber says, "We believe HP can address three quarters of the $12 trillion global manufacturing sector, this gives a $8.08 trillion addressable market."
It will be exciting to watch as these companies test the limits of the HP Open Platform. The ability to create new materials more quickly, and to easily iterate and improve those materials, will lower costs and accelerate the digital reinvention of manufacturing.
Fabio Annunziata Director, Business Development and 3D Materials says, "Yes we're going to lead the 3D printing industry but our North Star is to lead the next industrial revolution."
Annunziata locates the MDK within a 3 point strategy to accelerate 3D printing market expansion through materials innovation. This strategy involves, building a wide portfolio of materials, driving reduction of powder and printing cost and introducing voxel-level capabilities to enable digital fabrication.
All this week 3D Printing Industry will bring you further exclusive insights into the HP Open Materials Development Lab, make sure you sign up to our newsletter and follow our active social media channels if you don't want to miss these.
Also, our readers have nominated the HP Multi Jet Fusion 3D printer as one of most innovative 3D printing technologies in our 3D Printing Industry Awards.
Vote now in the 3D Printing Industry Awards here.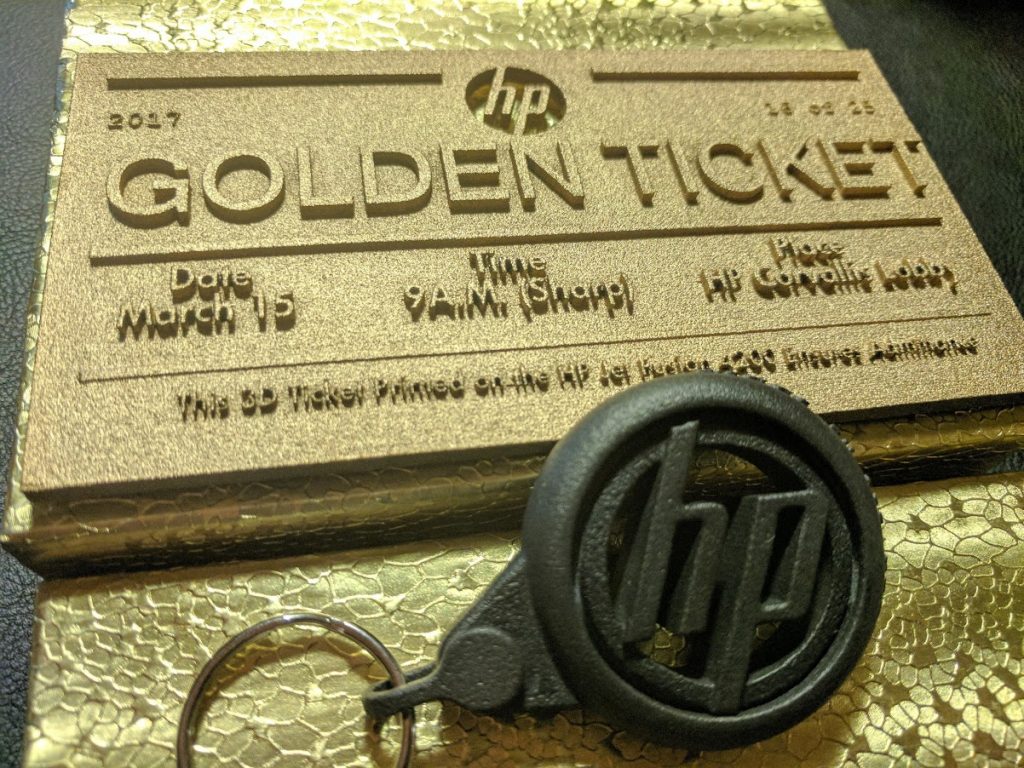 The MDK is available for pre-order at the price of $24,150.
MDK Standard Features
CE Certified
Easy to use UI
Spreader Screener Testing
Spread Speed: 0.5-10 inches per second
Roller speed: 0.5-10 inches per second, counter rotating
Platen Heat: 150C, +/- 5C
Includes 5 coupons of varying depth: 0.1mm, 0.2mm, 0.5mm, 0.8mm, and 1.0mm
Available Accessories
Replacement Coupons
Vision System
Additional rollers with various surface finishes
A range of support packages are also offered by Sigma Design