The upcoming Additive Manufacturing Users Group (AMUG) conference in Chicago has announced keynote speakers from the Caterpillar Inc and special effects studio Legacy Effects. Established in the early 1990s, 2017's AMUG conference will take place from the 19th-23rd March.
Stacey DelVecchio – Additive manufacturing product manager for Caterpillar Inc.
Stacey DelVecchio will give her speech on Tuesday March 21st – marking the first time  Caterpillar Inc. has had a speaker at the conference. DelVecchio began her career in engineering, working at Ashland Specialty Chemicals oil refinery company fresh from university. Later she joined Caterpillar as a trainee engineer and has now been at the company for over two decades.
DelVecchio is the manager of Caterpillar's AM factory, the place where employees have the opportunity to allow their imaginations to 'run wild'. One part of the factory is a Maker Space for employees to develop ideas and experiment with materials.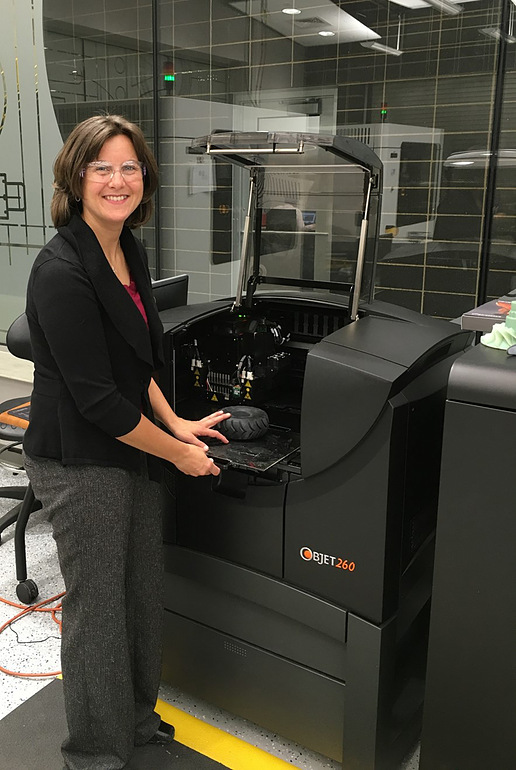 Caterpillar Inc have been making use of 3D technology for a number of years now. They have printed plastic gauges which allow them to evaluate the wear and tear in the teeth of their diggers and have rapid prototyped 50,000 other items over the past 25 years.
Stacey's keynote speech at AMUG 2017 will be about her work for Caterpillar Inc, discussing how how it has evolved over the years to use additive manufacturing.
Todd Grim – Founder and president of T A Grimm & Associates and Industry advisor for AMUG
Todd Grimm will be the first speaker of AMUG on Monday 20th March. Upon graduation, Grimm started his career in CAD/CAM and in the early 90's and was the manager for one of the world's first rapid prototyping service firms – Laser Prototypes Inc, a $2 million company specialising in rapid prototype services.
His own company T A Grimm & Associates provide marketing and consulting to small and medium sized firms concerned with rapid prototyping, and writes about the process for TCT, where he has his own column of observations and examples of use cases within the 3D printing industry.
Jason Lopes – Engineer at Legacy Effects
Lopes is a veteran of 3D printing and has been involved around the globe in the Shanghai International 3D Printing Expo to the 3DPRINTSHOW in Paris. His performs additive manufacturing for the entertainment industry, and has worked on films such as Avatar and Katy Perry's Prismatic World Tour.
His company, Legacy Effects, specialises in animatronics, using robotics to simulate humans or animals. The company has been around almost 3 decades and has been involved in Bollywood as well as Hollywood.
Featured Image shows 2016's AMUG conference. Image via PR web.