US 3D printer manufacturer 3D Systems (DDD) has announced that its revenue fell 13.9% in Q2 2022.
As revealed in its Q2 2022 financials, 3D Systems brought in $140.0 million in revenue, $22.6 million less than it earned in Q2 2021, and an 11% decline on the $157.3 million it reported in Q2 2019. Quarterly revenue was not only impacted by the company's divestitures over the last two years, but it was also affected by ongoing supply issues, exchange rate volatility and the firm's exit from the Russian market.
On 3D Systems' earnings call, however, its CEO Dr. Jeffrey Graves, chose to focus on its recent progress, including its acquisition of dp polar. Having agreed to buy the high-speed 3D printing specialist, Graves said the firm will soon be able to address new "production-scale applications," an area in which "interest is rising fast."
"We are extremely excited to join forces with dp polar at this pivotal time for additive manufacturing," explained Graves. "We believe that integrating this platform with our existing industry-leading solution set will drive its rapid adoption into a wide range of high-speed automated production environments."
"Despite near-term headwinds that are challenging our results this year, we remain confident in our long-term outlook."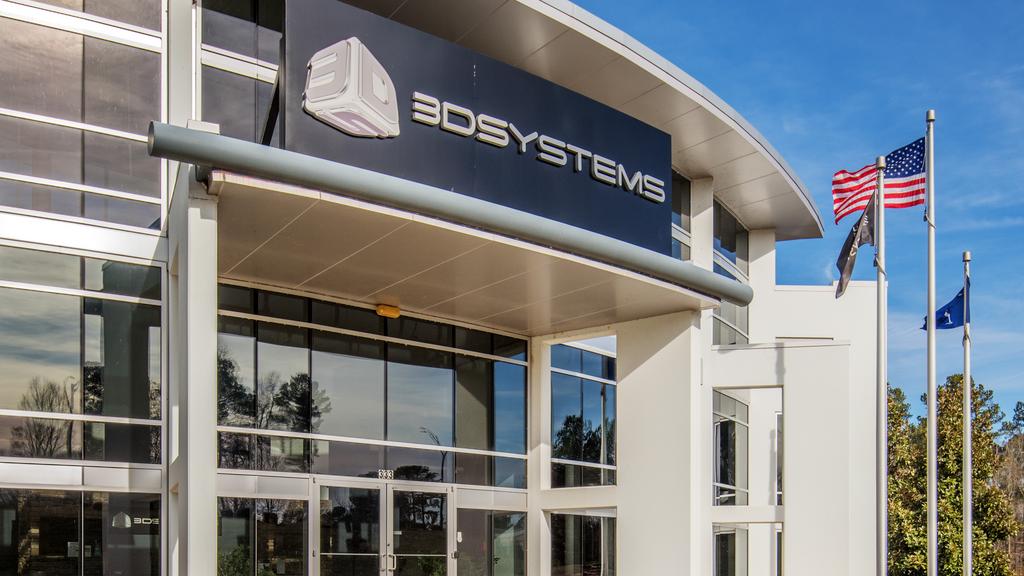 3D Systems' Q2 2022 financials
3D Systems reports its financials under main two divisions: Products and Services. However, the latter has contributed less revenue in recent periods, since 3D Systems sold Quickparts, its on-demand 3D printing business, for $82 million in September 2021. In light of this, the firm's Services revenue unsurprisingly fell from the $53.9 million reported in Q2 2021 to $36.3 million in Q2 2022, a decline of 32.7%.
The company's Products revenue also dipped 4.4% in Q2 2022, falling from the $108.6 million it generated in Q2 2021, to $103.8 million. Overall, across these two divisions, 3D Systems' revenue actually rose 7.8% on a constant currency basis and with divestitures taken out of the equation, something it says is reflective of "solid demand" in both its core Healthcare and Industrial verticals.
In particular, the firm's CFO Wayne Pensky explained on the firm's earnings call that its Industrial revenue performance was driven by strong aerospace and precision microcasting demand, as well as materials sold to its wide install base. These growth areas were offset by weak European sales, and the performance of its Chinese business, which was hit by supply and lockdown-induced disruption.
While Pensky said Healthcare growth was "fairly consistent across all markets," he added that softer discretionary spending "likely limited growth in end-markets such as dental and elective surgeries," with a "challenging background of supply chain macroeconomic and geopolitical pressures" also limiting its earnings potential.
| | | | | | | | | |
| --- | --- | --- | --- | --- | --- | --- | --- | --- |
| Revenue ($) | Q2 2021 | Q2 2022 | Difference ($) | Difference (%) | Q2 2019 | Q2 2022 | Difference ($) | Difference (%) |
| Products | 108.6m | 103.8m | -4.8m | -4.4 | 93.8m | 103.8m | -10m | -10.7 |
| Services | 53.9m | 36.3m | -17.6m | -32.7 | 63.5m | 36.3m | -17.2m | -42.8 |
| Total | 162.6m | 140m | -22.6m | -13.9 | 157.3m | 140m | -17.3m | -11 |
An ongoing 3D printing expansion
Over the last two years, 3D Systems' strategic refocus has seen it change course to focus on its Industrial and Healthcare verticals, and divest parts of its business that don't align with its new goals. In addition to divesting Quickparts, this strategy has seen 3D Systems sell Simbionix for $305 million, and sell Cimatron to Battery Ventures for $65 million.
Using the capital raised from these transactions, 3D Systems bought Allevi and Additive Works in May 2021. This deal was followed by 3D Systems' acquisitions of Oqton and Volumetric Biotechnologies, and its most recent agreements to buy Kumovis and Titan Robotics in Q1 2022, specialists in pellet and medical 3D printing.
On the firm's earnings call, Graves revealed that working with United Therapeutics, the firm has used its expanded 3D bioprinting capabilities to help develop complete human lung scaffolds. According to United Therapeutics' CEO Dr. Martine Rothblatt, these tissues could provide the basis for personalized 3D printed lungs, bioprints she aims to have cleared for human trials within five years. Having integrated its bioprinting acquisitions, 3D Systems has also moved on to developing its own vascularized and non-organ tissues, designed to be used for clinical drug testing.
Through its deal to acquire dp polar, 3D Systems has now continued this expansion which started over a year ago, and its latest purchase should boost its high-throughput offering. In fact, by integrating dp polar's single-pass technology with its material and software portfolio, Graves believes 3D Systems will be able to better address clients in sectors like medical, aerospace and automotive.
"This acquisition is the next step in executing on our investment strategy to provide our customers with an industry-leading additive manufacturing solutions portfolio," said Graves. "By combining our renowned polymer materials portfolio with this first-to-market high-speed production technology, I believe we'll affect a monumental shift in production workflows for high-value applications."
Forecasting a less lucrative H2 2022
In response to what Pensky described on 3D Systems' earnings call as a "lower than expected performance" in Q2, it has reduced its guidance for 2022. Citing inflation, exchange rates and the softer discretionary spending of clients in certain markets, the firm now anticipates generating FY revenue of $530 million to $570 million.
However, despite this, Graves said that he's "extremely confident" about 3D Systems' long-term growth drivers, as its recent restructuring has seen it "partner with customers to create value-added applications." The CEO also reiterated that the company views 2022 as an "investment year," in which it always planned to expand, and he remains confident that it can hit $1 billion in revenue by 2027.
"Despite these near-term external pressures which are impacting many companies, I remain extremely confident about the long-term growth drivers for our business and for the additive manufacturing industry," added Graves. "Adoption of additive solutions in production environments continues to move forward, and 3D Systems is at the forefront of this growing trend."
To stay up to date with the latest 3D printing news, don't forget to subscribe to the 3D Printing Industry newsletter or follow us on Twitter or liking our page on Facebook.
For a deeper dive into additive manufacturing, you can now subscribe to our Youtube channel, featuring discussion, debriefs, and shots of 3D printing in-action.
Are you looking for a job in the additive manufacturing industry? Visit 3D Printing Jobs for a selection of roles in the industry.
Featured image shows 3D Systems' headquarters in Rock Hill, South Carolina. Photo via the CBRE Group.