U.S. 3D printer manufacturer 3D Systems (DDD) has announced the divestiture of its medical simulation software division Simbionix.
Sold in a deal worth $305 million, Simbionix is set to join with medical VR training firm Surgical Science Sweden, where it will supplement its existing clinical simulation program portfolio. For 3D Systems, it says that the move "completes" the restructuring it started last year, in which it has divested many of its non-core businesses in order to establish a "singular focus" on 3D printing.
"Over the last several months, 3D Systems has divested a number of assets that are not core to our industry-leading additive manufacturing solutions business," said Dr. Jeffrey Graves, President and CEO of 3D Systems. "The final of these is our Simbionix business, under the leadership of Ran Bronstein, which has secured a strong position in the medical simulation, training and robotic surgery market."
"I believe their [Simbionix's] future will be even brighter, with increased scale and an ability to leverage the core strengths of both businesses in a growing medical simulation market."
3D Systems' 'strategic refocus' 
When Graves was appointed CEO of 3D Systems back in May 2020, the pandemic had just caused the company's revenue to fall 13%, and it went on to slide a further 28% in Q2 2020. To stabilize the firm's finances, Graves announced that it would rapidly undergo a 'strategic refocus,' in which it'd concentrate on its Industrial and Medical verticals, and divest any segments that didn't match this criteria.
Since then, 3D Systems has sold its Cimatron 3D printing software arm to technology investment company Battery Ventures, raising $65 million in the process, in addition to its five-facility strong on-demand manufacturing business to private equity firm Trilantic North America, in a deal that has provided it with another $82 million in funding.
Using some of the capital raised from these divestitures, amongst several others, 3D Systems has also invested in the growth of its core Medical and Industrial divisions via acquisitions. With this in mind, the company has bought bioprinter manufacturer Allevi as well as 3D printing software developer Additive Works, and judging by its recent financials, its strategy is starting to pay dividends.
3D Systems reported its first quarter of annual growth since 2018 in Q4 2020, and this trend continued into Q1 2021, although its revenue still fell short of Q1 2019 levels. To achieve this, the firm has also had to make tough decisions, cutting 20% of its staff and $100 million in operating costs, but it's now put itself back into a position, where it "expects profitability," both in terms of gross margin and EBITDA.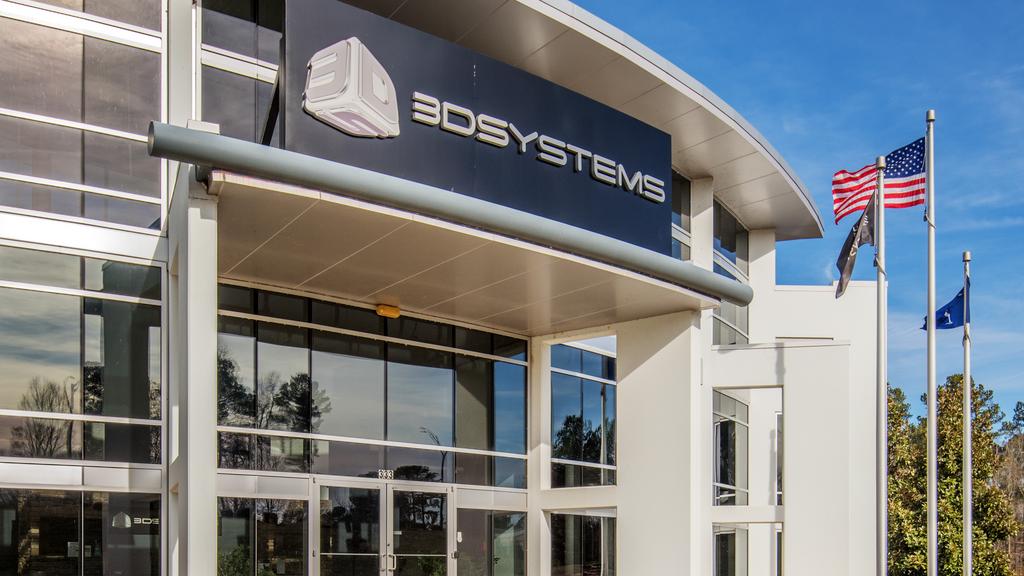 Simbionix's $305 million sale
Subject to closing conditions, Simbionix's sale is expected to be completed in August 2021, after which it'll become part of Surgical Science, a firm listed on the Nasdaq First North Growth Market, with a reported annual revenue of $41 million.
According to 3D Systems, Surgical Science's acquisition makes it a "market leader" in the fields of medical simulation and robotic surgery. In particular, the company is said to see Simbionix's addition as a way of "complimenting and strengthening" its endovascular, endoscopy, urology, orthopedic and ultrasound simulation offerings, and building a wider network of academic and medical partners.
With regards to 3D Systems' divestiture drive, the firm has stated that Simbionix's sale "completes the initiative," meaning that it may now have come to an end. Having narrowed its focus down to two core business units: Healthcare and Industrial Solutions, the company is projecting "strong organic growth" moving forwards, and has even mooted investments to "meet increasing demand."
"The proceeds from this sale, combined with previously announced divestitures, will leave us in a strong position, with a cash balance of approximately $500 million and no debt," added Graves. "With our scale, industry-leading breadth of technology, and an applications focus that is proving successful in accelerating customer adoption of AM, we are very well-positioned to remain a leader in the industry."
3D modelling and medical VR
Of course, 3D Systems' loss is Surgical Science's gain, and its acquisition should allow the firm to better address what has become a burgeoning medical training software market. Just last year, Realize Medical, which similarly specializes in clinical 3D modelling, partnered with Logitech to bring interactivity to its Elucis VR platform.
Leveraging the company's software, users are now able to convert medical images into 3D models, which can be explored and manipulated in a VR environment. Such simulation technologies are increasingly finding medical training applications, alongside more traditional uses of 3D printing, such as creating anatomically-relevant patient models.
Due to recent technological advances, the accuracy and adoption of these 3D printed replicas has continued to grow within the medical industry. While the Quality Management System (QMS) behind 3D LifePrints' anatomical models has gained ISO certification, Mimaki has managed to produce clinical models with an entirely new 'degree of color fidelity.'
The nominations for the 2021 3D Printing Industry Awards are now open. Who do you think should make the shortlists for this year's show? Have your say now.
To stay up to date with the latest 3D printing news, don't forget to subscribe to the 3D Printing Industry newsletter or follow us on Twitter or liking our page on Facebook.
For a deeper-dive into additive manufacturing, you can now subscribe to our Youtube channel, featuring discussion, de-briefs and shots of 3D printing in-action.
Are you looking for a job in the additive manufacturing industry? Visit 3D Printing Jobs for a selection of roles in the industry.
Featured image shows 3D Printing Industry Editor-in-chief practicing surgery with a Simbionix simulator. Photo via 3D Printing Industry.