U.S. 3D printer manufacturer 3D Systems (DDD) has comprehensively beaten Wall Street consensus estimates to report 8% revenue growth within its Q1 2021 financials.
During the course of Q1 2021, the firm generated revenue of $146 million, 8% more than the $136 million reported in Q1 2020, but still 8% short of the $157 million it made in Q1 2019. While 3D Systems' revenue hasn't quite returned to pre-pandemic levels, its first quarter earnings mean that it comfortably beat initial Wall Street estimates of $136.4 million.
Analysts had also projected that the company would achieve an EPS of $0.02 during Q1 2021, but it oustripped these expectations too, reporting an EPS of $0.15, which caused its stock to surge 13% in after-hours trading. After the publication of the results, shares in fellow 3D printer manufacturers Stratasys and voxeljet rose 4% post-market as well, with shares in ExOne making similar gains of 3%. 
3D Systems' 8% annual revenue growth during Q1 2021, was largely driven by increased demand within its Healthcare division, which brought in $72.5 million, 39% more than in Q1 2020. According to the firm's CEO Dr. Jeffrey Graves, its strong medical performance has now positioned it well, to lead the technology into new applications moving forwards.
"More than ever, I believe that AM will play a key role in transforming the way components can be designed and manufactured for critical applications ranging from complex aerospace systems, to electric vehicles, to even the human body," said Graves. "Our strong financial performance and balance sheet, combined with industry leading technology and application expertise, will allow us to lead that transformation."
"I'm very proud of our teams' performance in the first quarter of the year and am excited about our trajectory and the long-term potential of our company."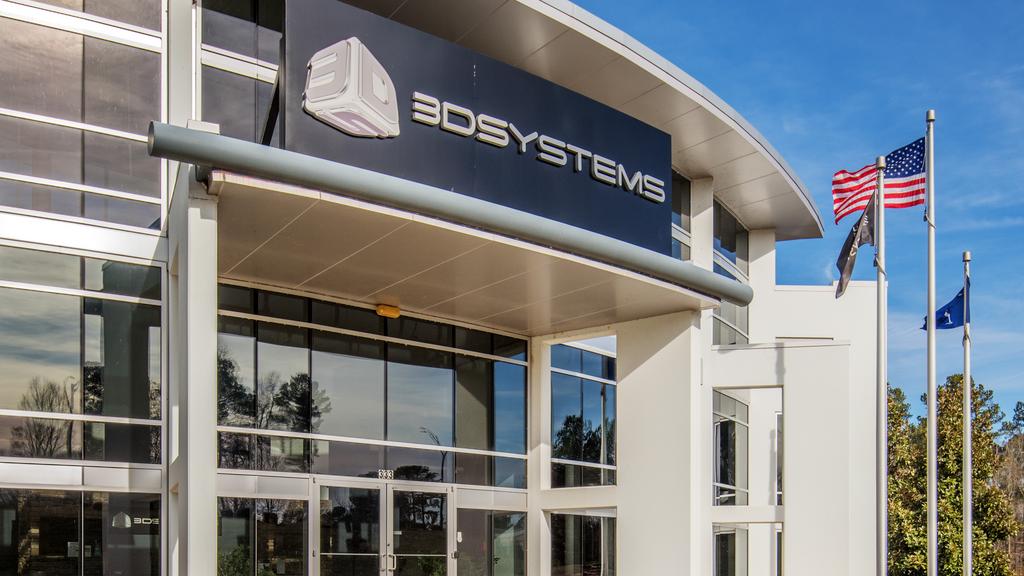 3D Systems' Q1 2021 results
3D Systems broadly reports its revenue across a Products division, which includes any revenue generated by its 3D printers, software and materials, as well as a Services segment, that accounts for revenue earned via its on-demand manufacturing offerings.
Products remained the firm's highest earning division during Q1 2021, bringing in revenue of $94 million, representing an 18% increase compared to Q1 2020, and a more slight 2% rise on Q1 2019. 3D Systems attributed its growth in Product earnings to the performance of its medical and dental portfolio, as well as the "continued stabilization" of the global economy, which gradually re-opened over the quarter.
However, despite the wider economic recovery seen during Q1 2021, the firm's Services revenue fell from the $56 million reported in Q1 2020 to $52 million. The segment's poor performance was primarily due to an 11% drop in 3D Systems' Industrial sales, although it says that its Industrial income actually rose 1% between Q1 2020 and 2021, when its divested businesses are removed from the equation.
Overall, the company's strong 8% revenue rise follows on from its return to growth in Q4 2020, and decision to strategically refocus on its core Industrial and Healthcare verticals from Q2 2020 onwards. Compared to its operating expenses in Q1 2020, 3D Systems also managed to reduce its spending by 12% in Q1 2021 to $66 million, while increasing its gross profit margin from 42.7% to 44%.
"During my first year at 3D Systems, we established a clear strategic purpose," explained Graves. "We laid out a four-stage plan to reach that goal and I am pleased that these efforts have contributed to impressive Q1 results. This combination of strong top line growth, profitability and cash generation distinguishes us in our industry."
| | | | | | | |
| --- | --- | --- | --- | --- | --- | --- |
| Revenue ($) | Q1 2019 | Q1 2021 | Variance (%) | Q1 2020 | Q1 2021 | Variance (%) |
| Products | 92m | 94m | +2 | 80m | 94m | +18 |
| Services | 60m | 52m | -13 | 56m | 52m | -7 |
| Total | 152m | 146m | -4 | 136m | 146m | +8 |
A strategic refocus in action
3D Systems' decision to double down on its Industrial and Healthcare verticals was evident in its 3D printing activities during the first quarter. The company moved into the industrial FFF space via the launch of its throughput-focused Roadrunner system, which has put it into direct contention with Essentium and its High-Speed Extrusion (HSE) platform.
Elsewhere, the firm's technology has been deployed within several military applications. In March 2021, 3D Systems was contracted by the DEVCOM ARL to develop a faster means of 3D printing ground vehicle components, before working with Huntington Ingalls Industries to qualify corrosion-proof alloys for naval applications. 
The company also invested heavily in its bioprinting technologies during the quarter. Having made "tremendous progress" within its Print to Perfusion bioprinting program working with United Therapeutics in January 2021, 3D Systems has since acquired bioprinting firm Allevi for an undisclosed fee, as a means of reinforcing its plans to make regenerative medicine a strong source of future revenue.
Similarly, the firm recently launched its biocompatible capable Figure 4 Rigid White resin and Hybrid VSP maxillofacial surgical guide. Although neither product was released in time to contribute any revenue during Q1, it's anticipated that they will help drive 3D Systems' continued Healthcare growth moving forwards.
Targeting double-digit growth
3D Systems hasn't provided any guidance ahead of its upcoming earnings call, but it has set itself the long-term goal of achieving "sustained double-digit revenue growth." The company has also set its sights on reaching gross profit margins of 50% as well as an EBITDA of 20%, and its strong cash balance makes it well-positioned to fund these goals.
As of March 31 2021, 3D Systems had no debt and cash on hand of $133 million, as well as an unused $100 million revolving credit facility, and although its balance was inflated by the $55 million divestiture of Cimatron and Battery Ventures last year, the firm now has the capital necessary to invest in further potential growth opportunities in future.
"With our solid progress on the initial stages of our transformation plan, we have now increased our focus on the fourth stage of our plan, which is to invest for accelerated growth and profitability," concluded Graves. "Our recently announced acquisitions of Allevi and Additive Works are key steps to reaching our long term goals."
To stay up to date with the latest 3D printing news, don't forget to subscribe to the 3D Printing Industry newsletter or follow us on Twitter or liking our page on Facebook.
Are you looking for a job in the additive manufacturing industry? Visit 3D Printing Jobs for a selection of roles in the industry.
Featured image shows 3D Systems' headquarters in Rock Hill, South Carolina. Photo via the CBRE Group.