Advancements in the 3D printing industry seem to have no limits. Everyday, the technology is becoming more and more accessible to the public and more and more groundbreaking in the science, aerospace and sports industries, just to name a few. Since 3D printing technology's wild successes in technical industries, we are also seeing it applied to more creative industries as well, such as art, childhood education, and jewelry making. We here at 3DPI decided to highlight some services that offer beautiful pieces of jewelry at the click of a button. Read more below. If you find a gorgeous piece of jewelry or a fun service that you want to start using immediately, the MiiCraft 125 3D printer, which can be purchased on iMakr, is perfect for printing intricate, beautiful designs like those that follow!
Ready for Download & Purchase
Quick and easy designs available at the click of a button, the following pieces have already gone through the tedious developing stages and are already available to be printed. Check them all out below.
1. Celtic Ring from MyMiniFactory
Most celtic designs show the intricate knots on a flat surface, but this beautiful ring, made out of wire, takes the design to the next level, looking as if it was bent and woven by hand. The original design is a size 7 and was printed on a B9 Creator using 25 micron NZ resolution and 50 micron XY resolution.
2. Andromeda Necklace from Shapeways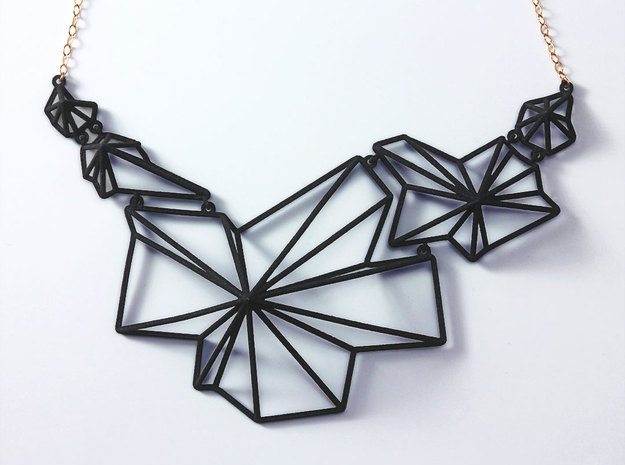 Taking on the shape of the constellations of organic geometry, the Andromeda necklace features hinged segments and spiked points that protrude out to .75 in. It's lightweight but durable design was printed with nylon plastic with a matte finish, producing a modern, grainy surface.
3. Geometric Bracelet from Thingiverse
Featuring a comfortably smooth inner design, the original Geometric bracelet was printed with PLA and then spray painted for a funky piece available in a variety of colors.
Customizable Designs
For those of who want to take jewelry to the next level and have more control over designs, there are custom 3D printing services available. With these services, users can create truly unique and one-of-a-kind products to be printed. Continue reading  below for more information.
4. MyJewelry custom services
Developed by the team at Makexlab, MyJewelry is an interactive program perfect for setting up professional craftsmanship for metal ornaments based on 3D printing technology.
5. WIZEgem custom services

WIZEgem is a web-based jewelry design application, giving everyone the opportunity to design their own custom jewelry, visualize it in 3D, and have it 3D printed.
6. Trove custom services
Trove makes 3D printing and design accessible to anyone regardless of experience or ability. Users on Trove can have the option to 3D print their design in materials ranging from sterling silver to 18K gold.