This week's edition of Sliced, the 3D Printing Industry news digest features additive manufacturing trade fair updates, 3D printed body armour and game controllers for people with disabilities. 
We also cover Amazon, Alibaba, Desktop Metal, MakerBot, Stratasys, Allevi, Cadbury, Carbon, DiManEx, SLM Solutions, DSM, Arburg, Prusa Research and more.
Additive manufacturing trade fairs
From 16 to 21 September, international trade fair EMO Hanover will gather industry leaders of metal processing. German metal 3D printer manufacturer SLM Solutions will present in-booth lectures and metal AM demonstrations at hall 9 booth I06. The lectures will highlight SLM applications in aerospace, automotive, energy, toolmaking, medical and dental industries. There will be live SLM demonstrations of 3D printing. The highlights are a rocket engine with an integrated functional cooling structure and the first AM series turning tool for the cutting industry. 
Another upcoming trade fair is K 2019 which focuses on the plastics and rubber industry. K 2019 will be held in Düsseldorf, Germany between 16 and 23 October 2019. 
Under the theme of 'Bright Science. Brighter Living', global materials producer DSM is exhibiting at hall 6, booth 11. We will see 3D printing applications of DSM's family of high-performance thermoplastic elastomers Arnitel in non-pneumatic tires, car tail light enclosure and athletic footwear. On top of showcasing its latest purpose-led innovations, DSM will also share insights on customized production for automotive OEMs.
Meanwhile at hall 6 booth A13, German injection molding systems manufacturer Arburg will exhibit its new 3D printing techniques and new projects. Eight injection molding machines Allrounders and the Freeformer polymer 3D printer will be on the Arburg stand. The applications cover prototyping and end-use production for automotive, electronics, construction and medicine industries. Arburg will also introduce its newest effort in circular economy – arburgGREENworld. This programme consists of four pillars: "Green Machine", "Green Production" and "Green Services" relate to offers for customers whereas "Green Environment" relates to Arburg's internal processes. Its new digital product and service portfolio arburgXworld will debut at the K as well.
Cars, underwater scooters and body armor
Electric car manufacturer Lightyear has launched a sustainable car prototype with more than sixty 3D printed interior parts. Lightyear collaborated with Dutch cloud-based additive manufacturing supply chain platform DiManEx to supply the parts through its extensive network of partners. Depending on the complexity and post-processing, DiManEx managed to supply parts within 4 to 10 days. Production of Lightyear starts next year.
Verashape, a Polish 3D printer manufacturer, has prototyped power supply parts for SEACRAFT, a recreational and technical diving underwater scooter. Verashape's FFF printer VSHAPER PRO+ enables manufacturing of batteries of different capacities on the spot. Other than developing the electric cells of appropriate efficiency, the company also 3D printed the templates that fix the position of cells during welding.
The American Army Research Laboratory has devised a method to produce strong but lightweight ceramic body armor from a 3D printer. Researchers reinvented a direct ink writing 3D printer such that multiple materials can be extruded out of a single nozzle. Two syringes containing distinct, viscous ceramic slurries are connected to a custom-made auger and print head. Controlling ratio of extrusion materials, this 3D printing method is able to produce parts with a gradient which is impossible with traditional ceramic forming techniques. The ability to attach multiple materials onto a single armor plate greatly enhances its performance compared to those based on one material only. This direct ink writing method can be applied to other fields such as biomedical implants. 
Expanding the 3D printing business network
For business, we see a number of partnerships announcements between 3D printing companies this week. 
Xometry, an on demand manufacturing marketplace has joined global B2B e-commerce platform Alibaba.com's U.S. B2B ecosystem as a Co-Marketing Sponsor. The B2B ecosystem initiative was launched to help small and medium-sized businesses (SMBs) access the $23.9 trillion eCommerce industry. Through AI algorithms, Xometry will connect Alibaba.com's business buyers to its Partner Network of over 3,000 SMBs. Exclusive deals on Xometry's on-demand manufacturing services, including 3D printing, CNC machining, sheet metal fabrication, and injection molding will also be provided Alibaba.com customers.
Italian 3D printer manufacturer Nexa3D is expanding its North American channel sales with the help of 3D printer reseller Dynamism. Nexa3D makes ultrafast SLA 3D printers for professionals and businesses, such as the NXE400 and Varseo XL. Founded 22 years ago in the U.S., Dynamism offer Nexa3D's technology to its global additive manufacturing customer network.
Polish 3D printer and filament manufacturer Omni3D has gained its first German reseller. Other than Factory 2.0 Production System, the German reseller will also offer two 3D printers that will debut this year, Omni 500 LITE and Factory 2.0 NET. Omni3D also finalized a contract with Swedish online retailer 3D Prima in May. Now, Omni3D printers are available in 15 countries, including Russia, India, Australia and New Zealand.
Citing unfavourable market conditions, Saudi Arabian chemicals company SABIC has called off a specialty chemicals venture with Swiss materials R&D company Clariant. The companies share an interest in 3D printer filaments with SABIC producing FFF filaments and Clariant producing high-grade polymer filaments. A merger between SABIC's specialties business and Clariant's high performance materials segment was in discussion. However, the Swiss firm reported a net loss of $101 million for the first six months of 2019 and is shelving its specialty chemicals business. In a disclosure to the Saudi stock market, SABIC said it would revisit discussions on the merger with Clariant once conditions are improved.
Awarding winning open source 3D printer manufacturer Prusa Research recently celebrated the sale of over 130,000 3D printers since its founding in 2012. Traditionally focused on FFF devices, Prusa Research expanded its offerings into the SLA market last year. Without distributors, Prusa Research directly delivers 80% of its 3D printer sales as assembly kits, and let customers build the machine at home. According to the estimation by Wohlers Associates, 591,079 desktop 3D printers have been sold in 2018. Prusa Research has gained a 10.1% market share by selling 59,776 3D printers last year.
New metal 3D printing filament
German 3D printing materials manufacturer BASF 3D Printing Solutions has launched Ultrafuse 316L, a metal-polymer composite for FFF 3D printers. Like its previous generation Ultrafuse 316LX, the new metal composite filament is designed to print stainless steel metal parts for prototypes and metal tooling. This highly flexible and strong material can be processed on any conventional open-material FFF 3D printer.
First adopter of Desktop Metal Studio System
The University of Sheffield and global engineering solutions firm Weir Group have become the first UK adopters of Desktop Metal's Studio System. In the Netherlands, mechanical engineering company AWL-Techniek was the first to install the Desktop Metal Studio System+ in the Benelux region. This office-friendly metal 3D printer is designed for small-batch rapid prototyping. The University of Sheffield adds the Studio System to its collection of machines which already includes powder bed fusion and blown powder methods. Weir will be using its Studio System to prototype, test and commercialize components and tooling for Mining and Oil & Gas customers. AWL-Techniek plans to this system to produce robot grippers and welding fixtures, as well as supporting its R&D activities.
For 3D scanners, awarding winning 3D scanning and imaging device provider FARO has launched its first colour structured light scanner Cobalt Design. The 3D scanner is specifically developed for design applications and is ideal for scanning complex surfaces, especially highly detailed organic shapes. Combined with FARO's recently introduced RevEng software platform, Cobalt Design enables full field scanning of small to medium objects, a best in class speed to accuracy combination, full colour digitization and workflow acceleration. 
New 3D software features, platforms and research projects
MakerBot announced new features and updates for MakerBot Cloud, its cloud-powered 3D printing desktop software. After the updates, MakerBot Cloud is integrated with major design software, such as Solidworks, Autodesk Fusion 360, and Autodesk Inventor. Users can now scale, rotate, and arrange their models on the build plate, as well as adjust the characteristics of the model for faster draft print or slower high surface quality print. The new movable purge tower feature for the METHOD printer optimizes printer build volume. The new feature also includes monitoring and viewing prints in real-time via the onboard camera of a MakerBot 3D Printer.
German 3D software developer CADENAS has introduced  3D model search engine 3Dfind.it. Specifically geared to the technical sector, 3Dfind.it features nearly 900 catalogs in architecture, engineering and electronic products. Different native and neutral CAD formats are available to download, such as Autodesk, Revit, SOLIDWORKS and ArchiCAD. On top of simple text searches, 3Dfind.it also enables parametric text search, 3D shape search, 2D sketch search and color search. 
Amazon 3D scanned bodies in its Real World Image Study to learn about diversity among body shapes in New York City. The study is run by Body Labs, a startup producing detailed 3D body models for shopping and gaming that Amazon acquired in 2017. In exchange for a $25 gift card, volunteers got their bodies 3D scanned and photographed in everyday attire and form-fitting clothes. While the exact kind of research was not specified, the company promises it will use its data exclusively for internal product research and not for marketing purposes. 
Training young innovators with 3D printing
Automated manufacturing platform 3D Hubs has held the 3D Hubs Student Grant 2019 competition. Applicants were challenged to solve a real-life problem in the following five categories with 3D printing: Product design, Robotics, Sustainability, Transportation, Healthcare. Around 200 submissions from over 100 universities around the world were received. The winner of each category received $1000 to further develop their projects as well as technical support from 3D Hubs to turn their idea into a real product using 3D Hubs' 3D printing services.
Manufacturing association SME and major 3D printer manufacturer Stratasys have announced the winners of their co-sponsored three-day 2019 Additive Manufacturing Competition. The 2019 challenge required participants to make a functional end-of-arm tool in a simulated real-life manufacturing robotics scenario involving a full-production sedan assembly line. Among the 47 competing teams, three high school and three college teams received top honors for their designs. The winning high school teams received scholarships from the SME Education Foundation, and postsecondary participants were given a one-year subscription for Tooling U-SME classes and RAPID + TCT conference passes.
Carbon, the Silicon Valley-based start-up behind Digital Light Synthesis (DLS) hosted Kode With Klossy, a free coding camp founded by Karlie Kloss for teenage girls. The custom curriculum included Kode With Klossy instructor trainings as well as a panel with Carbon's female leaders. Afterwards, the students learnt about Carbon's Lattice Engine that created the adidas 4D midsoles. Through an interactive live print demo, the students learned about Carbon's software-controlled materials, watched the printing process in real time, and received their very own 3D printed bracelet.
To educate students on regenerative medicine, U.S. 3D bioprinting company Allevi has started the Allevi Academy. The Allevi Education Curriculum walks students through CAD design, 3D printing and strategies for tissue engineering. Students will run experiments like making small blood vessels in a gel using Allevi's bioprinters and bioinks. Recently, teachers at a high school in Pennsylvania implemented Allevi's curriculum. As a relatively new product offering, Allevi Academy plans to expanding to other U.S. schools and universities and hopefully globally. 
Like a box of chocolates
This week we see 3D printing being creatively applied to make sweets, assistive gaming devices, designer lighting collection and statues. 
British multinational confectionary brand Cadbury has launched its first-ever milk chocolate 3D printer to celebrate World Chocolate Day. In collaboration with 3P Innovation, Cadbury has installed the prototype in Melbourne to produce milk chocolate charms. Using a multi-lane approach, the machine produces eight chocolates at a time. Tightly controlling conditions of the chocolate, Cadbury managed to temper the chocolate which prior 3D printers failed. Tempering is essential to ensure a smooth, delicious and evenly-coloured chocolate. Two Dairy Milk chocolate charms cost $8 AUD (around $5 USD) or four will cost $15 AUD ($10 USD).
In Vancouver, digital games developer Electronic Arts (EA) hosted an assistive technology buildathon. As part of the Makers Making Change initiative, the buildathon connects volunteer makers to people with disabilities. Around 150 EA employees 3D printed open-source gaming switches and buttons that can be used with adaptive controllers for people with disabilities. Local gamers attended the event to provide building advice and help test the new devices and controllers. Switches with a variety of sizes and types were built, enabling gamers to use devices that best match their body shape, strength, dexterity, and overall abilities. 
Amsterdam design label Freshfiber has unveiled 3D printed lighting collection for homes, restaurants, and hotels. Named Fold, Flux and ZooM, the lamps feature elements such as interlocking spiral and smooth geometric curves. Created with 3D printing and finished by hand, Freshfiber created unique and premium lighting with nylon and steel. Freshfiber Lighting pre-orders will start shipping by the end of September.
Make3d.in, an Indian 3D printer manufacturer, made a 6-feet statue in 24 hours. The statue is to commemorate Mr. Brahmaiah Bollineni, a virtuous leader in an Indian village who recently passed away. For the printing process, Make3d.in used a total of fifteen Pratham 3.0 and Pratham 5.0 desktop 3D printers. The whole process from design, printing to painting was done in 4 days.
3D printing powered space exploration
Polish scientists Aleksy Chwedczuk and Jakub Bochiński have created the first parametric open-source DIY telescope project Telescope Prime using 3D printed parts. The telescope model consists of three main parts:
– The main parabolic mirror with a diameter of 20 cm
– Raspberry Pi microcomputer with touch display and camera
– 3D printed parts for fixing both the camera and the mirror.
Polish 3D printing service provider Sygnis New Technologies participated in the project by adjusting 3D models of the parts and 3D printing the end product. 
Ascent Aerospace has invested in a Large Scale Additive Manufacturing (LSAM) machine from Thermwood Corporation. The LSAM machine has a 10 ft x 40 ft build area. A wide variety of materials such as ABS, nylon and  polycarbonate are compatible with this 3D printer. Ascent will use the LSAM machine for large-scale printed composite tooling of layup molds, masters, drilling fixtures and vacuum holding fixtures.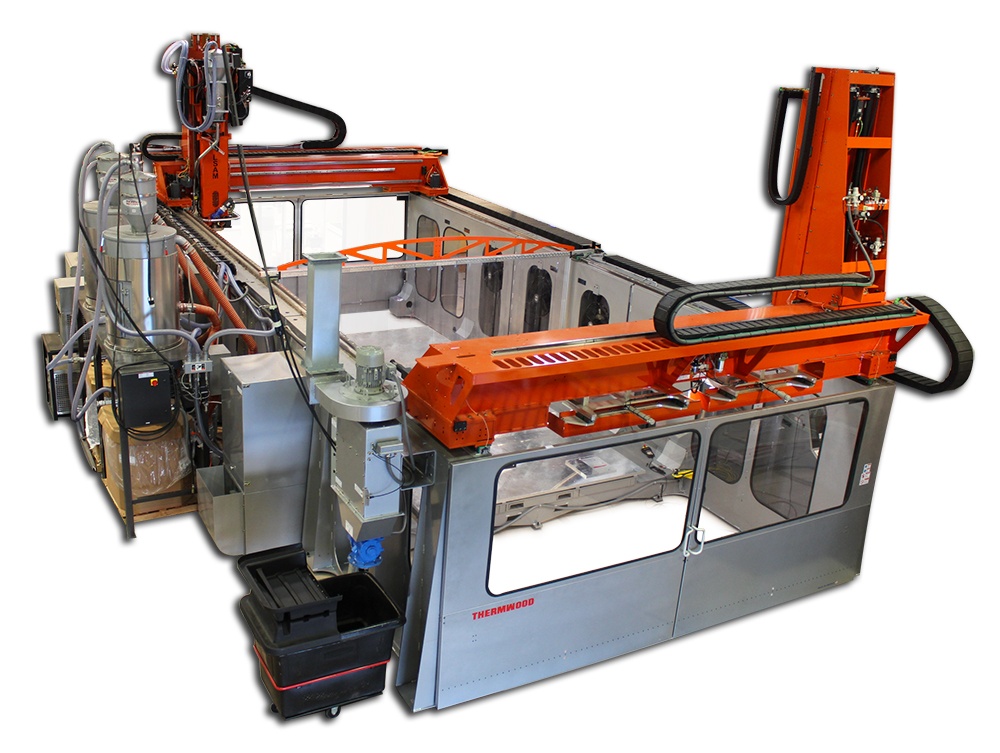 The 3D printing powered Kleos Scouting Mission launch period has been extended to October 2019. Since January 2018, Luxembourgian satellite company Kleos Space has sent six Low Earth Orbit satellites on scouting missions for defence with U.S. aerospace company Rocket Lab's 3D printed rocket engines. While the satellites are ready for launch at first opportunity, Kleos is using the extra time to develop their second generation satellites to deliver enhanced coverage.
Subscribe to the 3D Printing Industry newsletter, like us on Facebook and follow us on Twitter for all the latest additive manufacturing news.
Find your next opportunity on 3D Printing Jobs.