Today California CLIP technology company Carbon has unveiled a new system: the Carbon L1 printer.
The first new 3D printer from the company since the M2 launched in 2017, the L1 provides a larger build volume (hence the "L") and is reportedly "designed specifically for immediate high-volume production." Simultaneous to the presentation of this machine, the company has also announced leading American football equipment provider Riddell as the L1's first customer.
3D Printing Industry speaks to Joe DeSimone, co-founder and CEO of Carbon, to learn more about the new L1, partnership with Riddell and the machine's availability.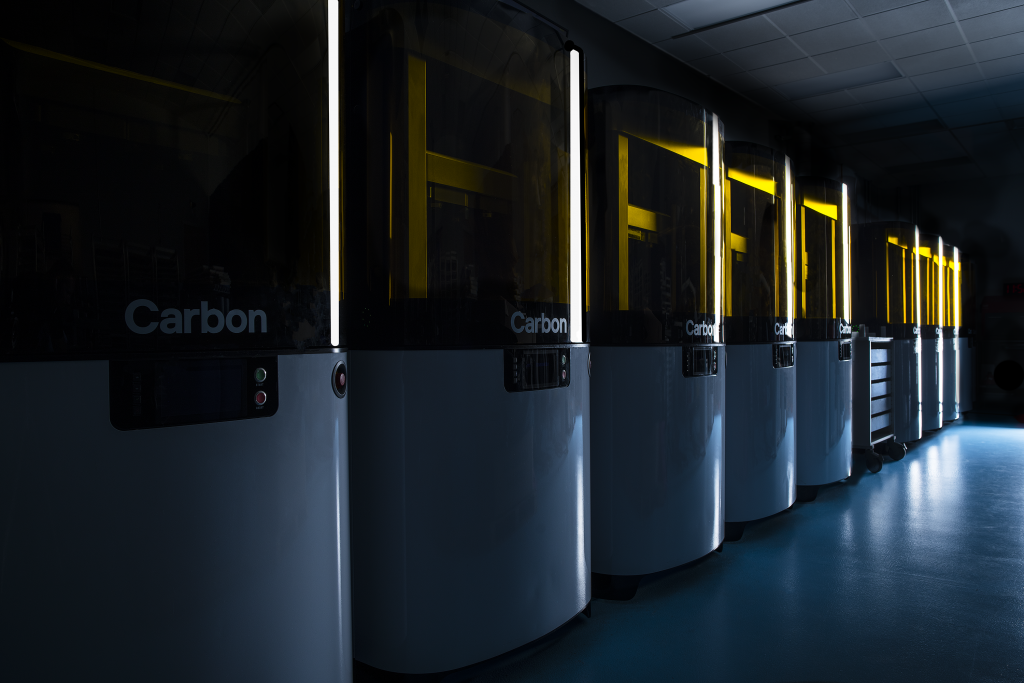 L1 present technical specifications and pricing
As with all of Carbon's 3D printers, the L1 works using the company's trademark Digital Light Synthesis (DLS) and Continuous Liquid Interface Production (CLIP) technology.
In comparison to the M1, Carbon's first 3D printer, the L1 offers a build area 10 times the size. In comparison to the M2, which has a build area measuring 7.4″ x 4.6″ x 12.8″ (189mm x 118mm x 326mm), the L1 offers 5 times the build area. The exact measurements of the L1 at present remain undisclosed, so it is unclear across which axis, or combination of axes, the volume has been expanded.
Feeding into the machine's claims of "immediate high-volume production" the Carbon L1 has a ready-made production process following file preparation; 3D printing; part cleaning; baking and quality assurance.
"All the functions mentioned," adds DeSimone "are [as with the M2] separate and done through the components of Speed Cell (i.e. Part Washer, etc.)."
Another new feature of the L1 is that products must be validated by Carbon before they are 3D printer to ensure part quality. The company maintains, "L1s are not intended for general purpose printing."
In terms of availability, DeSimone comments, "For now, the L1 is available for customers on a limited basis,"
"Companies that are interested in the L1 should reach out to our sales team for more information about our validation process. If a current customer meets our product validation requirements, they can purchase an L1 subscription."
Though, he adds, "We aren't sharing specific pricing details right now."
Carbon partners with Riddell
Riddell is the first company publicly announced by Carbon to have achieved L1 validation. As such, the company has used the system to 3D print Precision-Fit linings for its SpeedFlex Precision Diamond helmet.
As with other oft-produced custom fit products, e.g. 3D printed insoles and glasses, the fit of the SpeedFlex Precision Diamond helmet is determined by 3D scanning. With this data Riddell is capable of matching the exact contours of a football player's head with a custom 3D printed lattice.
Each lattice, generated by the Carbon Lattice Engine, is made up of over 140,000 individual struts, designed to absorb impact and provide excellent comfort to the wearer. A full lining for the helmet is composed of seven individually 3D printed parts.
As in Carbon's other lucrative sports partnership with adidas, the material used for Riddell helmets is a custom-made resin.
Commenting on the partnership, DeSimone tells 3D Printing Industry, "At Carbon, we strongly believe in the power of technology to unlock advanced innovation and solve real problems,"
"Today's unveiling of the Carbon L1 printer — offering a 10x bigger build area than our revolutionary first product, the M1 — is a testament to the continued investments we're making in our platform, and how critical breakthroughs in software, hardware and materials enable companies like Riddell to make products that were once thought unmakeable,"
"Our partnership with Riddell is about protecting the ones you love through innovation, and the result is the next generation of head protection for athletes."
Thad Ide, Senior Vice President of Research and Product Development at Riddell, adds, "Riddell is known for head protection leadership. Our partnership with Carbon, Silicon Valley's leading digital manufacturer, reinforces our commitment to advancing on-field protection for football players,"
"As the first to use digital manufacturing in football helmets, Riddell continues our industry leadership by embracing promising new technologies and advancing our innovation roadmap today and into the future."
Is this already your 3D Printer of the Year? Nominate Carbon, the L1 and more them in the 2019 3D Printing Industry Awards. 
For all of the latest 3D printer releases and exclusive interviews subscribe to the 3D Printing Industry newsletter, like us on Facebook and follow us on Twitter. Join 3D Printing Jobs to apply for new opportunities in the industry,
Featured image shows the Riddell SpeedFlex Precision Diamond helmet posed on the Carbon L1 3D printer. Photo via Carbon