U.S. based sports technology and ice hockey equipment brand Bauer Hockey is working with 3D printer manufacturer EOS to produce individually personalized 3D printed hockey helmets. The helmets can be bought by customers through Bauer's MyBauer custom equipment program and it is hoped that this collaboration will enable the commercialized production of customizable helmets at-scale to reach the mass market for ice hockey.
Manufactured using EOS's patented 3D printed Digital Foam™ technology, the player's head is scanned to create a digital file, then Selective Laser Sintering (SLS) is used to create an individual specific helmet insert.
Bauer is pursuing "mass customization", according to Mathieu Dejardins, senior brand manager of protective equipment at Bauer. "Through our work with EOS and other partners, we are evolving MyBauer custom hockey equipment program to now include helmet inserts specific to the individual, but able to produce at-scale". Dejardins also asserts that the Digital Foam technology, "keeps us out-front of product innovation while also bypassing other engineering and manufacturing limitations".
Jon Walker, a Digital Foam expert at EOS, has called this product "amazing" and something which EOS is "proud" to be a part of. Walker has also suggested that the use of AM technology within the world of sport is growing, with the sports equipment industry "really starting to think about how to leverage 3D printing". "Conventional manufacturing is not going to be supplanted by 3D printing, but rather augmented by it and this project is a stellar example", continued Walker.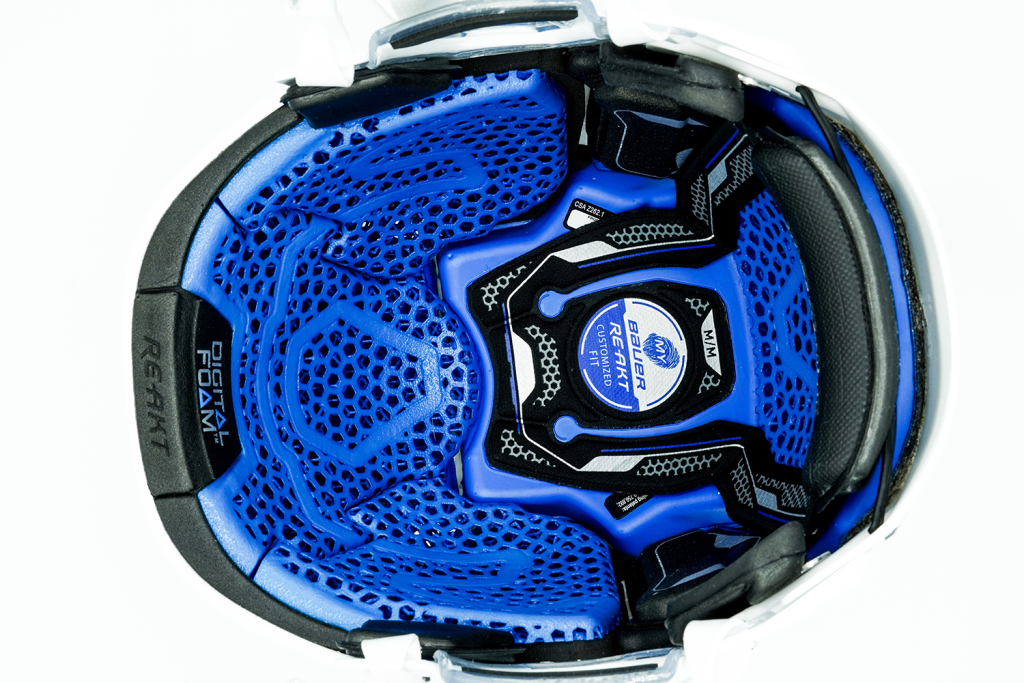 Using AM technology to produce safe, comfortable and lightweight helmets
EOS, alongside its applied engineering consultancy Additive Minds, launched its Digital Foam program back in 2019, with the intention of simplifying the process required to bring 3D printed foam products to-market. CEO of engineering software developer nTopology, Bradley Rothenberg, claimed that Digital Foam "accelerates the adoption of 3D printing". Rothenberg continued that this technology is ideal for the production of helmets "that are not only safer, but also light-weight and more comfortable".
The experience EOS has gained through its Digital Foam program was key to becoming a part of this project. After benchmarking all industrial 3D printing OEMs and investigating how to leverage and incorporate AM into their business model, Bauer determined that EOS was the ideal candidate. Indeed, their patented Digital Foam approach to printing polymers make them particularly well suited.
Dejardins is keen to emphasize that "no two heads are alike", and the ability to scan each customer's head to produce truly individual specific helmet inserts is certainly key to this product. The 3D printed Digital Foam, personalized for the wearer, incorporates a complex, varying lattice. It is claimed that these inserts offer improved comfort and greater breathability. Moreover, the 3D printed foam inserts are slated as weighing only 580 grams, allowing for a lightweight final product. Once manufactured, the inserts are coloured, finished and prepared for final assembly into Bauer's third generation REAKT helmets.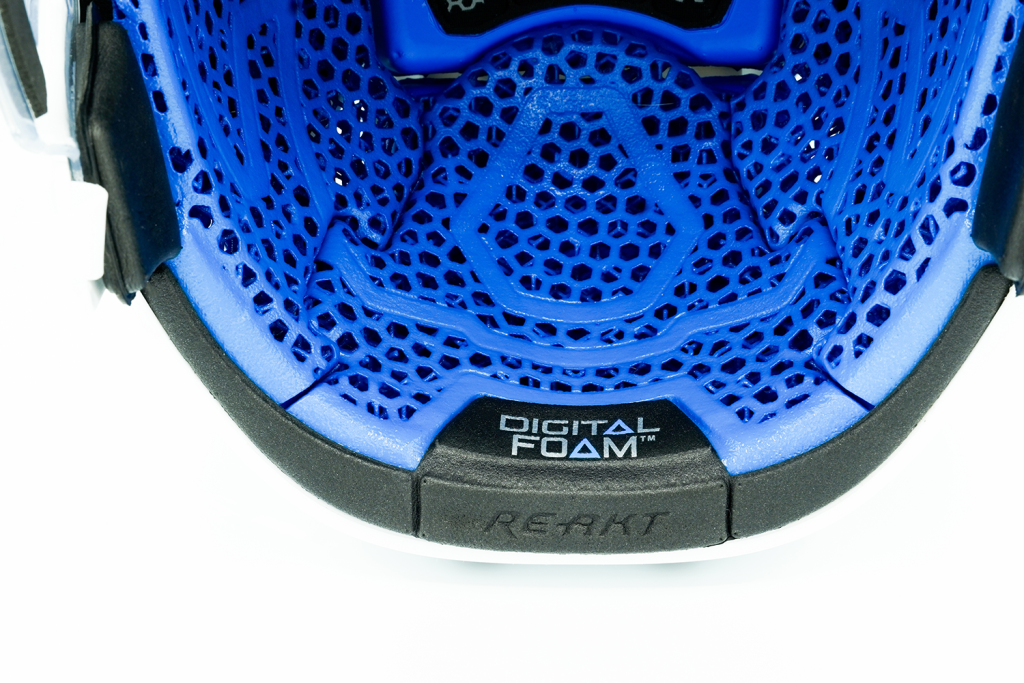 AM and the production of personalized sports equipment
Bauer is the latest sports equipment company to produce personalized equipment using AM. In 2021, sports goods manufacturer CCM partnered with Montreal-based software firm Shapeshift 3D and 3D printer manufacturer Carbon to produce a custom-fitted 3D printed hockey helmet liner. Called the Super Tacks X, the helmet uses Carbon's proprietary DLS resin process to print the lining.
Made commercially available in 2022, CCM offers a customized 3D scanning service, with their 3D printed NEST Tech liner being perfectly optimized for the customers head.
3D Printing Industry spoke with Justin Reynolds, CCM Brand Marketing Manager, to learn more.
"Our unique NEST Tech liner is built with 3D printed lattice structures with variable densities, designed to help distribute all types of hockey impacts, as well as wrap your head in a soft, continuous, unparalleled fit," states Reynolds. CCM claims that the Super Tacks X remains the only 3D printed hockey helmet liner with 100% head coverage.
In terms of market response, Reynolds comments that "There is definitely an appetite for our Total Custom helmets." The Super Tacks X helmet was used by approximately 162 players in the NHL by the end of the 2022-2023 season, and Reynolds expects this demand to translate into the consumer market. "NEST Tech is a new technology so it will take time to educate our consumers, but there's a lot of momentum behind our product that indicates future growth potential."
Looking to the future, Reynolds outlines that, given the "superior performance" offered by NEST Tech technology, CCM are looking to leverage 3D printing in the development of future products.
Away from ice hockey, EOS has also collaborated with protective clothing specialists HEXR to launch a head scanning app in 2020, enabling customers to have custom cycling helmets 3D printed. Jamie Cook, CEO at HEXR, stated that 3D printing was facilitating "major improvements in helmet technology". Elsewhere, in 2021 Cycle Shoe manufacturer Lore began offering personalized 3D printed cycle shoes – the LoreOne. Utilizing MORPHIC 3D Scan and Print technology, the LoreOne can be fully customized to an individual's feet, with customers able to 3D scan their feet themselves using the Morphic app.
Subscribe to the 3D Printing Industry newsletter to ensure you keep up to date with the latest 3D printing news. You can also follow us on Twitter, like our Facebook page and subscribe to the 3D Printing Industry Youtube channel to access more exclusive content.

Are you interested in working in the additive manufacturing industry? Visit 3D Printing Jobs to view a selection of available roles and kickstart your career.

Featured image Image shows Bauer REAKT helmets, which include personalized 3D printed foam inserts. Image via EOS North America.