Germany's SLM Solutions has produced what is tipped to be the "world's largest 3D printed rocket engine" for British spaceflight company Orbex.
Part of the inaugural unveiling of Orbex's commercial orbital rocket, Prime, the engine was 3D printed in a single piece, and will be used to deliver small satellites into orbit. The Prime was shown at the opening of the company's new headquarters in Forres, Scotland, funded by backing from the European Commission Horizon 2020 fund, the UK Space Agency (UKSA) and other private and public bodies.
At the grand unveiling Graham Turnock, Chief Executive of UKSA said, "Orbex's new rocket design facility brings Britain one step closer to having its own domestic commercial launch capability and firmly positions the UK as Europe's frontrunner for those looking to Earth's orbit and beyond for new opportunities."
"The new facility and future spaceport operations will help unlock vast
economic and societal benefits not just in Scotland but right across the UK."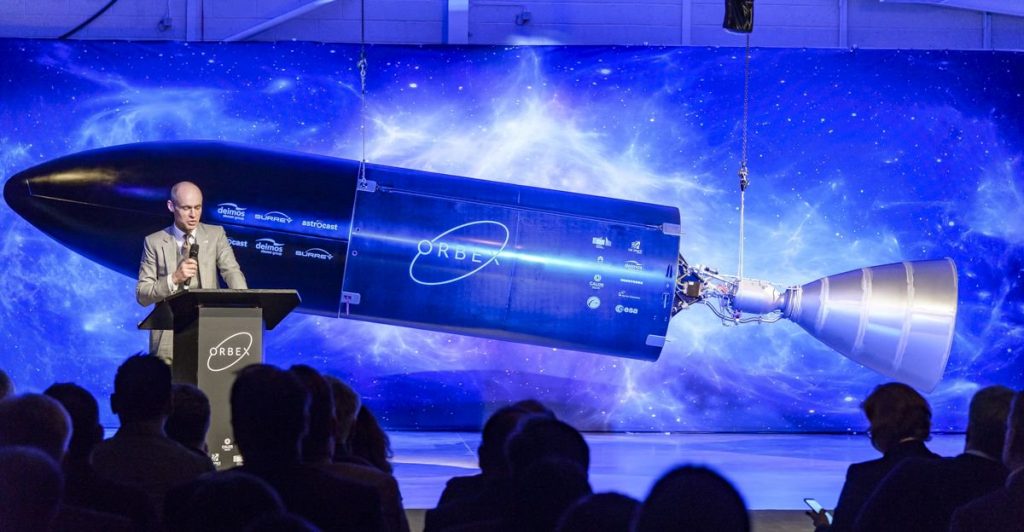 A $40 million exit from stealth mode
Long in "stealth mode," Orbex was founded in 2015 with the aim of launching small commercial CubeSats into Earth's orbit. In July 2018, the company exited its quiet period with the announcement of a £30 million ($40 million) in private and public fundraising, and confirmation that the UKSA would be allowing Orbex to launch from its Sutherland space port – a site the company shares with U.S. competitor Rocket Lab.
The Orbex Prime light launch vehicle is fulled by liquid oxygen (LOx) and propane, a non-toxic and cheaper alternative to hydrogen. As with many modern rockets, the Prime's booster is also designed to be reusable, cutting down on wastage created in the launch process.
Measuring 19 m high, and 1.3 m in diameter, the Prime is capable of carrying a payload of 150 kg, up to 500 km. In this regard it is comparable to the Rocket Lab Electron rocket, which has a payload capacity of between 150 and 225 kg, though the two vehicles use different propellants.
3D printing the Orbex Prime engine 
The engine for Orbex Prime has been 3D printed by SLM Solutions on an SLM 800 large format additive manufacturing system. The SLM 800 has a build area measuring 260 x 500 mm, with the capacity to build parts up to 800 mm tall – providing the potential scale of the Orbex engine.
It is made from nickel alloy, and its additive production has saved Orbex 90% in turnaround time and over 50% in costs compared to traditional CNC machining. In addition, the engine reportedly helps make the Prime "30% lighter and 20% more efficient than any other launch vehicle in its category." In the concept stage, Orbex strategic investor Elecnor Deimos Space demonstrated that the Prime is 18,000 kg in mass.
One of the key factors in the engine's production is that it is made in a single piece, eradicating joins and strengthening the part's overall integrity. Speaking on its development Lukas Pankiewicz, Applications Specialist at SLM Solutions, comments, "Our aim during the process was to fulfill the quality expectations of the Orbex team, keep the functionality of the part and make it suitable for additive manufacturing."
"Every single support structure used in data preparation has been customized to obtain the best quality in every section of the engine, taking post-processing into consideration as well."
Launching 2021
The private space launch industry is quickly becoming crowded with competitors racing to be leaders in the commercial market. In an effort to reduce costs, and create new, lightweight part architectures, many of the companies operating in this area are using 3D printing to build their engines – this includes the Space X Superdraco engine, Aerojet Rocketdyne's AR1, Rocket Lab Rutherford engines and parts of Blue Origin's BE series.
The maiden voyage of the Orbex Prime and its 3D printed engine is scheduled for 2021, and will be an experimental payload for the 3D printing-forward Surrey Satellite Technology. Speaking at the public preview of the Prime, Chris Larmour CEO of Orbex, commented, "Today Orbex has taken some big strides forward, creating something unique in Europe – a well-funded, private micro-launch solution supported by excellent facilities, strong industrial partners and an expanding line-up of commercial customers."
"[…] We are looking forward to the next steps in our development from our new home in Scotland."
Nominate Orbex and SLM Solutions for Aerospace Application of the Year in the 2019 3D Printing Industry Awards.
For regular additive manufacturing aerospace news updates subscribe to our newsletter, follow us on Twitter and like us on Facebook.
Looking for a fresh start in the new year? Visit 3D Printing Jobs to get a head start.
Featured image shows a close up of the Prime's single piece 3D printed engine. Photo via Orbex