Shares in US 3D printer manufacturer 3D Systems (DDD) have risen 12% in premarket trading, after its CEO Jeffrey Graves outlined plans for "exciting growth and investment" in the financial year ahead.
3D Systems' financials reveal that over Q4 2021, it brought in $151 million in revenue, a 13% dip compared to the $173 million it reported during Q4 2020. However, on the firm's earnings call, its CFO Jagtar Narula explained that this decline was solely the result of its recent divestitures, and when adjusted for these, its income actually rose 13% against Q4 2020 and 22% over the pre-pandemic Q4 2019.
On the call, Graves also explained how the company's restructuring has allowed it to make acquisitions that expand on its core manufacturing capabilities, in a way that will enable it to access "new and exciting markets" which "fuel its growth and profitability," and this optimism has since filtered through to investors, causing its shares to soar premarket.
"As we closed out the year, the results clearly spoke for themselves," Graves told analysts and investors on the call. "When adjusted for divestitures of non-core assets, our results for 2021 not only dwarfed our 2020 performance, but also significantly surpassed 2019 across all key financial metrics from top-line growth to profitability and cash flow."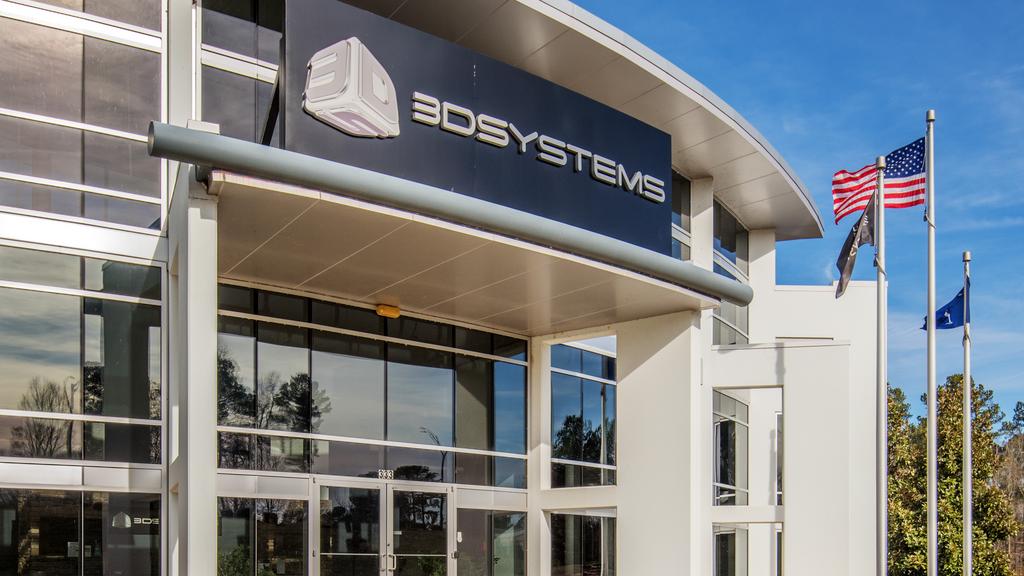 3D Systems' Q4 2021 financials
3D Systems still reports its financials under two segments: Products and Services, but since selling its on-demand parts business, it has become less reliant on the revenue generated by the latter. In keeping with this, the firm's Products division brought in the lion's share of its revenue in Q4 2021, yielding an income of $118 million, which is 4% more than it achieved in Q4 2020 and a 12% rise on Q4 2019.
On 3D Systems' earnings call, Graves went on to highlight how it had released the "most new material offerings in its history" last year, going some way to explaining its continually increasing Product revenue. Narula added that the company's growth is also being fuelled by "great demand" for its core healthcare and industrial offerings, with these growing 40% and 24% between FY 2020 and FY 2021 alone.
As expected, given that it's now reliant on a consulting and support portfolio, 3D Systems' Services income was just $33 million in Q4 2021, a 45% drop compared to the $60 million it generated in Q4 2020. While the segment's healthcare offering was impacted upon by the emergence of the Omicron variant in Q4, the firm continues to invest in its services, and has teased new launches ahead of RAPID+TCT 2022.
Looking at the firm's P&L figures, there's evidence to show that the streamlining measures taken as part of the wider restructuring announced in August 2020, are having the desired effect as well. 3D Systems' operating expenses fell to $297 million in FY 2021, and while this was somewhat thanks to a $48 million goodwill impairment it made, this figure is projected to drop further to $225-250 million in FY 2022.
| | | | | | | |
| --- | --- | --- | --- | --- | --- | --- |
| Revenue ($) | Q4 2020 | Q4 2021 | Difference (%) | Q4 2019 | Q4 2021 | Difference (%) |
| Products | 113m | 118m | +4 | 105m | 118m | +12 |
| Services | 60m | 33m | -45 | 63m | 33m | -48 |
| Total | 173m | 151m | -13 | 168m | 151m | -4 |
| Cost of Sales | 100m | 85m | -15 | 94m | 85m | -10 |
| Gross Profit | 72m | 66m | -8 | 74m | 66m | -11 |
A record-breaking launch year
Despite its on-demand 3D printing divestiture, as well as those of Simbionix and Cimatron, 3D Systems still managed to generate $616 million in revenue in FY 2021, 11% more than the $557 million it reported in FY 2020. As was the case in Q4 2021, this was largely down to a rise in Product sales, which jumped 29% year-on-year, as the firm made several launches aimed towards its core industrial and medical base.
In Q1 2021, for instance, 3D Systems released its first industrial FFF 3D printer, after announcing a breakthrough in its Print to Perfusion bioprinting program. Since then, the company has gone on to introduce a spate of materials, such as the Figure 4 Rigid White, Accura Composite PIV, VisiJet Wax Jewel Red, allowing it to address further demanding end-use, aero-testing and jewelry applications.
3D Systems' coffers were further lined in FY 2021, by an $11 million DEVCOM ARL contract it was awarded to help develop an AI-based 3D printing research platform, while it has also qualified two new alloys for its DMP platform and sought to develop corrosion-proof metals alongside Huntington Ingalls in its own R&D, an area it has committed to increase its spending in over the coming financial year.
Alongside these internal growth-drivers, the company has invested heavily in acquisitions as well, specifically targeting those that specialize in industrially or medically-oriented technologies. With this in mind, 3D Systems bought Allevi and Additive Works in Q2 2021, followed by software specialist Oqton, Volumetric Biotechnologies and most recently, Titan Robotics and Kumovis.
Although Graves emphasized on the firm's earnings call that the latter deal hasn't yet gone through, and won't be wrapped up until Q2 2022, he suggested that the pellet and PEEK 3D printing capabilities provided by its respective acquisitions, would enable its future customers to reduce production costs by as much as 75% and create custom implants en-masse.
"We believe the point-of-care printing for customer patient solutions will be an increasingly exciting market in the years ahead, and one for which we're a clear leader," Graves said on the call. "When taken in total, we believe the Kumovis market opportunity is measured in hundreds of millions of dollars, and the synergies with our current offerings and infrastructure are outstanding."
"We believe these investments will position the company to continue to lead the additive manufacturing industry."
3D Systems' expansion plans
As we move into the third month of FY 2022, 3D Systems has set its guidance for the year at $570 million to $630 million, which could mean anything from a 7% year-on-year decline to a 2% rise. While the firm says that realizing its revenue goals are reliant on market conditions related to COVID-19, geopolitical events and supply chain disruption, it also has plenty of reasons to believe they're achievable.
Thanks to the income generated from its divestiture drive and the net proceeds from a $460 million convertible bond issuance, the company finished FY 2021 with $790 million in cash and equivalents. As a result, 3D Systems has the liquidity to continue expanding its product lineup and identifying external growth opportunities over the year ahead, something Graves alluded to in his closing remarks.
"Our investments will continue as they have over the last year, including adding industry-specific application expertise, back-office infrastructure, and the foundational technologies that enable the value we bring to our customers," added Graves. "We'd expect that over the next 18 months, we will refresh our entire lineup of metal and polymer hardware platforms, while continuing to release record numbers of new materials and improvements to our software products."
Graves also announced on the call that 3D Systems would be taking a stand against the "unacceptable humanitarian implications" of Russia's recent invasion of Ukraine, by immediately suspending all sales to Russia, adding that he hoped the situation would be "resolved quickly and peacefully," ending with the Ukrainian people living in a "free country with an elected representative government."

When questioned on the financial impact this move could have on the firm's bottom line by Craig-Hallum's Greg Palm, Graves reiterated the value was immaterial in accounting terms and did not attach a number to it, saying that it's a more "symbolic" gesture than anything else, and the region remains a market it's "excited about growing in" if the situation there is resolved.
To stay up to date with the latest 3D printing news, don't forget to subscribe to the 3D Printing Industry newsletter or follow us on Twitter or liking our page on Facebook.
For a deeper dive into additive manufacturing, you can now subscribe to our Youtube channel, featuring discussion, debriefs, and shots of 3D printing in-action.
Are you looking for a job in the additive manufacturing industry? Visit 3D Printing Jobs for a selection of roles in the industry.
Featured image shows 3D Systems' headquarters in Rock Hill, South Carolina. Photo via the CBRE Group.