French 3D printing service bureau Sculpteo has collaborated with Swiss orthopedics specialist Daniel Robert Orthopedie to come up with a novel eco-friendly orthosis.
By additive manufacturing the body-realigning wearable from Sculpteo's bio-based PA11, the firms have managed to make it both sustainable to produce, and tailorable to the needs of patients. In addition to "strengthening its position as a leader in 3D printing," Sculpteo anticipates that its Daniel Robert collaboration will yield next generation prosthetics and orthotics with life-changing potential.
"We launched 3D printing PA11 to enable our partners to develop 100% tailor-made products in record time and at an advantageous cost, while maintaining the ecological approach that is close to our hearts," said Clement Moreau, CEO of Sculpteo. "Together, we offer orthoses and prostheses able to evolve according to the needs of their users, which will revolutionize the lives of millions of people."
Sculpteo's Ultrasint PA11 material
As well as being a manufacturing service provider, Sculpteo also seeks to meet the needs of 3D printing adopters by developing materials for use with the technology. While the firm used to do so independently, it was acquired by BASF in November 2019, and since then, BASF has sought to develop Sculpteo's 3D printing platform into a global network, while accelerating its new material R&D plans.
Initially, this saw Sculpteo work with BASF division Forward AM to launch three new automotive 3D printing materials: Polyamide 6, Thermoplastic Polyurethane (TPU) and Polypropylene (PP). These were then followed by the bio-based Ultrasint PA11 range, another Sculpteo-Forward AM-developed product line, designed to feature a high level of toughness, ductility and impact strength.
According to Sculpteo, the material offers a "sustainable alternative to PA12," in that it is made from castor beans turned into an oil and converted to a monomer, before being polymerized into PA11. In terms of the biopolymer's use cases, its makers market its skin contact compatibility and robustness as being ideal for medical and automotive 3D printing, and in the former, its potential is now being better realized.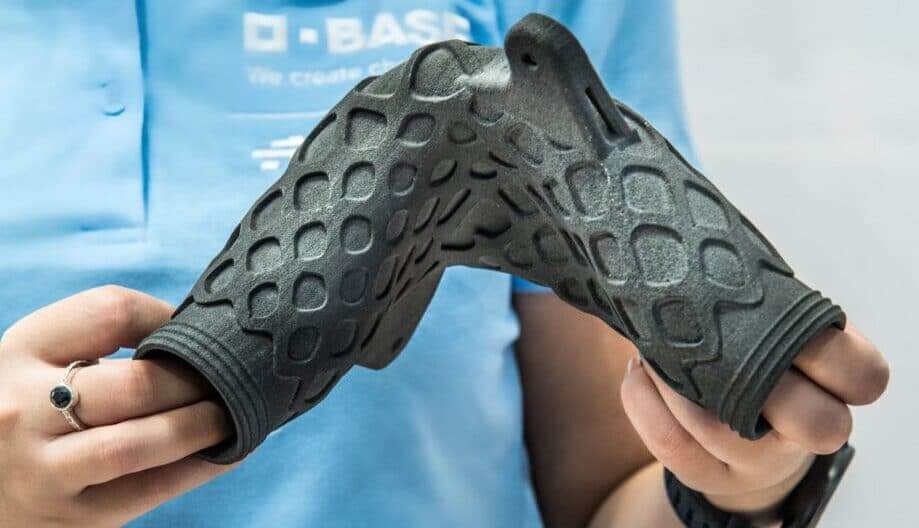 Providing personalized healthcare
Operating from its sites in Geneva and Nyon, Daniel Robert specializes in the design and manufacture of patient-specific medical devices. In an attempt to take the largest slice it can of an orthopedic market that's said to be worth $32 billion per year, the firm works with experts in the fields of ortho-prosthesis, podo-orthopedics, wheelchair-positioning products, and it has now partnered with Sculpteo as well.
In doing so, the company is said to have gained access to a 'responsive' platform that allows it to scale its capacity where needed, in a rapid but cost-competitive way. Additionally, when it comes to customization, it's thought that working with Sculpteo will enable Daniel Robert to more easily adapt childrens' orthotics, the likes of which need continual replacing with the same functionality, as wearers grow.
It's not just children that stand to benefit from the deal either, as Sculpteo also says that it could soon provide adults of all ages, whether they have scoliosis, hemiplegia, cerebral palsy or an amputation, with access to personalized healthcare.
"Sculpteo has become an important partner in the development of 3D printing," added Daniel Robert, Director of the eponymously-named company. "The technologies offered by Sculpteo help us choose the right processes for the different applications. Chemical treatments for finishes are a big plus. The platform is very responsive and allows us to order quickly."
Although Sculpteo's latest published use case does represent a promising step forwards for the availability of custom orthotics, it's far from the firm time the technology has been used in this area. In fact, the likes of e-NABLE have been doing something similar for years now, with the organization 3D printing hands for an amputee as long ago as 2018.
The next year, UK-based Andiamo was also named London's most innovative tech company. Key to the firm's success in the competition was its cloud-based platform for designing and delivering 3D printed orthotics for disabled children, which relied on a combination of AI and big data technologies that were earmarked for further R&D at the time.
To stay up to date with the latest 3D printing news, don't forget to subscribe to the 3D Printing Industry newsletter or follow us on Twitter or liking our page on Facebook.
For a deeper dive into additive manufacturing, you can now subscribe to our Youtube channel, featuring discussion, debriefs, and shots of 3D printing in-action.
Are you looking for a job in the additive manufacturing industry? Visit 3D Printing Jobs for a selection of roles in the industry.
Featured image shows Sculpteo and Daniel Robert's 3D printed Orthosis. Images via Sculpteo.