In May, we reported on Andrey Rudenko who, with a background in architecture and engineering, had developed his own concrete 3D printer and had already begun 3D printing large scale structures.  At the time, Rudenko had drawn up a sketch of castle that he'd planned to print and had even begun 3D printing a test shape for it.  Suddenly, like a wildfire, pictures of his completed 3D printed castle sprung up all over the Internet as the Minnesotan man has just completed his first, complete, large-scale structure.
The engineer's story begins as many DIY 3D printing enthusiasts' do, by building a small 3D printer capable of extruding plastic, but Rudenko had always had grander ideas in mind.  He immediately began thinking about how to enlarge the machine and testing various cement mixes.  For that reason, Rudenko's giant 3D printer is like a blown up version of a RepRap 3D printer, using similar hardware as DIY machines, like an Arduino Mega 2560 board and large stepper motors, purchased from the Mass Mind.
Since getting into 3D printing two years ago, the engineer and his printer have made significant progress. When we last wrote about it, Rudenko's house printer was  capable of printing 20 mm in width and 5 mm in height.  The engineer later discovered, however, that he could push the machine even further, extruding concrete layers 30 mm wide and 10 mm tall, allowing him to print more than 50 cm of concrete per day.  After learning how to calibrate his machine at the programming level and running into a number of obstacles since his earlier prints, such as the extruder clogging (a common 3D printing setback made unimaginably worse with concrete, instead of plastic), Rudenko has since climbed the summit of his own printer's steep learning curve.  Now, he can print layers almost perfectly, without any speed bumps, saying, "This two year long journey has led me to build the world's first 3D Concrete Printed Castle. Finally, it stands!"
Rudenko says that, though he had to rely on himself to get the project going, he couldn't have done any of the work he accomplished without the support of the RepRap community:
In desire to start the 3D printing of the castle model sooner, I relied on my own resources. When I started out, people struggled to believe this project would progress any further. However, I was lucky to get lots of invaluable input and support from individuals from the RepRap community. Specifically, I am eternally grateful to James Newton for his constant support with the drivers (). These drivers ended up being the only ones to work properly with Marlin Firmware (I sampled other drivers, which failed), and were powerful enough to move such a huge printer. Also, I am greatly thankful for Mikhail Tikh, a design engineer collaborating with me on the project and responsible for the 3D model of the castle. I'm also really grateful for all the help I received with manual labor on this project. 
After successfully pulling off the world's first 3D printed castle, Rudenko is ready to begin work on his ultimate project: a two-story, 3D printed house.  In our previous correspondence, the engineer told me that the house was to be 10m x 15m in size and that he was planning to include all of the features necessary to make the house livable in the construction process, such as plumbing, insulation and electricity.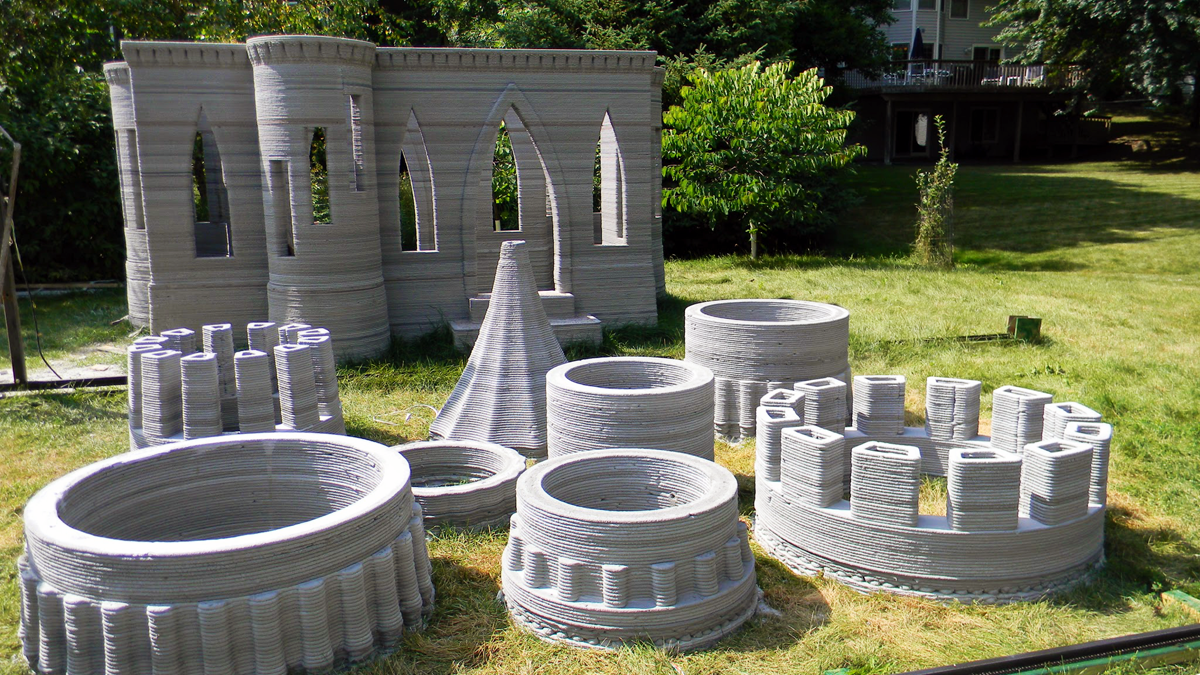 To prepare for his next endeavor, Rudenko is in the process of redesigning his printer so that it will ready to print 24 hours a day, until the house is completed. As the engineer printed the castle's turrets separately, which were difficult to lift and place, he plans to print the entire house in a single piece.  In discussing the next job, he adds, "I've figured out how to print a roof; the only thing is that the material I'd print with would have to be used in warmer climates for now."  Rudenko has decided that, rather than 3D print "real full-scale livable house" in his home-state of Minnesota, as originally planned, the house should be built in a region more suitable for 3D printing from the fall through the winter, saying, "While the location for the next project will be selected based on many factors, I have decided that ideally it should be a region with warm, mild climate so that printing can start in the fall and continue during the winter season."
Due to the high interest in his project, Rudenko is looking for individuals and companies to fund the project and all of its expenses.  Because he possesses this revolutionary technology and knows how to use it, it seems reasonable to expect someone out there to provide the rest.  The engineer outlines that "the interested party needs to own the lot/site and possess a permit for a house built by 3D Printing technology." He also wants to ensure that he has a capable  construction team to help him out on his project, as well as architects, designers, and software engineers with 3D modeling experience.
The ability to construct a building with 3D printing technology allows for a number of unique design and décor options, such as built-in furniture and staple building features, like doorways and staircases.  The engineer points out, "With this new technology, it is possible to print limitless amounts of classical décor as well as brand new elements and shapes, whereas previous technology made innovative constructions difficult and expensive."  As a result, Rudenko hopes that designers and architects will contact him at [email protected] to partner on 3D printing an entirely unique home.  Those that are interested can go to his company's website, which outlines the design capabilities of his 3D printing technology.
As practical-minded and humble as he seems to be about the project, it's clear that Rudenko can sense that he has accomplished something altogether amazing.  Andrey Rudenko concludes his post on the 3D printed castle by saying, "A new era of architecture is inevitable, and I'm excited to see where the next few years will lead in terms of construction and design. I have previously been sure I could print homes, but having finished the castle, I now have proof that the technology is ready."