Additive manufacturing has been adopted by specialist stainless steel and aluminium manufacturer Jung & Co. Gerätebau GmbH for making the spare parts needed in drinks-can machines. A Concept Laser M2 Cusing Multilaser machine has been installed in their factory in Germany since 2015, and has since persuaded their clients that additive manufacturing is the perfect solution to manufacturing on-demand.

Moving gif image shows a drinks-can production line originally shown on Discovery  Channel's "How It's Made" Aluminum Cans episode. Clip via: TRR56 on Youtube.
Reliability in mass manufacturing 
Factories in the food and drink industry are particularly dependent on an ability to work 24 hours a day, 7 days a week in order to meet production demands. In this mode of line manufacturing, with product trials queued behind one another, any malfunction can have a detrimental effect to a factory's entire chain of production.
To take one part as example, the valve used in filling drinks-cans is typically composed of around 7 separate parts.
Using a traditional manufacturing technique such as CNC milling, it would typically take between 8 and 20 weeks to manufacture and assemble such a piece. With computer-aided redesigning of this part for laser sintering, not only are the multiple parts condensed to just one, but the time taken to make it is reduced to just one week.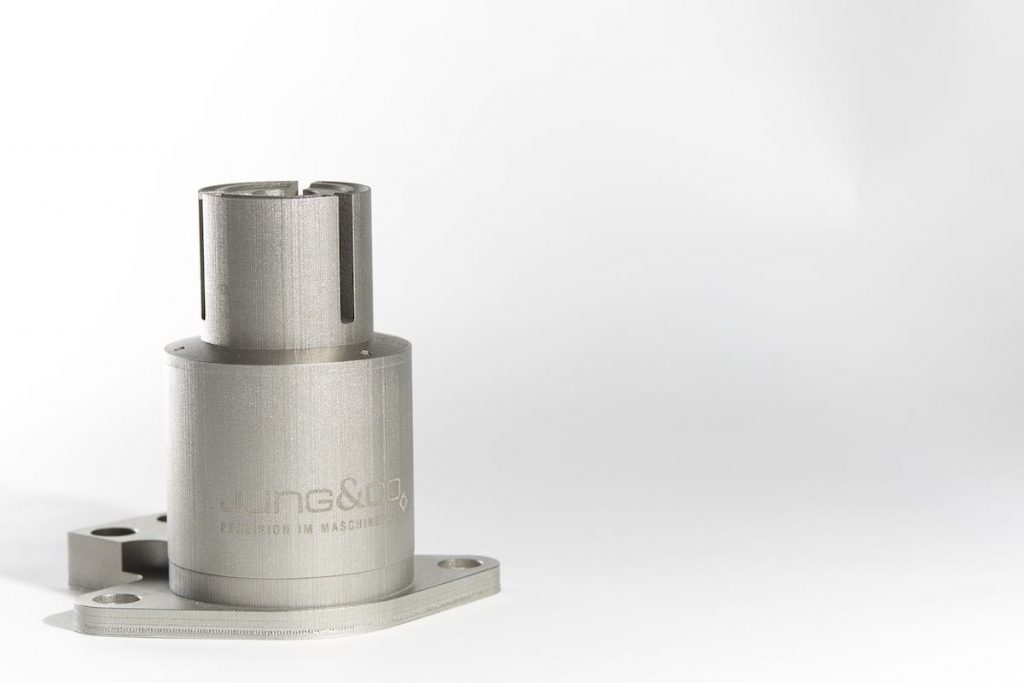 Getting into the game
Jung & Co. aren't the only manufacturers to start using Concept Laser in their solutions. In November of this year, Ohio-based 3D printers Tangible Solutions announced that they would also be adding an M2 Cusing machine to their new Dayton AM facility, with medical and aerospace clients particularly in mind. Though Jung & Co.'s current focus is on the use of AM in the beverage industry, with over 40 years experience the company also has existing partnerships in chemical and pharmaceutical, oil and gas, aerospace and wing energy industries, so as their technique is refined we may see it spread into other sectors.
In an interview with CSP-world, Jung & Co's Managing Director Thomas Lehman explains how the company are looking to the future, with a recently combined 3D laser measuring technology, and forthcoming mobile 3D scanners, 'We are thinking ahead in very different directions. It is now possible to have additive solutions but also hybrid solutions in which traditional machining processes are combined with laser melting'.
Lehman went on to add that the overall endgame is, 'to construct a fully digital process chain, from the scan to the 3D part ready for installation'. End to end solutions are in demand for the Smart Factories of the future. It was also recently picked up on by German 3D measuring and testing specialists GOM GmbH, who have launched a competition for students to incorporate 3D scanning into a lab experiment, or reverse-engineering a product.
Featured image shows aluminum cans. Photo via: gundersenenvision on WordPress