The finalists for the 2019 3D printing purmundus challenge have been unveiled. Held by German rapid prototyping company Cirp GmbH, the annual purmundus challenge invites designers and engineers from around the world to participate in a theme-based 3D printing design contest. This year's theme is "Beyond 3D printing," and returns for its seventh year with the proud support of 3D Printing Industry.
A total of 38 finalists have been selected, and will now head to Formnext 2019 from 19 to 22 November 2019 where the winners will be announced. The product ideas, comprising entries from 18 different countries on 5 continents, cover forward-looking concepts in the fields of medicine, 4D printing, bionics, mobility, lifestyle, furnishings, art and more. 
Going beyond 3D printing
The purmundus challenge has been running since 2012, and aims to showcase ground-breaking 3D and 4D printing ideas in the field of product design. With this year's "Beyond 3D printing" theme, the purmundus organizers describe the 38 finalists as demonstrating the "enormous potential of additive manufacturing" with smart innovations in various different markets. 
Notable entrants include the Ionic Sound System, a 3D printed commercial audio set made from sand launched in February 2019. It is designed by DEEPTIME, a Czech design studio specializing in audio products. Consisting of two passive satellite speakers and one active sub-woofer, it was developed using binder jetting technology. 3D printing enabled the creation of a unique speaker design with favorable acoustic qualities. 
Sandvik, the Swedish engineering group, has two interesting submissions that have made it into the final 38 entries. The first product is what the company claims to be the  world's first smash-proof 3D printed guitar. Consisting of a 3D printed titanium body, and a neck supported by Sandvik's hyper-duplex steel technology, the instrument was strong enough to resist guitar player Yngwie Malmsteen's attempts at breaking it.
Sandvik's other entry is what is said to the first ever 3D printed diamond composite, which it unveiled at RAPID + TCT 2019. Using stereolithography (SLA), Sandvik researchers implemented a slurry consisting of diamond powder and polymer to 3D print the diamond composite.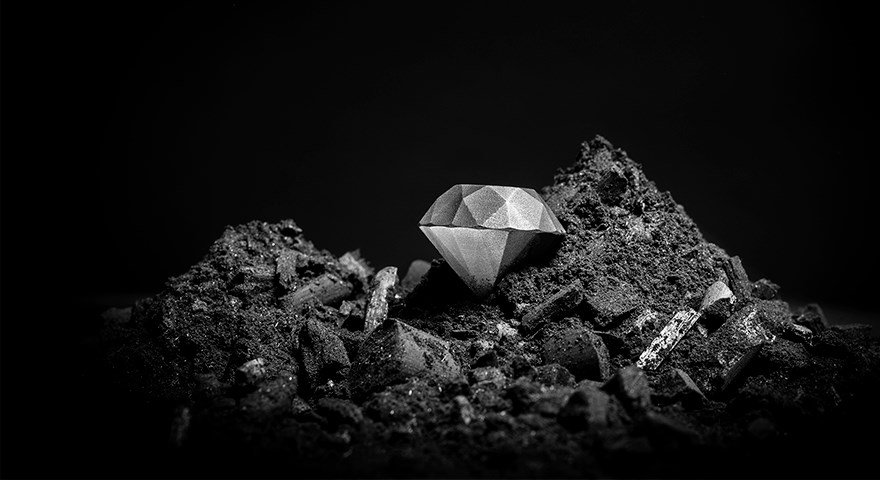 UrbanAlps, a Swiss high-security company, which has developed a metal 3D printed high-security key called the Stealth Key. It is a fully customized mechanical key which has a cylindrical covering hiding the unlock code. This means that the bittings (engaging the unlocking mechanism) of the key cannot be photographed or scanned. 
Cabin and avionics aerospace manufacturer Diehl Aviation is also among the 38 finalists with its 3D printed curtain comfort header that it developed for Airbus' A350 XWB jet airliner. It was produced using FDM technology, and is reportedly the largest 3D printed part to be produced for passenger aircrafts. 
Winners of the 2018 purmundus challenge
Three winners will be selected from the 38 finalists, with awards worth a total of €30,000 divided between them. In addition to the first three places, there will also be a "special mention" and an "innovation prize." A prize for the "people's choice," voted for by visitors to Formnext 2019 will be handed out, as well as a new prize category called "simulation driven design by Altair." 
The permundus 2018 winner was Ricardo Simian of 3D Music Instruments, who submitted an SLS printed cornetti. Runners up included Aarish Netarwala, an industrial designer who made the Adidas Grit shoe, and Dr. Christoph Kiener and Manuel Biedermann from Siemens AG for their bionic fuel burner. 
The three winners for the purmundus challenge 2019 will be chosen by an international jury of professionals, based on the benefits of the 3D printed product in terms of use, economy and aesthetics as well as the design itself and the innovation. Awards will be presented in the AM4U Area of hall 11.1-D29 of the Formnext fair on 21 November 2019 at 5:00 p.m. If you are not attending Formnext, you can catch the ceremony through a livestream via the Formnext Facebook portal.
Subscribe to the 3D Printing Industry newsletter for the latest news in additive manufacturing. You can also stay connected by following us on Twitter and liking us on Facebook.
Looking for a career in additive manufacturing? Visit 3D Printing Jobs for a selection of roles in the industry. 
Featured image shows last years trophy. Photo via Purmundus challenge, chirp GmbH.