Sandvik, has unveiled what is said to be the first ever 3D printed diamond composite at RAPID + TCT this week.
Using stereolithography (SLA), researchers from Sandvik's additive manufacturing division implemented a slurry consisting of diamond powder and polymer to 3D print the diamond composite. This material has been tested and maintains the physical properties of pure diamond.
"Historically, 3D printing in diamond was something that none of us imagined was achievable. Even now we are just starting to grasp the possibilities and applications that this breakthrough could have," said Anders Ohlsson, Delivery Manager at Sandvik Additive Manufacturing.
3D printing diamond
Recognizing that diamond is regarded as the hardest material in the world, a team at Sandvik Additive Manufacturing saw its potential in advanced sectors such as aerospace and automotive.
Ohlsson added, "We began to wonder what else would be possible from 3D printing complex shapes in a material that is 3 times stiffer than steel, with heat conductivity higher than copper, the thermal expansion close to invar – and with a density close to aluminum."
"These benefits make us believe that you will see the diamond composite in new advanced industrial applications ranging from wear parts to space programs, in just a few years from now."
Despite these properties, however, the 3D printed diamond composite does not maintain the shine of a natural diamond. Replicating and 3D printing the properties of diamonds have been proven to be a challenge or an investigative process, despite the depiction in the recent Hollywood heist movie, Ocean's 8.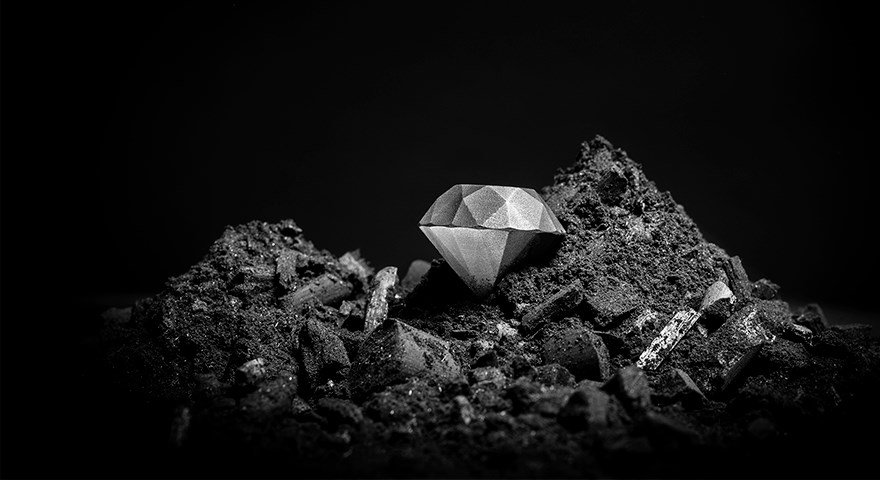 Post-processing the rough
Following the SLA process, the Sandvik team developed a custom, proprietary post-processing method that is able to produce the exact properties of the diamond composite. Mikael Schuisky, Head of R&D and Operations at Sandvik Additive Manufacturing continued, "This step was extremely complicated. However, after extensive R&D efforts and several trials we managed to take control over the process."
"It was incredible to see what we can achieve when we combine Sandvik's leading expertise in materials technology with our strong capabilities in additive manufacturing and post-processing."
"We have some of the world's leading experts in both materials and additive manufacturing, which in a case like this can benefit many industries around the globe making it possible to use diamond in applications and shapes never conceived possible before."
Sandvik has a patent pending for the diamond composite process. Attendees at RAPID + TCT can visit booth 727 to find out more.
It's not too late to cast your vote for the 2019 3D Printing Industry Awards.
For complete coverage from RAPID + TCT, subscribe to the 3D Printing Industry newsletter, and follow us on Facebook and Twitter. 3D Printing Industry is the only publication reporting all of the news from the event.
Don't forget to visit our 3D Printing Jobs board to find out more about opportunities in additive manufacturing.
Featured image shows a 3D printed diamond composite. Photo via Sandvik.