DEEPTIME, a Czech design studio specializing in audio products, has 3D printed the first commercially available audio set. And the speakers are made from sand.
Parade your snazz on your three-grand stereo
Suitable for (deep-pocketed) home and office interiors, the 3D printed, limited edition Ionic Sound System is a set of speakers consisting of two passive satellite speakers and one active sub-woofer. It was developed using binder jetting technology. The full set with the sub-woofer is available for €3141.59 ($3,562.72), and the speakers by themselves are priced at €899 ($1,019.51). 
Binder jet 3D printing allowed DEEPTIME to design and manufacture speaker enclosures with virtually no limits of complexity and variability of the shapes or sizes. This enabled the speaker to generate favorable acoustic qualities according to DEEPTIME, aimed towards demanding audiophiles.
Martin Hreben, co-founder of DEEPTIME, explains that "For us, the design means looking for the form that reflects the nature and function of the product and builds on the benefits of the newest available technologies."
"We don't want just to embellish existing standard solutions. That is the reason why our speakers do not use the standard cube or block shaped enclosures. Instead, we employ organic shapes designed to enhance the sound quality." 
3D printed sand for high quality sound
DEEPTIME studio was founded by Martin Hreben & Ondrej Chotovinsky, who have experience with industrial design in the automotive industry (McLaren, Honda and Skoda).
Integral to the design of the speakers are its sand enclosures, which were made using additive manufacturing technologies. The enclosures are seamless, with no visible bolts or joints, establishing a smooth visual appeal.
DEEPTIME studio says that it utilized a technological process that transformed the sand prints into airtight, resonance-free forms using custom-made hardeners and pigments. All the components of the audio system, including the electronics, control rings and connectors are custom manufactured and designed by DEEPTIME.
The development of the Ionic Sound System and the formation of DEEPTIME studio dates back to 2014. Martin Hreben and Ondrej Chotovinsky, under the brand AKEMAKE, introduced a set of speakers 3D printed from a wooden composite. From this, the founders of DEEPTIME studio developed and researched new materials, designs and manufacturing processes for improved acoustics and aesthetics.
"We find inspiration mainly in nature. All shapes in the natural world are functional in one way or another. You'll have a hard time finding regular cube or box shapes in nature," adds Ondrej Chotovinsky.
3D printing for consumers
DEEPTIME's 3D printed sand speaker represents the latest example in a line of consumer products utilizing 3D printing technology.
3D printing was also used in the build of protective bicycle headgear. Hexo Helmets, in collaboration with 3D printer manufacturer EOS, recently launched its 3D printed bicycle helmets, which uses additive manufacturing technology for increased protection. 3D Printing Industry also interviewed Markus Glasser, SVP of EOS at the launch event of the Hexo Helmets, where we discussed the future of consumer 3D printing.
In the fashion industry, Chanel began mass producing the 3D printed Volume Révolution mascara brush, made in collaboration with Erpro Group. Said to be the first of its kind, this brush was created using selective laser sintering (SLS), on industrial systems which produced up to 50,000 a day.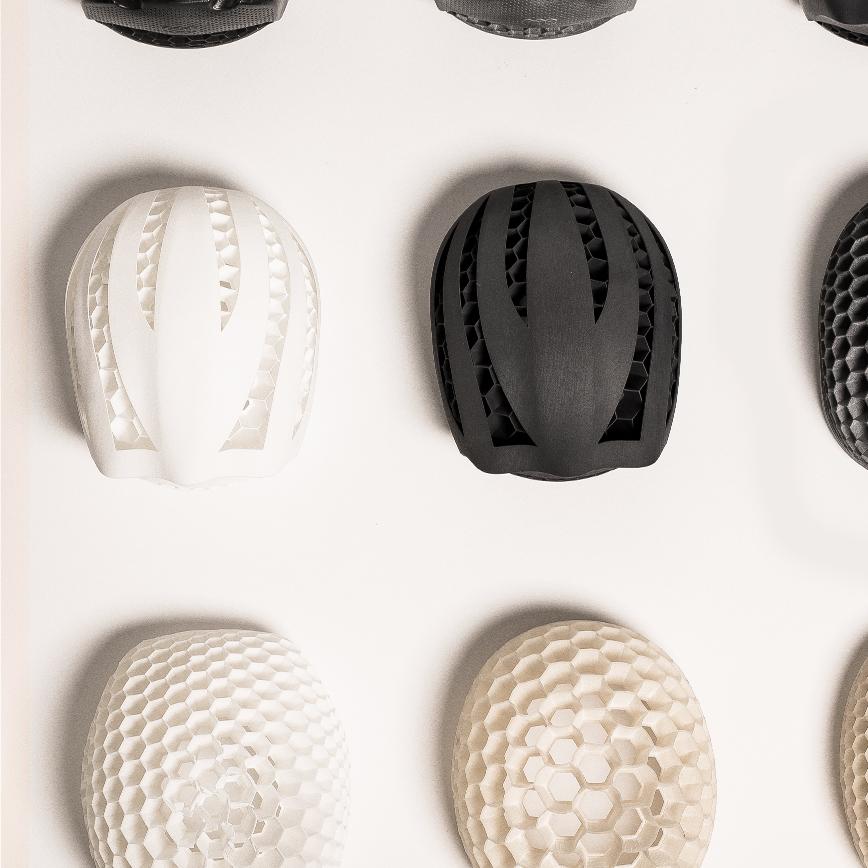 MOREL and INITIAL have also collaborated on a consumer application of 3D printing in the eyewear industry. The mass produced lightweight 3D printed glasses were made using INITIAL's 3D printing services.
Read our list of the best 3D printed consumer products for further examples of the latest commercial innovations in the additive manufacturing industry.
Is DEEPTIME's Ionic Sound System your Consumer product of the year? Nominate it now for the 3D Printing Industry Awards 2019.
Want the latest 3D printing news? Subscribe to the 3D Printing Industry newsletter, follow us on Twitter and like us on Facebook.
Looking for a fresh start this year? Visit 3D Printing Jobs to commence your career in additive manufacturing.
Featured image shows a close-up of the spiral design featured on the DEEPTIME 3D sand printed speaker. Image via DEEPTIME.