Munich-based chemical company Wacker have announced a new way to 3D print gum as well as a new "Candy2Gum" process.
Among their many products Wacker are also a producer of food resins, including those used to make chewing gum, and now they wish to manufacture the gum itself. In addition to the 3D printed gum, they've also created a new way to turn existing candy into gum. Wacker call the technology 'Candy2Gum' and they believe the process will open doors to an array of new possibilities regarding gum texture and flavors.
It seems to us at 3DPI that Wacker may have been watching Charlie and the Chocolate Factory, are hoping to emulate Willy Wonka's 'Three course dinner gum'. Let's just hope it doesn't have an effect similar to Violet Beauregarde as pictured below. In fairness, Willy Wonka did not attempt an additive manufacturing process, hence the blueberry side effects, and we trust Wacker will have successfully perfected their technique when it is showcased in Cologne in January. We spoke to Wacker to find out more.
What's new with 3D printed gum?
The printing of food products is an interesting concept, and we've recently seen 3D printed candy (pictured below), the next step seems to be moving from candy to the more advanced process of creating gum. Traditionally, the way gum is manufactured is very different to candy, but this new Candy2Gum technique involves a boiling process that is similar to candy production. This should make the gum process easier and allow for new possibilities. This process differs from the traditional dry kneading method that cannot handle water-based and fat-containing ingredients like the 'Candy2Gum' technique.
Wacker claim to have created the first 3D printed gum, and this certainly looks like the first commercial application. As 3DPI reported in 2015 another instance of 3D printed gum was created by students at London's Royal College of Art and Imperial College. It would seem that Wacker may be the first to commercialize the process but the company are keeping their cards close to their chest on this with few technical details forthcoming about the 3D printing technology thus far. However, we expect to learn more about the methods involved.
New shapes
The technology allows for the creation of gum with a new mouth feel which is due to the different manufacturing process and this will enable different flavored gum to be manufactured. According to company gums made with, 'fruit juice, coffee, milk, caramel, chocolate, coconut and plant extracts' are possible. This is interesting as until now, Wacker say, this has not been possible with the traditional technique.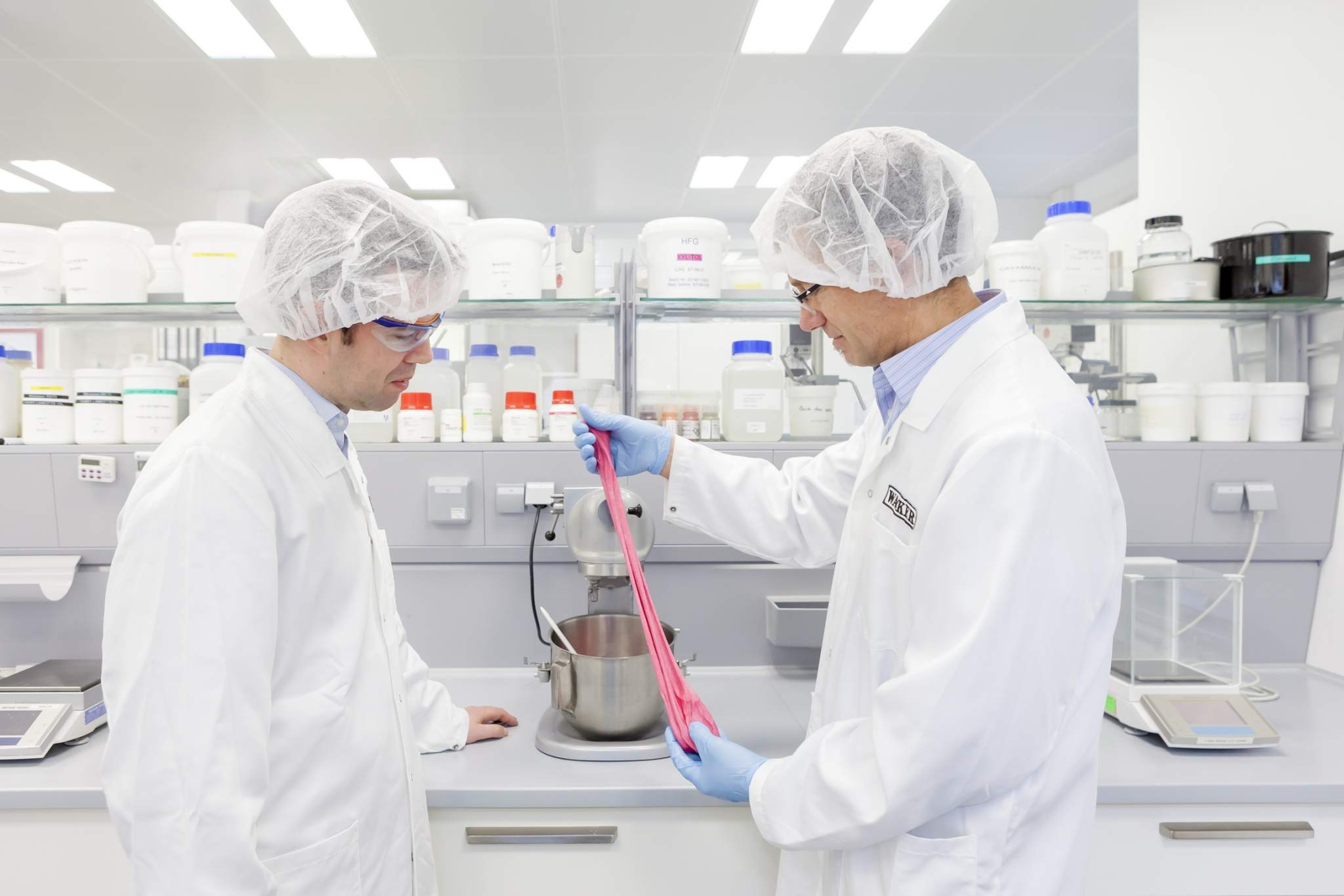 Silicone 3D printing update
In other news about Wacker, the company announced updates about their silicone printing ACEO 3D printer. The project went live in August, and the company tell us they are working with a number of clients. As of yet, and due to NDA's, Wacker have not disclosed the names or nature of these enterprises. This is a separate project from the Candy2gum venture, and we are expecting to have more details from Wacker in the near future.
Wacker's 3D printed candy will be showcased during the international supplier fair for the sweets and snacks industry (ISM) in Cologne this coming January.
Featured image shows 3D printed gum. Image via Wacker.