The nominations for the 2021 3D Printing Industry Awards are now open. Who do you think should make the shortlists for this year's show? Have your say now.
Open-source developer Andreas Müller has created a novel 3D printer attachment that enables single extruder FFF systems to produce multi-color prints.
Dubbed the 3D Print Colorizer, the project is essentially a custom tool changer device that works in conjunction with Sharpie pens to produce multi-color parts on standard desktop 3D printers. The attachment is capable of picking up and utilizing up to seven Sharpie pens after every printed layer, coloring the printed parts in mid-build. This means that up to seven colors can be packed into every model, paving the way for rainbow prints with just one white filament.
Designed to be as accessible as possible, the 3D Print Colorizer only requires a few pieces of 3D printable hardware such as a pen rack and printhead attachment (STLs available here). Apart from the cost of the filament, the only other expense of the project is the Sharpie set – this should cost no more than around $20.
Options for multi-color 3D printing
Those seeking multi-color 3D printing on an FFF system have a few different options. The first and most obvious is to go for a purpose-built dual extrusion 3D printer like the Kodak Portrait, or even an IDEX machine like the BCN3D Sigma D25. By offering two individual hotends, these systems allow two different filaments to be loaded simultaneously for multi-color and multi-material part production. Naturally, dual extruders tend to cost more than their single counterparts so if the budget is an issue or you already have a single extruder at home, the add-on route may be more viable.
Mosaic Manufacturing, formed in 2014 by five Canadian college students, rose to prominence for its modular approach to multi-color 3D printing. The company's flagship Palette system is a multi-material filament switching add-on device, and it works by attaching to conventional single extruder systems to switch between up to eight filaments at a time. This upstream option offers a standalone method of achieving multi-color prints.
Similarly, Prusa Research has also gone down the add-on route in the past, launching multi-material kits for its existing 3D printers. The Multi-Material Upgrade 2.0 (MMU2) is priced at around $300 and enables Prusa systems to print with up to five colors at the same time.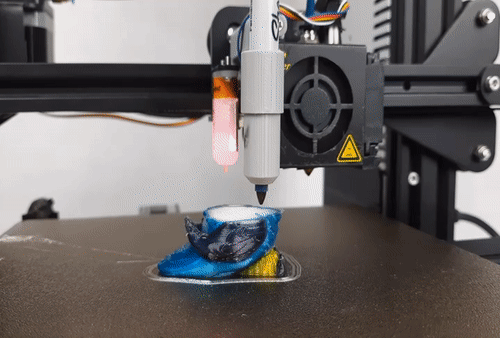 The 3D Print Colorizer
As great as these commercial options are, we can go even cheaper down the open-source route. The 3D Print Colorizer utilizes a Cura plugin that requires the user to set up around half a dozen parameters. Then, it's just a matter of loading in a multi-material model and assigning the colors in the plugin to the Sharpie colors set up in the 3D printed tool rack. It's recommended that white or transparent PLA is used as the base material, as these are the easiest to color in using Sharpies.
This certainly isn't the cleanest or most advanced system when it comes to achieving multi-color 3D printing, but it's an extremely clever use of G-code and requires no additional third-party hardware or firmware changes. Ultimately, if costs are a limitation or you're looking for a simple and easy way to get into multi-color 3D printing, the 3D Print Colorizer may be a great place to start.
All of the necessary STLs, software files, and instructions for the 3D Print Colorizer can be found here.

Subscribe to the 3D Printing Industry newsletter for the latest news in additive manufacturing. You can also stay connected by following us on Twitter, liking us on Facebook, and tuning into the 3D Printing Industry YouTube Channel.
Looking for a career in additive manufacturing? Visit 3D Printing Jobs for a selection of roles in the industry.
Featured image shows the 3D Print Colorizer. Photo via Andreas Müller.