Leading 3D printer OEM Stratasys has announced it has partnered with Belgian chemical company Solvay to help launch its newly established authorized materials partner program. The program is designed to expand upon the selection of high-performance polymers that are available to manufacturers using its FDM 3D printers.
Solvay has been selected as the first materials leader within the program, which Stratasys unveiled at RAPID + TCT 2019, and will begin developing new Stratasys-approved polymers for the F900 FDM 3D printer.
"Stratasys is committed to expanding our portfolio of advanced, specialized materials for high performance FDM printers – enabling manufacturers to readily use 3D printing for production applications," commented Rich Garrity, President, Americas, for Stratasys.
"By combining our expertise with Solvay, customers can make use of a broad range of high performance applications – all while maintaining the level of quality and reliability expected from Stratasys high-performance FDM consumables."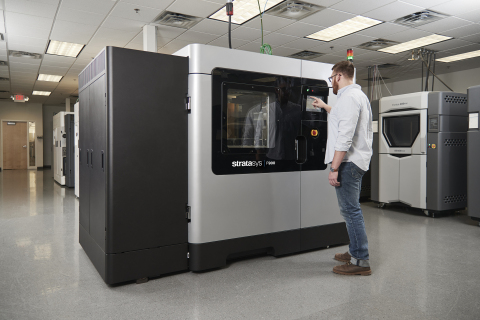 Solvay expertise in high-performance polymers for additive manufacturing
As part of the authorized materials partner program, Solvay will gain access to exclusive tools and expertise from Stratasys to develop new filaments for the F900 3D printer. The materials that Solvay produces are required to align with Stratasys' quality and performance benchmarks, including highly repeatable properties for high-performance environments. Under the partnership, both companies will share an authorized partner materials roadmap to help guide Solvay's selection and development of materials for the Stratasys F900 FDM 3D printer.
Initially, the roadmap will begin with the development of a high-performance filament based on Solvay's Radel polyphenylsulfone (PPSU) meeting Federal Aviation Regulations (FAR) 25.853 compliance requirements for use in aerospace applications. The new specialized Radel PPSU filament for the F900 3D printer is targeted for commercialization in 2020, and will be followed by additional materials meeting industry-specific needs in other additive manufacturing end-use markets from the companies.
Solvay, specializing in advanced materials and specialty chemicals, has a track record of pushing the use of high-performance polymers forward in the additive manufacturing industry, proving a suitable selection for the Stratasys authorized materials partner program. It has a portfolio of high-performance polymers for 3D printing including the Radel PPSU, as well as neat PEEK, 10% carbon fibre-reinforced PEEK, and medical grade KetaSpire, a 10% carbon fiber reinforced PEEK material.
Christophe Schramm, Business Manager for Additive Manufacturing in Solvay's Specialty Polymers Global Business Unit, explains "With this strategic partnership, we are combining Stratasys' leadership in fused deposition modelling 3D printing with Solvay's leadership in developing high-performance, AM-ready materials for the most demanding applications in a large number of industries."  
"This is fully in line with Solvay's ambition to push the limits of high-performance additive manufacturing."
The various high-performance environments of Stratasys FDM 3D printing
Stratasys' FDM 3D printers are employed by various manufacturers for use in high-performance applications, and with the authorized materials partner program, the company is looking to support these companies employing its systems.
One such example comes through a separate announcement at RAPID + TCT from Stratasys, where a collaboration was revealed with Arrow Schmidt Peterson Motorsports (Arrow SPM), an NTT IndyCar Series racing team. The Arrow SPM racing team are to integrate Stratasys' Fortus 450mc and F370 FDM 3D printers into its manufacturing process to help improve the performance of its vehicles on the race track.
Arrow SPM joins various other professional racing teams utilizing Stratasys FDM 3D printing to improve their performances on the track, including Team Penske and Andretti Autosport. Furthermore, the F900 FDM 3D printer has been used by Spanish aerospace composite specialist IDEC to produce a heat-resistant piece of aerospace tooling that can withstand temperatures exceeding 150°C.
You can now cast your vote for the third annual 3D Printing Industry Awards. Help decide this year's winners now.
Make sure to keep up to date on all the news from RAPID + TCT by Subscribing to the 3D Printing Industry newsletter, following us on Twitter and liking us on Facebook.
Looking for a career in additive manufacturing? Visit 3D Printing Jobs for a selection of roles in the industry.
Featured image shows the F900 3D printer. Image via Stratasys.