The Additive Manufacturing Users Group (AMUG) has revealed the keynote speakers for the 2023 AMUG Conference.
During the event, Robert Ducey of LAIKA Studios and Nicholas Jacobson of the University of Colorado's Anschutz Medical Campus will talk attendees through their collaboration, and how it has yielded an advance in medical 3D printing. Launcher CEO Max Haot is also set to provide a deep dive into how the technology has aided the development of its E-2 liquid rocket engine and its Orbiter space tug program.
Ducey, Jacobson, and Haot, are scheduled to deliver their insights at AMUG's 2023 conference, which will take place in-person in Chicago, Illinois from March 19 – 23.
"This keynote presentation illustrates what the AMUG Conference is all about," said Jordan Weston, AMUG director, education & conference. "On the one hand, we will hear about innovation fueled by additive manufacturing. On the other hand, we will hear how a connection made during the 2019 AMUG Conference prompted an unlikely collaboration."
An unlikely clinical collaboration
When Ducey and Jacobson take to the AMUG Conference stage on Tuesday, March 21, audience members will be talked through how a fairly unusual collaboration yielded a 3D printing breakthrough. Ducey has 25 years of visual effects and animation experience, and he first began using 3D printing at LAIKA Studios in the production of the animated movie Coraline.
Having pioneeringly used the technology to create character facial animations for the stop-motion film, in a technique known as replacement animation, Ducey continues to build on his approach. In fact, he's now responsible for integrating 3D printing into LAIKA's other backstage processes, which in turn, are being deployed in the production of its sixth feature: Wildwood.
For his part, Jacobson is a member of the translational research faculty at the University of Colorado. While trained as both an architect and computational designer, the Assistant Adjoint Professor's work primarily sees him focus on developing novel surgical solutions using computational methods from the fields of architecture, animation, fashion, regenerative medicine, and structural engineering.
So, how did their work come together? According to Ducey and Jacobson, they initially met at AMUG 2019 to discuss a 3D modeling and printing technique called 'bitmap printing.' Following this meeting, the pair say they've now gone on to develop "unique workflows and toolsets and exciting applications for 3D bitmap printing in medicine," in a way that shows the value of cross-sector collaboration.
"Throughout our talk [at AMUG], we hope to inspire people to think outside the silos of their fields and search for new ideas through untraditional collaborations," Ducey and Jacobson said in a statement. "The key to a great innovation might be sitting right next to you."
Unpacking aerospace AM innovation
On the final day of the 2023 AMUG Conference, Haot will also take to the stage to deliver his keynote speech on Launcher's E-2 liquid rocket engine. Though still under development, the closed-cycle 3D printed engine is ultimately expected to power the firm's Launcher Light rocket once ready, from 2024 onwards.
Featured multiple copper 3D printed parts, including a 3D printed combustion chamber and an 860mm-tall 3D printed engine injector, it's anticipated that the propulsion system will be capable of launching 150kg payloads into low Earth orbit.
At the AMUG Conference, Haot is set to explain how his background in founding tech start-ups like Mevo and Livestream led him to found Launcher in the first place. The Launcher CEO is also expected to provide insight into how 3D printing is being deployed in one of his firm's other projects: its Orbiter 'last-mile delivery services.'
"In early 2022, Launcher was big news with its successful E-2 liquid rocket engine test," added Weston. "A lot has transpired over the past 12 months. We are honored to have Max Haot take the stage to share updates on the company's progress and innovations."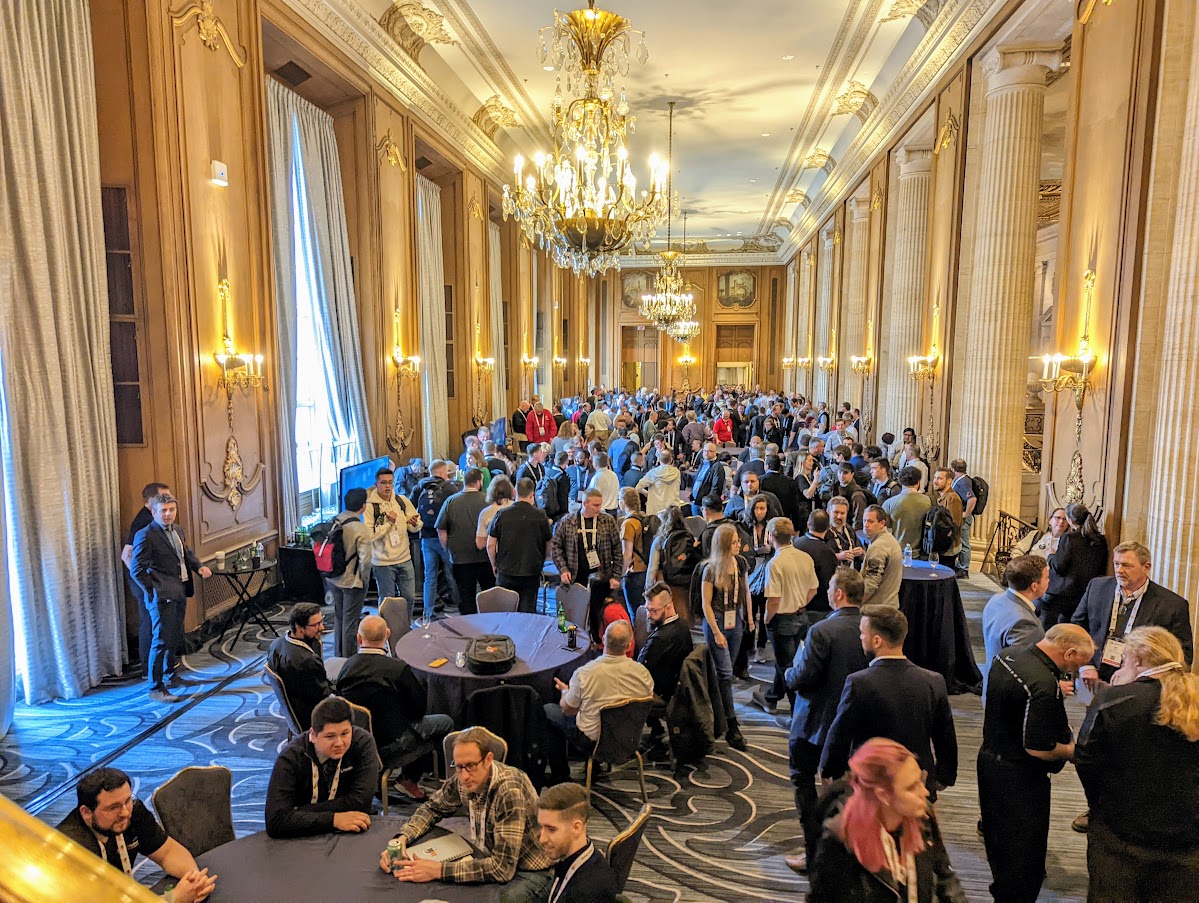 What's the plan for AMUG 2023?
After the 2021 AMUG Conference was relocated due to COVID concerns, the event returned to its usual home in 2022, and it's set to stay in Chicago this year. Open to the users of all commercially available 3D printing technologies, the AMUG Conference is usually one of the highlights of the calendar, where the finest in the industry come together to share ideas, training opportunities, and innovations.
At the 2022 AMUG Conference, for instance, the likes of Tiger Coatings, Visitech, and Nexa3D talked new flame retardant feedstocks and the future of DLP scrolling lithography, while also introducing the compact NXE200 resin 3D printer.
Aside from keynote speeches and the occasional product launch, this year's AMUG Conference audience will also benefit from the chance to attend panels, technical sessions, and networking events across the week. Likewise, the annual Innovators Showcase is set to return, with 3D Systems' Diana Kalisz expected to receive this year's gong and share her 3D printing insights in a casual on-stage chat.
Other show highlights are set to include the comeback of the DINO Awards, brachiosaurus-shaped awards designed to celebrate 3D printing expertise, and those who have made key contributions to the industry. AMUG's Technical Competition will also return, bringing with it a platform for those pushing the envelope with 3D printing, either conceptually or in practice via processes.
To stay up to date with the latest 3D printing news, don't forget to subscribe to the 3D Printing Industry newsletter or follow us on Twitter or liking our page on Facebook.
While you're here, why not subscribe to our Youtube channel? featuring discussion, debriefs, video shorts and webinar replays.
Are you looking for a job in the additive manufacturing industry? Visit 3D Printing Jobs for a selection of roles in the industry.
Featured image shows the AMUG Conference 2022 New Members Reception. Photo by Michael Petch.