As its name might suggest, the Consumer Electronics Show or 'CES' is a tradeshow dedicated to highlighting the latest advances in mainstream consumer technologies.
Over the years, the exhibition has become a staple in the diaries of those seeking updates on cutting-edge consumables ranging from TVs and smartwatches, to downright zany innovations such as flying cars and talking pets.
Given the expo's mass-market appeal, it's also used by some 3D printing firms as a channel through which they can address a much wider audience than their traditional industry clientele. In the past, this has seen the likes of Anycubic, Aectual, and Exos showcase systems, services and custom medical devices, respectively, in a way that helped bring them to mainstream media attention.
This year's show was no different, with stalwarts like Formlabs alongside big names outside the industry such as Peugeot and Neutrogena. Additionally, CES 2023 saw KOKONI, Handddle, HyperX, and more, launching new 3D printed products. Read on for the latest from the show floor. 
Formlabs launches Automation Ecosystem
One of the standout launches from a 3D printing perspective was Formlabs' introduction of a productivity-focused Automation Ecosystem. Composed of three new products: the firm's Form Auto and High Volume Resin hardware packages, as well as a Fleet Control software, the new platform is said to help users drive greater 3D printing utilization.
While the former includes a five-liter resin bag and pump package that allows users to minimize material handling, the latter are comprised of hardware and software offerings which facilitate seamless print preparation and part removal.
At launch, Formlabs CPO Dávid Lakatos said: "The Formlabs Automation Ecosystem is a seamless solution for ramping up production with 3D printer fleets, staying true to the ease of use of all Formlabs products. Formlabs users recently achieved a major milestone, with more than 100 million parts printed on our 3D printers, and by adding this ecosystem, Formlabs is increasing the capacity so users can deliver further 3D printing innovation."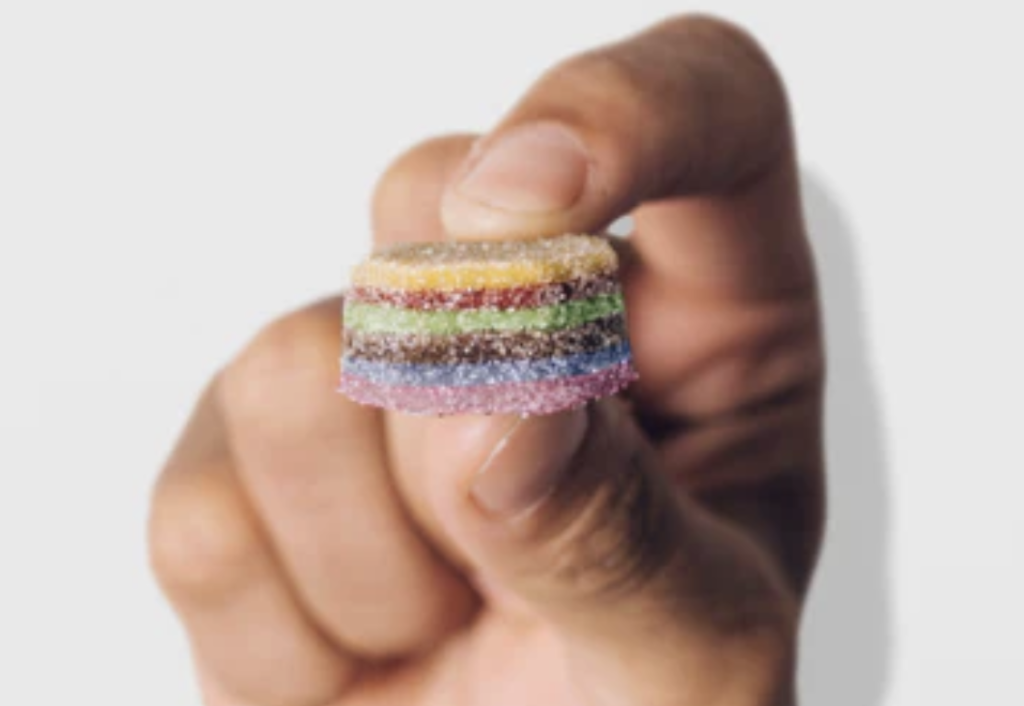 Neutrogena dabbles in 3D printing (again)
On the skincare front, Neutrogena also unveiled its latest application of the technology: personalized 3D printed skin health supplements. Using the firm's new 'Skin360 SkinStacks' service, customers are now able to complete a facial self-scan to identify areas of improvement for their skincare routine, before ordering gummies designed to meet their specific needs.
Each of these orders is then fulfilled by Nourished, a specialist in 3D printing supplements made up of individual nutrient layers. Previously traded under the brands Magic Candy Factory and Vitamyne, the company has a background in producing sugary treats and helping develop FabRX-3D printed personalized medicines. In the past, the firm has also worked with big consumer brands like Colgate to market its gummies, and it has now struck a deal with a similar mass-market appeal in the form of a partnership with Neutrogena.
"We are grounded in the belief that beauty begins with healthy skin and are proud of a heritage that consistently delivers skincare solutions built at the intersection of science and technology," said Roberto Khoury, SVP of Neutrogena. "Working with Nourished allows us to further that commitment by marrying our award-winning digital skin assessment with Nourished 3D printing to create on-demand dietary supplements [which] help consumers meet their personal skincare goals."
Launches at KOKINI, Handddle and Lynxter
At CES 2023, Chinese 3D printer manufacturer KOKONI took the opportunity to launch its AI-led SOTA system. Interestingly, the machine features an 'upside-down' design that's said to deliver a print speed of up to 600mm/s while offering users "exceptional stability with close-to-zero vibration." The system is also quiet, emitting 30 decibels of noise during operation, and packs a custom high-speed stepper motor and close-loop motor system, that provide smooth, reliable performance.
One of the more innovative aspects of the KOKONI SOTA is the machine's AI-powered real-time monitoring and error detection systems. According to the company, the unit's 'AI-intelligent camera' allows it to cover everything from spaghetti and breakage detection to material usage levels, and alert users when any changes need making.
"The KOKONI SOTA is revolutionizing the 3D printing industry, with its advanced AI technology that allows for real-time monitoring and error detection," the firm said in a statement. "Its AI-intelligent camera and micron-level optical radar monitor the printing process for errors in real-time and can alert users. KOKONI SOTA brings the power of AI to the printing process, and takes creations to new heights."
Other esteemed 3D printer manufacturers exhibiting at the show included Handddle, which introduced an Industrial Internet of Things (IoT) platform designed to help scale 3D printing to industrial levels, as well as Lynxter. The latter showcased the Lynxter S300X it launched last year, a system capable of 3D printing silicones and polyurethanes into dampers, seals, orthoses, and functionalized textiles.
Peugeot presents new EV concept
Away from 3D printing system launches, French automotive multinational Peugeot debuted its additive manufacturing-enabled 'Inception' concept. At the center of this design concept is a next-gen 'i-Cockpit,' complete with a 3D printed rim-equipped 'Hypersquare' electronic control system, which can be retracted to make room for a panoramic passenger screen.
In practice, the vehicle is designed to be powered by two 800V electric motors that charge a 100kWh battery, giving it an 800-kilometer range. Though the Innovation concept itself isn't expected to enter end-production, many of its features are set to inform the designs of Peugeot's electric cars from 2025 onwards.
"Peugeot is committed to the electrification of its range," explained Peugeot Brand CEO Linda Jackson. "In 2023, 100% of the vehicles in the range will be electrified and in the next two years, five new 100% electric models will be launched. Our ambition is simple: to make Peugeot the leading electric brand in Europe by 2030. This objective and ambitious vision pave the way for a radical transformation for the brand."
Embracing AM in gaming and robotics
In gaming developments, HP division HyperX introduced its very own custom 3D printed keycap range. As part of its CES exhibition, the firm showcased a variety of personalized 'HX3D' keyboards, headsets, mice, and other gaming peripherals. Manufactured from an eco-friendly nylon, the first keycap unveiled at the show was a unique HyperX Cozy Cat design, voted for by the gaming community.
Over the months ahead, this peripheral upgrade is set to be followed by several others for both HyperX and most other mechanical keyboards, which allow gamers to customize their favorite gear using HP's proprietary 3D printing technology.
"We know gamers love customization, spending a lot of time and effort to update all kinds of in-game items, from characters to skins to weapons and beyond," said Daniel Kelley, Global Gead of Marketing at HyperX. "HX3D is taking this love of personalizing a gaming experience to the physical world and enabling a wide range of fun ways to update and customize our award-winning HyperX gear."
South Korean start-up Supernova, meanwhile, chose to showcase the capabilities of its HUENIT robotic arm at CES 2023. Thanks to its built-in camera, RISK-V-based processors and AI accelerators, the device is capable of identifying people and objects in real-time. This, in tandem with the arm's Bluetooth functionality, potentially allows users to deploy it wirelessly within IoT applications.
According to the company, the modular system is capable of rotating 220 degrees and lifting up to 26.5 ounces of weight, and can either be fitted with tools, including a high-power laser engraver and 3D printer, or utensils for carrying out household chores. With its new product, which has already netted it a CES 2023 Innovation Award, Supernova is also said to be targeting educational use cases.
To stay up to date with the latest 3D printing news, don't forget to subscribe to the 3D Printing Industry newsletter or follow us on Twitter or liking our page on Facebook.
While you're here, why not subscribe to our Youtube channel? featuring discussion, debriefs, video shorts and webinar replays.
Are you looking for a job in the additive manufacturing industry? Visit 3D Printing Jobs for a selection of roles in the industry.
Featured image shows the CES Convention Center in Las Vegas. Photo via Lynxter.