Leading US skincare brand Neutrogena has introduced a line of personalized 3D printed skin health supplements at the CES 2023 exhibition.
Neutrogena says users can create these 'Skin360 SkinStacks' using data collected via its digital skin assessment tools, which allow for the development of personalized 'nutrient stacks.' Once Skin360 app users have completed a self-scan, they can order their gummies from 3D printing specialist Nourished, each of which has nutrient layers designed to address a specific area of skin concern.
"We are grounded in the belief that beauty begins with healthy skin and are proud of a heritage that consistently delivers skincare solutions built at the intersection of science and technology," said Roberto Khoury, SVP of Neutrogena. "Working with Nourished allows us to further that commitment by marrying our award-winning digital skin assessment with Nourished 3D printing to create on-demand dietary supplements [which] help consumers meet their personal skincare goals."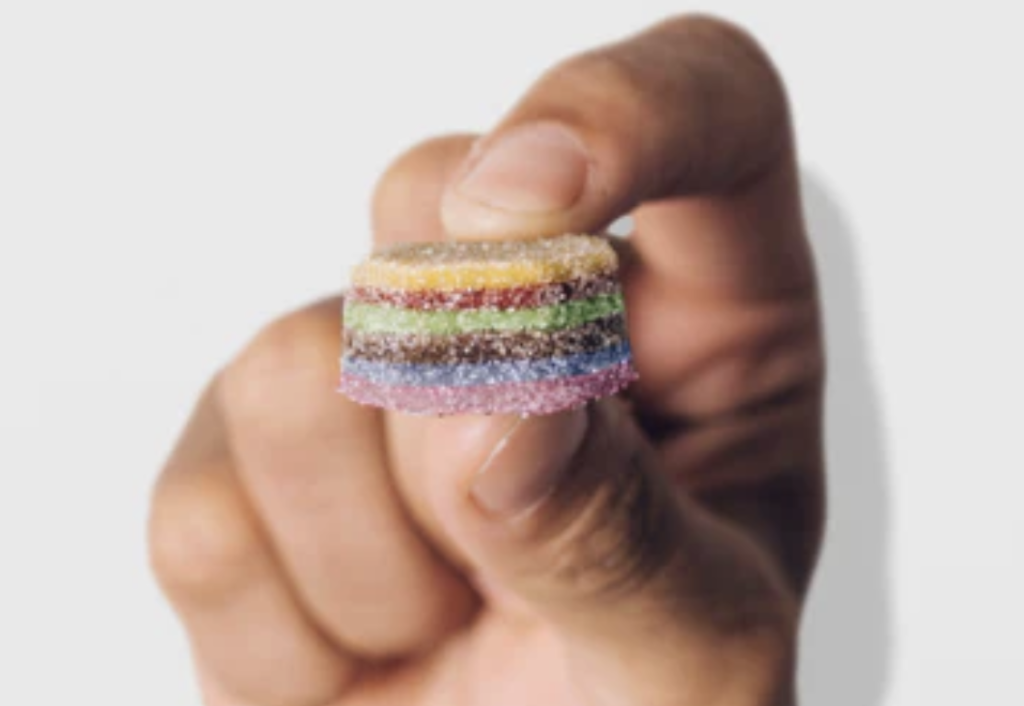 Gummy 3D printing at Nourished
The technology behind Neutrogena's latest 3D printing initiative has actually been developed at Nourished, a firm with over four years' experience in the field. The company's offering revolves around a proprietary nutrient-producing technology, which allows customers to create custom supplements made from up to seven of 28 ingredients, including various vitamins, fruit extracts, and probiotics. 
Eagle-eyed readers may remember Magic Candy Factory, a company created by Nourished CEO Melissa Snover, using 3D printing to make customized sugary treats. Snover presented an early iteration of Nourished, then called Vitamyne, during the UK version of Shark Tank, Dragons Den.
Magic Candy Factory's parent company, Katjes Fassin and Co GmbH KG would later work with FabRX on a project to develop personalized medicine.
According to Nourished, its current range is "vegan, eco-friendly and delicious," but its in-house R&D team continues to draw on feedback and scientific research to both identify ways of improving its offering, and developing new products.
As well as introducing stacks designed to address specific customer needs, ranging from menopause gummies to those developed for hangover sufferers, the firm has worked with high-profile partners to bring its products to market. Alongside dental multinational Colgate, for example, Nourished now offers five Nutristacks, each featuring the ingredients to help consumers protect their enamel from plaque.
How do Skin360 SkinStacks work?
To create a personalized 'Skin360 SkinStack,' Neutrogena says customers must first download its Skin360 app and acquire the 'SkinScanner' mobile attachment. Once they've done so, users can take a 180-degree selfie and upload it to the app, which utilizes a proprietary algorithm to assess the skin and recommend a nutrient plan to help them achieve their skincare goals. 
Though the offering is being marketed to fully-customize Nourished nutrient stacks, customers are being offered just five different skin goals at launch: Ageless, Clear, Hydrate, Glow, and Resilient. That said, each of these supplements can be modified to include various nutrients, including vitamins A to D, selenium, zinc, riboflavin, coenzyme Q10, and more.
When customers are happy with their custom stack, they can order a 28-day supply from Nourished, which pledges a 14-day delivery turnaround. At launch, Melissa Snover, CEO, and Founder of the company, says its offering with Neutrogena provides a form of nutrition personalization that's unique on the market. 
"A lot of people are using the words personalization, but very few people are actually doing it," Snover told Beauty Inc. "By integrating our technology with Neutrogena's skin scan, we have something that's not been done before and is more personalized than what we're seeing [on the market] right now."
Neutrogena dabbles in 3D printing (again)
While Neutrogena may not be the first firm that comes to mind when you think of 3D printing, its collaboration with Nourished isn't the first time it has sought to cash in on the technology's marketing appeal. Back in 2019, the Johnson & Johnson subsidiary began allowing customers to create customizable 3D printed face masks.
With the IOS MaskiD app, users were able to create a face mask specific to their needs by first taking a photograph, and then selecting various types of treatment to be 3D printed on their masks' forehead, eye, cheek, nose, and chin areas. Also reliant on the Skin360 app and Skin Scanner add-on, the technology was said to allow users to analyze the moisture, pores, fine lines, and wrinkles on their skin.
At the time, Michael Southall, a research director at Neutrogena, explained how "using micro 3D-printing, you can actually get your exact eye alignment, your nose, your mouth, [and] how high your forehead is. The key with 3D printing is [that] we can put the active [ingredient] you want just where you need it, anywhere on the mask, as opposed to one product that you're trying to use all over the face."
To stay up to date with the latest 3D printing news, don't forget to subscribe to the 3D Printing Industry newsletter or follow us on Twitter or liking our page on Facebook.
While you're here, why not subscribe to our Youtube channel? featuring discussion, debriefs, video shorts and webinar replays.
Are you looking for a job in the additive manufacturing industry? Visit 3D Printing Jobs for a selection of roles in the industry.
Featured image shows a Nourished-3D printed nutrition 'stack.' Photo via Nourished.