By far the best speaker of Inside 3D Printing New York, for me at least, was Brian David Johnson, a futurist at Intel. As Johnson described it, his job at Intel is to, not just brainstorm ideas for technology that will exist ten to fifteen years down the line, but to actually create specs for those products. And, now, after about ten years of making the specs for one such piece of tech, the time has come for that product to manifest itself in reality. For that reason, Johnson announced, at Inside 3DP, the launch of the 21st Century Robot: Jimmy.
Jimmy is an open source, 3D printed robot that Johnson has developed with the help of artist Sandy Winkelman, designer Wayne Losey, the students of Olin College, and people all over.  To produce Jimmy, Johnson spent the first eight years writing science fiction describing the sort of robot he wanted to make. In the process, he came across a number of criteria that Jimmy would have to have.  First and foremost, Jimmy needed to be cute. And, in order to deal with the "Terminator in the room", the robot had to be non-threatening, which resulted in Jimmy's diminutive stature. These characteristics would ensure that people would want to interact with him. Below, you can watch a short clip from the conference of Johnson explaining some of the robot's aesthetics:
See, robots of the 20th Century, according to Johnson, aren't truly social, but, instead, perform specific, menial tasks. A Roomba, for instance, cleans the floor; it doesn't talk to you about your hopes and dreams.  Throughout the design process, he shopped the robot around to classrooms and asked students what they'd want Jimmy to do.  They responded with things like "I'd want it to sing with me" or "I'd want it to do chores with me."  Johnson reasoned that the ability to socialize was truly what people were craving.
Contributing to Jimmy's social nature is the way that he will be controlled. Johnson says that the robot will be accompanied by his own apps that will link to Twitter.  That way, after you write a 140 character joke about your breakfast, you can tell Jimmy to laugh at it.  Johnson points out that the robot won't necessarily be able to make it, however.  His hands aren't meant for grasping objects, further distancing Jimmy from his menial 20th Century ancestors.

Johnson also saw that the robot of the future would be accessible and affordable.  By making Jimmy open source and 3D printable, he hopes to keep the price of building the robot under $500. In addition, access to Jimmy's design files allows users to project their own vision onto him, personalize him and make him their own. As Johnson put it, "the future is for everybody", so everyone should be able to make it what they want. Included in that everyone, the futurist specifically mentioned people with autism. Jimmy's default face is left intentionally blank, allowing people with autism to interact with Jimmy, without requiring that they understand his facial expressions. But, because Jimmy is open source, his face doesn't have to be blank and his hands aren't doomed to functionlessness when you get hold of his design files.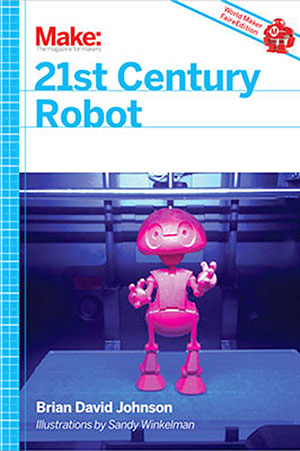 In addition to a book compiling the development of the project, Johnson's own short sci-fi stories, and a series of how-to guides on building the robot (early, free .pdf available here). Jimmy's files will be released in mid-May. At the moment, about 50% of Jimmy's parts can be 3D printed, but Johnson says that, by the end of the year, he hopes that figure will shoot up to 100%.  s the futurist said this, there was an audible silence from the crowd. And, then, an audible sigh, as Johnson continued, "Well, excluding the motors, circuit boards, wiring, etc."
I asked Johnson what he thought of Gaël Langevin's InMoov project, which bears a striking similarity to Intel's Jimmy, in that it is also a 3D-printed and open source robot. Johnson explained that InMoov is "gorgeous", but that his own robot would differ from Gaël's in a couple of important ways. For one, Jimmy is little and cute, for reasons already mentioned. Jimmy will also, hopefully, be much easier to assemble. The futurist also pointed to InMoov as a sign that there is a movement afoot. Just as multiple inventors were simultaneously inventing the TV in multiple garages in different parts of the world, open-source robots are being designed and built on either side of the planet.  We've already seen how InMoov is beginning to spread from one country to the next.  Now that Jimmy will be released in May, I wonder just how fast these open source, 3D-printed robots will start to spread.
For a talk that's likely to be similar to the one Johnson gave at the event, check out the video below: