Hobbyist and Reddit 3D printing community contributor Marioarm has built an "almost fully" 3D printed CNC machine for milling electronic chipboards.
Marioarm built the Cyclone PCB CNC machine with 3D printed parts downloaded from file sharing sites such as Thingiverse and the GitHub repository Cyclone PCB Factory. With minimal, prefabricated parts, the project in total cost Marioarm under $200 to build.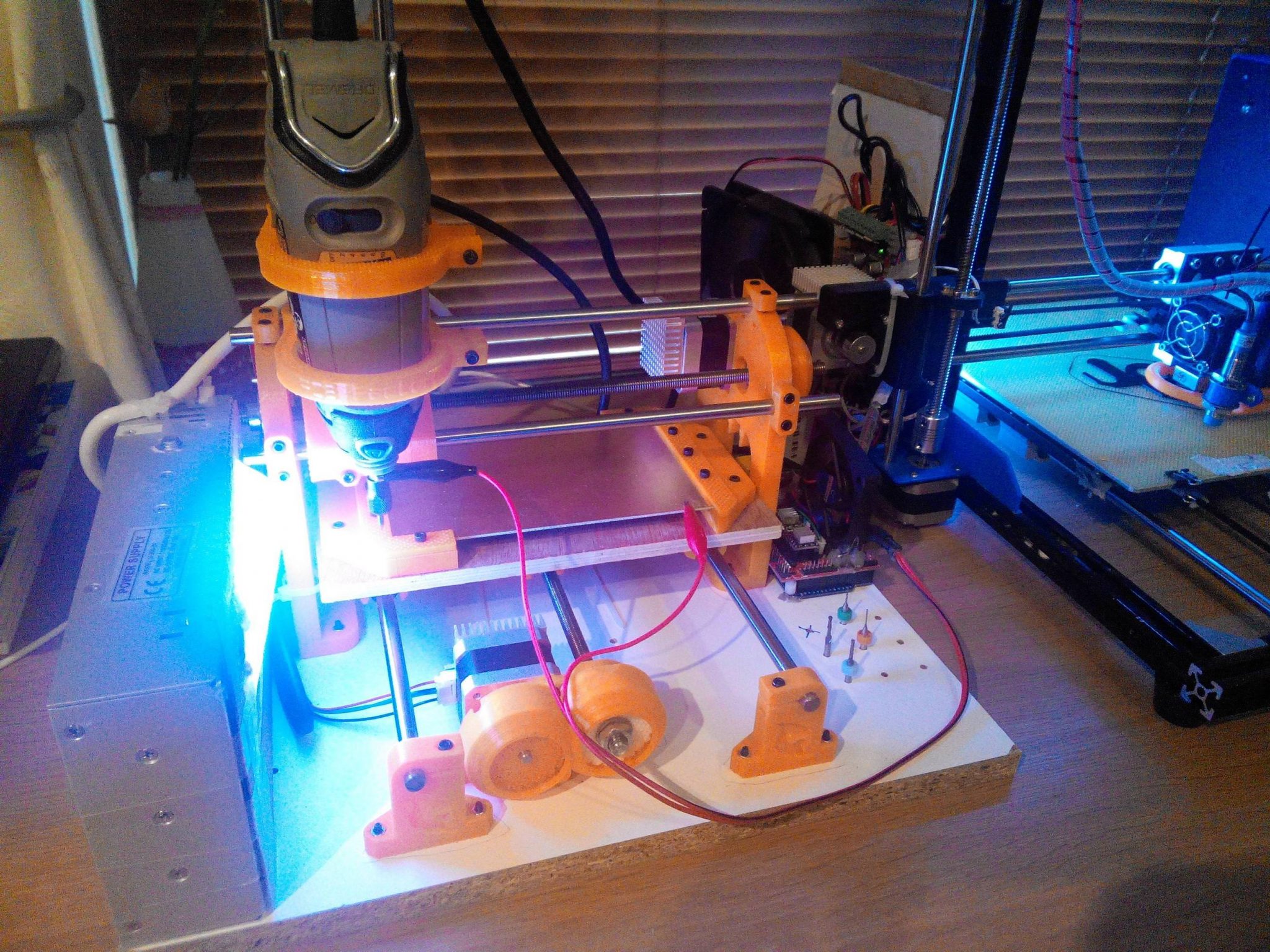 The Cyclone CNC machine
Marioarm's machine is a combination of 3D printed and non-3D printed parts. Non-3D printed parts include precision sliders for controlling the drill, a solid wood base, three stepper motors, cables, power supply, drill bits, screws, a CNC controller, and a rotary tool.
The rest of the parts including, holders, frame, gears for axis etc., were 3D printed.  

The cost breakdown is as follows:
– CNC controller: $5-6
– a rotary tool: $50
– three Nema Stepper Motors (17HS3401): $30-36
– 5 steel rods: $25-30
– a rubber hose for vacuum: $3
– drill bits: 10 pieces cost $3
The cost of these parts adds up to $126. Adding $50-$70 for the cost of minor bits and pieces, and 3D printed parts, the total amount reaches only $176-$196.

The original Cyclone design had problems with backlash and wobbling, but Marioarm solved the problem by replacing threaded rods with lead screws and adding spring tensioners. According to the creator, the machine is specifically designed to mill Printed Circuit Boards (PCBs) for surface-mounting.
Open source 3D printing and the maker movement
The open source culture of 3D printing has provided hobbyists with cost-efficient alternatives to many problems and develop their ideas. In Marioarm's case, some of the shortcomings of the original open source Cyclone PCB machine were overcome by making minor modifications.
In recent years, open source culture has had a significant impact on humanitarian aid projects. In 2016, Mohammed Abu Mattar, a Glia project member working in Gaza, circumvented a ban on 3D printer imposed by the Israeli government. He made a 3D printer using spare parts and open source designs. The open source 3D printer was used to make medical hardware which is otherwise expensive and unavailable in war zones.
The same year, a Fab Lab project brought WiFi to Jalalabad, Afghanistan.
Subscribe to our 3D printing newsletter for all the news related to 3D printing industry, and follow us on Facebook and Twitter.
If you are interested in starting a new career, then visit our 3D printing jobs site.
Featured image shows marioarm's 3D printed CNC machine. Photo via Imgur