At CES 2017 3D scanning will be in evident in not only the numerous VR applications but also with a new product from Silicon Valley based Bellus3D. The company have announced they will share their Face Camera accessory for Android mobiles and tablets. The 3D scanning tool is capable of creating a detailed face scan in seconds.
The Bellus3D Face Camera captures features and color detail for a realistic effect. Demo clip via: Helen Tahn on YouTube
The Bellus3D Face Camera comes from a team of eight tech specialists headed by Eric Chen, who is credited with helping to invent Apple's QuickTime VR file format for panorama images.
How is it possible?
The main feature that makes the scan possible is an embedded structured-light laser projector (seen labelled in the image below) which is the same light technology used in advanced hand scanners such as the Einscan Pro from Shining 3D, and Scan in a Box Open Technologies Srl.
Bellus3D trademark their structured-light projector as DepthShape technology, alongside PhotoShape which is the name for the detachable light right that helps to ensure faces are well-lit and viewable by a mobile camera.
After scanning, the overall shape of a face and head is 'fitted' onto a pre-programmed model based on the statistical probability of face measurements and contours, as seen in the image below.
An NU3000 chip is also an integral part of the Face Camera device. Capable of fitting into the palm of your hand, the NU3000 from Israeli company Inuitive is specially designed to enhance the vision and imagining capabilities of mobile devices. To put it in Inuitive's own words, CEO Shlomo Gadot explains:
Our unique technology and architecture uses input from standard, low-cost cameras which enable Bellus3D Face Camera to efficiently generate depth maps. This, coupled with the NU3000's ability to enhance imagery from basic cameras makes our SoC DSP solution the ideal platform for the Bellus3D Face Camera.
Get your head in the game
As seen previously on 3DPI, the gaming industry is one area with great potential for mobile face scanning. From a player who likes to spend a good chunk of their gaming hours creating the perfect avatar, I certainly can't think of anything much better than the ability to have your own face digitally recreated in-game.
Online shopping is also an obvious target for the hardware, as seen in Bellus3D's demo of a 'Virtual Try-on' application, that plants a user's 3D head model on top of a pre-pared body wearing particular clothes. Integration of Bellus3D's Face Camera into an online clothing retailer could be invaluable to unsure buyers, and ideal even for clothing and accessory designers who create bespoke products for their customers.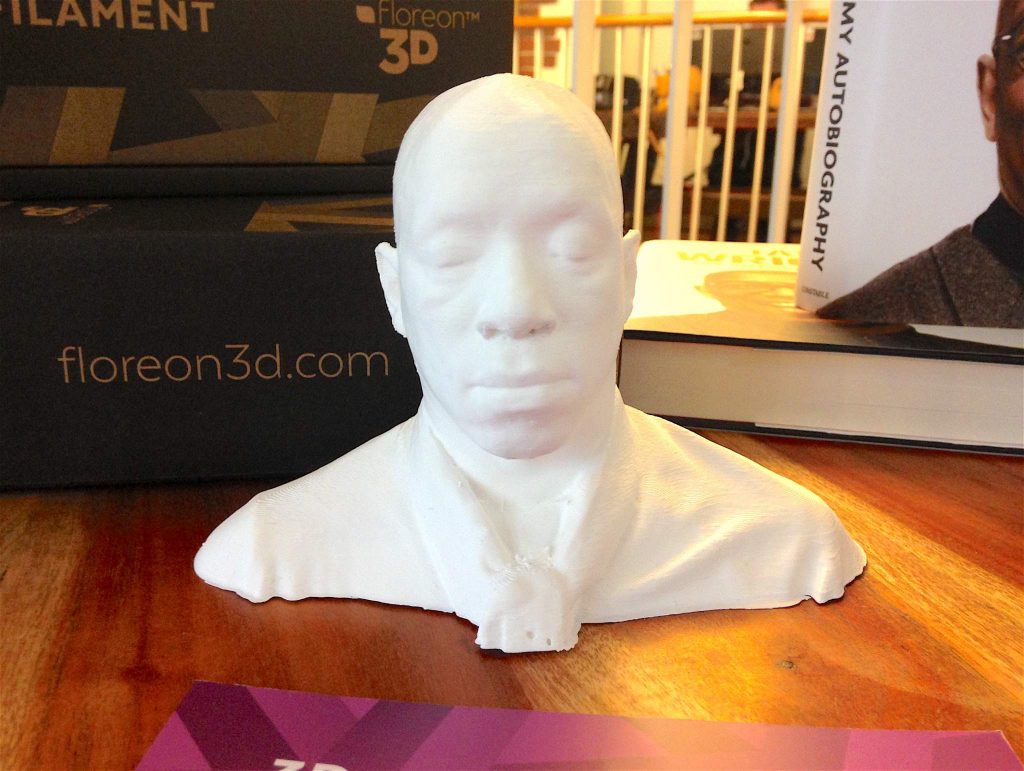 To keep up to date with the latest news from CES 2017 all this week, 3D Printing Industry will be delivering all the stories as we find them across our social media, so be sure to like us on Facebook, or follow us on Twitter.
Featured image shows the transition from a plain 3D model to one in full color, created by the Bellus3D Face Camera. Image via: Bellus3D