Today at the UK iMakr store in London, former footballer Ian Wright is being scanned and 3D printed as part of Floreon 3D and MyMiniFactory's competition to win an Ultimaker 3D printer and year's supply of the bio-plastic Floreon filament. In the #DesiginItWright competition entrants are asked to design a new pair of glasses for Wrighty, and the winning designs will be displayed on a 3D printed bust of the star.
To make the bust, Ian Wright was first scanned using the Einscan Pro 3D scanners from Shining 3D – this makes a dot-matrix shape of him that is then turned into a 3D model. At iMakr today, MyMiniFacroty have displayed a 3D printed mask of Wright's face, and a miniature bust as a sample of what's to come. They also hope it will lead to a full-scale 3D print of Wright that will take around 200 hours to print.
When 3DPI asked what kind of style he'd like from his new spectacles, Wright said he didn't mind what people came up with: 'as you can see on Twitter we got some pretty funny results. But I'm excited to see what cool ideas people come up with.'
His current glasses are pretty stylish, 'not quite round, not quite square', and with blue accents that make it look almost as though they could've been 3D printed. After being scanned and checking out the Floreon 3D filament in action, Wright remarked: 'Last time I saw something like this it was in a Mission Impossible film, so it's almost like life imitating art. It's quite mind boggling that there are things like [this technology] happening, now.'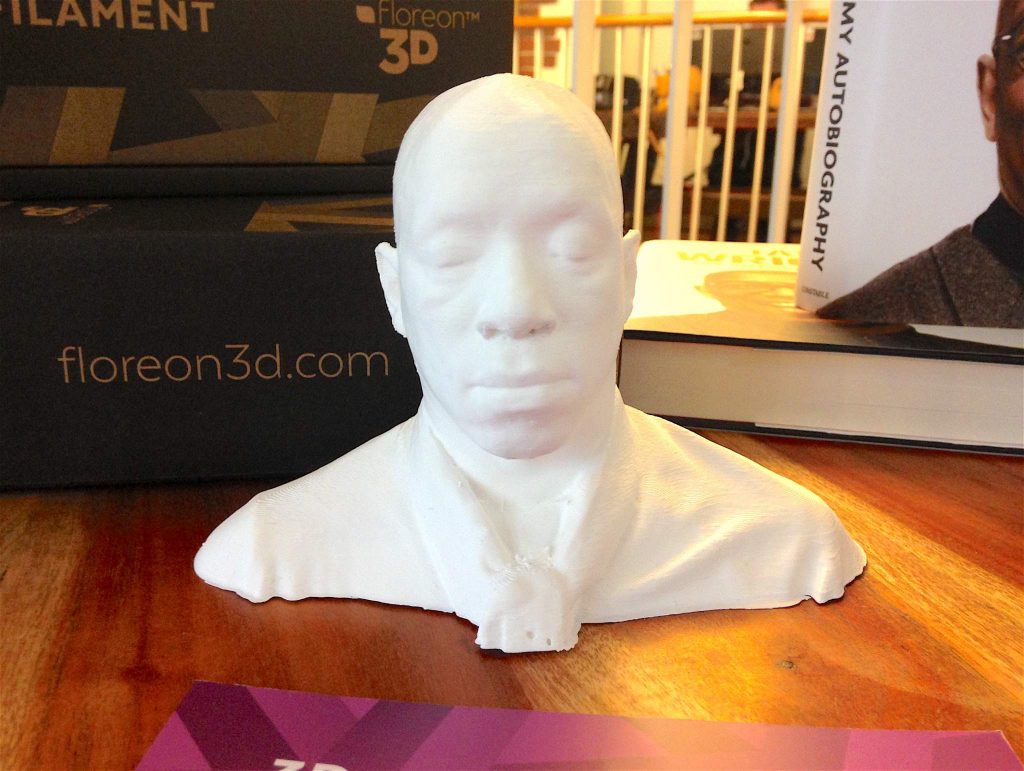 He added:
I remember watching Wallace and Gromit, and how they have to move every arm, every detail, and it makes me think that someone, somewhere, down the line has had to put in a lot of pain-staking work to get a [3D printer] working like it does.
You can catch up on our earlier coverage of the competition here. Stay tuned through December as we wait for the winning glasses to come in.
Featured image shows the #DesignitWright logo from Floreon 3D and MyMiniFactory.