The security of 3D printed parts is a chief concern for high-value manufacturers in industry. Quantum dots, that glow when hit with a UV light, are one possibility for  protecting 3D prints from counterfeiting. Chemical "ghost signatures" are another, and can be found embedded in the layers of 3D printed parts.
Working with two-photon lithography, i.e. 3D microprinting, Nanoscribe has developed a new method for creating microscopic security features.
A microscope on two-photon lithorgaphy
In two-photon lithography a pulsed laser is used to solidify a photoreactive material in a series of layers. The size of the laser's focal spot is so fine that it is capable of 3D printing objects that could fit onto the tip of a pencil, or be injected into the body.
For security tags, Nanoscribe scientists make what is called multi-level diffractive optical elements (DOEs) – a name derived from how features in the 3D printed object split and direct light to make an image.
DOEs are usually made using a photomask, which contains the "to-be-printed" pattern. The process of making this mask is lengthy and expensive. By cutting out the middle man, two-photon lithography is a maskless method of 3D microprinting which is quick and cost-effective.
From serial numbers to peacock spiders
In the process a design, such as a company logo or serial number, is loaded into the computer as a bitmap image. Containing pixel-like data of the image to-be-printed, the bitmap is fed directly to a Photonic Professional GT lithography system.
The finished product is a microscopic cluster of dots or lines that create a 2.5D projection when hit with a laser.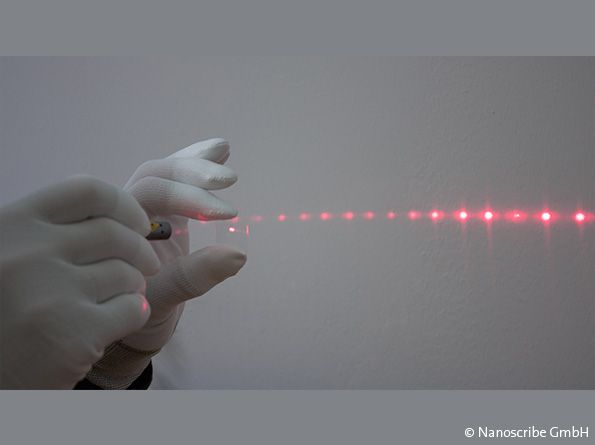 As a relatively low-cost solution, two-photon lithography can be used to test new security prototypes, or create a master mold for mass-manufacturing multiple products.
This technique was recently used to discover how peacock spiders change color, and is also integral to efforts improving fiber-optic communications.
Nanoscribe will be demonstrating this latest two-photon application at Photonics West annual conference run by SPIE (the international society for optics and photonics) from 30th January – 1st February 2018.
Does Nanoscribe deserve an award for its outstanding research efforts? Nominate now in the 2018 3D Printing Industry Awards.
For more industry-leading research subscribe to the most widely read newsletter in the industry here, like 3D Printing Industry on Facebook and follow us on Twitter.
Featured image shows "Photonic colors generated by Bragg reflection of gratings. The inset shows sub-micrometer resolution and features of the periodic lines." Photo and caption via Nanoscribe GmbH