News that has made it through today's slicer features: Disney Research, University Rey Juan Carlos, Autodesk's Pier 9, the Traveling Museum of the Paranormal & Occult, the Odd Cat Sanctuary, Rashid Hospital, Mitsubishi, Robo 3D and Trinseo.
A 3D printed fabric toy story from Disney's research lab
Disney Research and the University Rey Juan Carlos in Madrid are working on a project for 3D printing fabric that self-assembles into toys. In the technique, a chosen shape is drawn in plastic onto a square of pre-stretched material.
Afterwards, the shape is cut out, releasing energy stored when stretching the fabric and causing it to curl.
The plastic frame 3D printed onto the fabric predetermines the object's final form.
With this autonomy, the objects fit into the 4D printing technique that evolved out of MIT's  Self-Assembly Lab. Further examples of the technology, including those with curved edges, can be found here.
The future of 3D printing in medicine from Autodesk's Pier 9
A new exhibit at Autodesk's Pier 9 Workshop in San Francisco is taking a futuristic vision on the direction of healthcare.
The work, titled Regenerative Reliquary, has been 3D printed by resident artist Amy Karle. Made form PEGDA, it can be laced with stem cells, which will grown to form a 'living' alternative of the hydrogel hand.
Karle's inspiration behind the piece is the thought of a future where "spare parts" can be delivered to humans on demand.
Regenerative Reliquary GIF, Amy Karle. Clip by Autodesk's Charlie Nordstrom
Ghostbusting with a 3D scanner
Greg Newkirk and Dana Matthews' Traveling Museum of the Paranormal & Occult is a collection of haunted, cursed, and paranormally significant artifacts.
Key pieces of the museum include a Corrupted Testament "used to wrestle hundreds of believers from the grips of Satan" in 1800s New York, and Ruby the Haunted Doll known to move from room to room and "induce feelings of intense sadness, and in some cases, nausea" whenever she is picked up.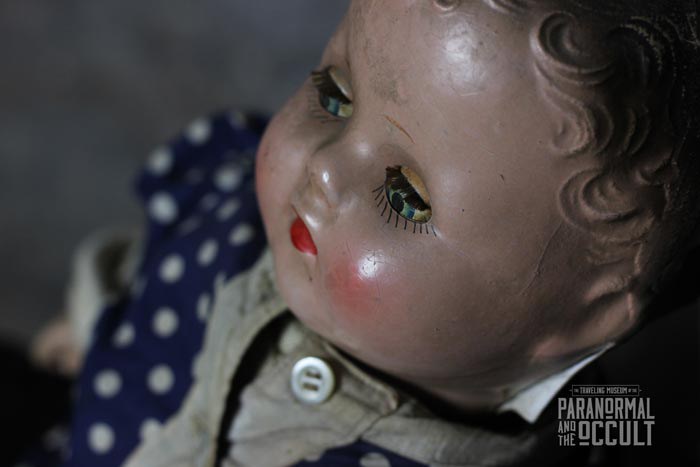 Newkirk and Matthews have started the "World's First Haunted Object 3D Scanning Project" to digitally introduce their collection to people and 3D printers around the world. However, in the case of one particular object expected to be haunted by a ghost named Billy, the technology appears to anger the spirits.
Speaking to Week in Weird, Matthews explains,
In the case of Billy, he kept literally putting up a wall in front of his face every time we tried to scan it. We had to sit down and conduct an EVP session with him to find out he was just concerned about the scanning process; he didn't understand what we were trying to do with him.
A clip documenting Billy's scanning process can be viewed here.
Ray the kitten can walk again with 3D printed wheelchair
A 6 month old kitten paralyzed in the back legs has been given a new lease of life by a 3D printing project at the public library in Portsmouth, BC.
The kitten, who is called Ray, was fostered by Carrie Barron from the Odd Cat Sanctuary in Salem. With the help of Barron's neighbor, two teams of eight-graders, and the library's 3D printer, Ray has been able to get back his feet with a custom-made "wheelchair".
With such support from the community, the junior high involved in the project is now looking to get a bank of 3D printers for the school to get more pupils involved with the technology.
3D printed brain model saves the life of 60 year old in the UAE
Doctors at Dubai's Rashid Hospital reduced the time taken to perform a brain aneurysm operation using a 3D printed model.
In a report to Khaleej Times Dr. Abdullah Qasim, a consultant and head of Neurosurgery at Rashid, explained that the patient-specific model was used to understand how to reach arteries in the safest ay possible. He comments,
Without the 3D model, the surgery would have taken longer. The risk would also have been higher because it would have meant conducting the surgery with limited understanding of the abnormality. The patient is recovering well; we conducted an MRI and CT scan which found that blood is flowing normally.
Mitsubishi sign contract focusing on metal 3D printing in China
Mitsubishi Corporation (TYO: 8058) has entered into a metal 3D printing development contract worth over the equivalent of $7 million USD.
The agreement is between Mitsubishi, Xiangzhou District Government, and Zhuhai Abbey Mould Design Co., Ltd. who will work together to establish an additive manufacturing infrastructure for the city of Zhuhai in southern China.
Final amendments have yet to be made to the contract, but the partners are expected to focus on high-value areas of industry such as medical, automotive and aerospace.
Robo 3D bring next generation R2 3D printer to market
Californian desktop 3D printer manufacturer Robo 3D has officially announced general availability of the next generation R2 machine.
The AUD$1.8 million recently raised by the company has been used to scale up R2 3D printer production due to popular demand.
With features including a heated, self-leveling print bed, an dual-nozzle extrusion, the R2 is now available to buy for a price of $1,499.99.
FDM market realized by Trinseo material partnership
Materials manufacturer Trinseo (NYSE: TSE) headquartered in Berwyn, PA, has entered into a partnership with Germany's Advanc3D Materials.
Using Advanc3D Materials' expertise, Trinseo is turning a range of its resins into 2.85 mm and 1.75 mm diameter filaments that can be 3D printed on a standard FDM/FFF 3D printer. 
Philippe Belot, Business Director at Trinseo CEM, comments,
Both CEM and Advanc3D Materials have been interested in providing filament under brands that are known and trusted. By offering filament through Advan3D Materials, CEM is making it easier for our existing and new customers to access our brands which are trusted by the marketplace and approved for application use. Customers can use 3D printing with the same grades approved for injection molding, thus enabling fast prototyping, production of complex parts, and highly customized small production runs in an effective way.
For all the latest 3D printing news, subscribe to the most widely read newsletter in the 3D printing industry, follow us on twitter and like us on Facebook.
Featured image: Marshmallow kitten. Photo via Xem Ảnh Đẹp