Today in Sliced, our 3D printing news digest, we feature the latest in composite materials; a virtual trip to Paris; electron microscope part inspection and BMW's 3D printed motorbike.
Read on for this and more including Sketchfab, Autodesk, FOX, Cam Newton, Immensa Technology Labs, Victrex, Matterhackers, Robo 3D, CoreLink Surgical, Fabrisonic, BEEVERYCREATIVE, Yxlon, the University of Sydney and 3D Metalforge.
Feast your eyes on a virtual Versailles and BMW's 3D printed motorbike
Nine 3D printers have been used to create a 14-foot tall replica of the FOX NFL robot for its sports lobby. On commission to West Hollywood special FX shop Thingergy, the robot's numerous parts are broken down in the diagram below:
Online 3D content community Sketchfab has uploaded several virtual models of the Château de Versailles. Situated on the outskirts of Paris, France the opulent, 17th century residence of Louis XIV and Louis XVI is certainly a fest for the eyes though all the detail of the files prove a little slow to load.
Andreas Bastian, a Research Scientist at Autodesk, has developed a standard test procedure designed to help creators better calibrate their machines and showcase their printers' capabilities to backers on Kickstarter. The single .stl file, similar to Ian Robinson's Torture Test, allows users to evaluate a printer's dimensional accuracy, resolution, and alignment. Kickstarter believes that this test will support greater transparency in its community. The calibration test is expected to expand into other printing technologies such as SLA.
Further details about the construction of BMW's 3D printed motorcycle have been revealed in a visit by Canadian automotive news site Driving. The chassis of the S1000RR is reportedly made-up of three parts that took five days to 3D printed. In a video posted by the site, the parts are shown 3D printing on an selective laser melting (SLM) machine.
Immensa Technology Labs' dedication to the advancement of 3D printing throughout the United Arab Emirates (UAE) has now extended to a 3D printed eyewear partnership with Monogram Eyewear, based in Dubai. Custom 3D printed frames produced through this collaboration will soon be available from prices ranging from $353 to $449.
And some of the artifacts lost in a fire at Brazil's Museo Nacional have been recreated using 3D printing by Jorge Lopes, at researcher at the Pontifical Catholic University of Rio de Janeiro.
3D printable composites, metals and PAEK
New material releases this week include Matterhackers glass fiber-infused NylonG and a carbon fiber reinforced PLA from Indian filament manufacturer Rever Industries.
In other materials news, a case study from Fabrisonic highlights the potential of using its proprietary Ultrasonic Additive Manufacturing (UAM) technology to fuse dissimilar metals and boost a component's thermal performance.
And, Victrex and the University of Exeter's Centre for Additive Layer Manufacturing (CALM) have reinforced their PAEK development agreement this week with a multi million-pound investment.
3D printing in healthcare
In medicine, the FDA has cleared another 3D printed spinal implant for commercial distribution. The titanium M3 stand-alone anterior lumbar (ALIF) system is made by CoreLink Surgical, using "Mimetic Metal" technology with open pore architecture and hydrophilic wicking.
Five-year-old Cameron Haight from Charlotte, NC, who has been making and designing 3D printed prosthetic hands for himself and others with limb differences, met his hero, football star Cam Newton this summer. Together, the two Cam's shared a Robo 3D printed bionic arm design, created for Different Heroes, a company launched by young Cam's parents to raise awareness and acceptance of their child's condition and others around the world.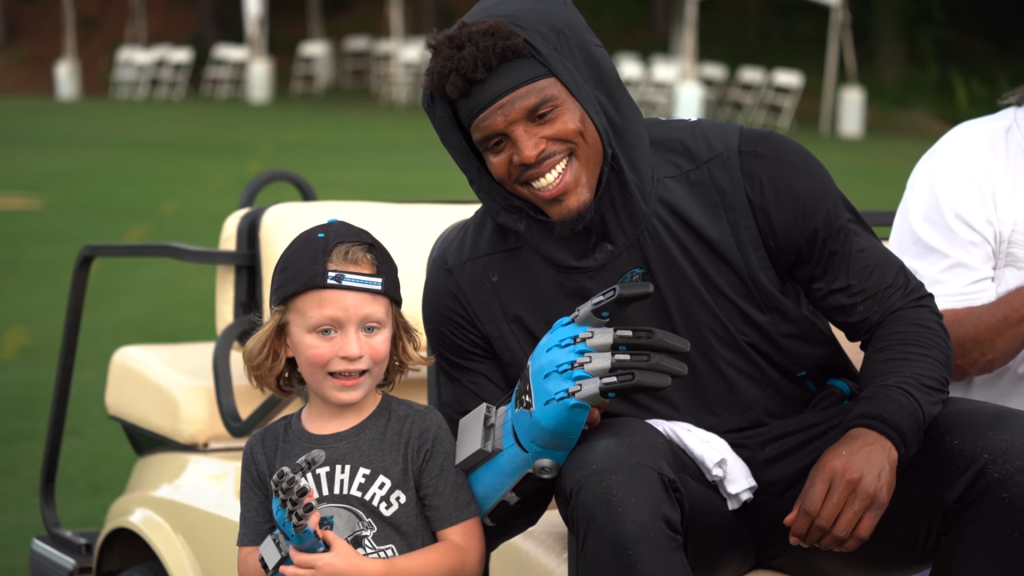 New 3D printer kits and non destructive testing equipment
The B2X300 DIY 3D printer kit is now available from Portuguese desktop 3D printer provider BEEVERYCREATIVE. In addition to dual extrusion, silent Trinamic Stepper Drivers and aut bed leveling, the 3D printer features a confirmed print resolution between 50 – 300 μm; filament end detection; and power loss detection and recovery. The system is available at a limited pre-order price of €599.90 ($700.55) without tax until October 13th 2018. After this period, the kit will retail for €649.90 ($758.94).
In addition, Global x-ray and CT system manufacturer Yxlon is offering its equipment to additive manufacturers for non-destructive testing (NDT).
Metal additive earns new research in Australia, Lloyd's Regsiter approves new center
The University of Sydney Nanoscience Hub is now home to an electron microscope believed to be the most advanced of its kinds throughout Australia. Among the many applications tipped for the microscope's use Professor Julie Cairney, director at the Australian Centre for Microscopy and Microanalysis, confirms that some scientists will be using it in "transformational additive manufacturing research for the design of new light alloys for battery materials and other energy technologies."
The $1.8 million Additive Manufacturing Centre (AMC) of Singapore service bureau 3D Metalforge has attained certification from Lloyd's Register. With this approval, 3D Metalforge's AMC becomes the fifth of its kind to receive additive manufacturing facility qualification from the classification society, following Australia's AML Technologies in August 2018.
For progress updates and all the latest additive manufacturing news sign up to the 3D Printing Industry newsletter, Also, follow us on Twitter, and like us on Facebook.
Search and post 3D Printing Jobs to seek opportunities and new talent across engineering, marketing, sales and more.
Featured image shows Sliced logo over the replica, 3D printed, FOX NFL robot. Original photo via Thingergy.