The month of September 2021 saw a number of "world's largest" and "world's longest" claims regarding printers, factories, and bridges, alongside a return to in-person events with TCT 3Sixty and RAPID+TCT 2021, new space applications, and 3D printing partnerships and acquisitions.
Read on for the standout developments in September, which involved the likes of 3D Systems, Markforged, Nano Dimension, Shapeways, Terran Orbital, the AMGTA, and others.
Unlocking sustainable space exploration
September began with the promise of unlocking sustainable space exploration missions with the construction of a novel material-efficient 'skeletal floor' for a prototype European Space agency (ESA) lunar settlement. Fabricated by Dutch robotic metal 3D printing firm MX3D, the ultra-lightweight steel structure showcased the lunar manufacturing potential of MX3D's technology, which could be used to build regolith-based structures in future.
"This is a remarkable achievement from MX3D, which further highlights the potential of this additive manufacturing technique for an increasing range of space applications," said Advenit Makaya, ESA engineer. "The design flexibility, and the possibility to combine the printed structure with embedded monitoring systems, are worth investigating for applications in space structures.
"This technique could also be considered for the in-situ construction of infrastructure during sustainable exploration missions, by using metallic feedstock derived from the locally-available regolith."
The world's longest and largest developments
The first of September's "world's largest" and "world's longest" claims was a 3D printed concrete pedestrian bridge in the Dutch city of Nijmegen, which, spanning 29 meters, is reportedly the longest bridge of its kind in existence.
The project was undertaken by Rijkswaterstaat and designer Michiel van der Kley in honor of the city's 2018 European Green Capital status, and saw TU Eindhoven, Witteveen+Bos, BAM and Weber Beamix brought onboard to bring the 3D printed bridge to fruition.
The bridge trumped Tsinghua University's 86-foot effort in Shanghai and was produced to showcase the design and sustainability benefits of utilizing concrete 3D printing methods to produce not only bridges, but also potentially houses and other buildings.
Meanwhile, Fraunhofer IGCV and binder jet system manufacturing voxeljet announced their intentions to build the largest wind turbine 3D printer to date, known as the Advance Casting Cell (ACC). The system is being built specifically to print the molds needed to cast parts for GE's Haliade-X turbine, and will enter initial trials in 2022.
According to voxeljet, the ACC could reduce mold lead times by as much as 80 percent and will significantly lessen the parts' carbon footprint by enabling them to be printed on-site.
"The 3D printed molds will bring many benefits including improved casting quality through improved surface finish, part accuracy and consistency," said Juan Pablo Cilia, Senior Additive Design Engineer at GE Renewable Energy. "Furthermore, sand binder jet molds or additive molds provide cost savings, by reducing machining time and other material costs due to optimized design."
Elsewhere, nano and microsatellite developer Terran Orbital unveiled its intention to build the world's largest commercial spacecraft facility in Florida at 660,000 square foot. Based on an artificial intelligence (AI)-controlled supply chain, the center will leverage 3D printing technologies for the production of thousands of different space vehicles each year.
The facility will be built on Merritt Island, an area that is home to a number of other 3D printing firms active in the space sector, such as off-world manufacturing specialist Made In Space, which was acquired last year by aerospace conglomerate Redwire, and the likes of Firehawk Aerospace, Relativity Space, and Firefly Aerospace.
3D Systems acquires Oqton
September also saw 3D printer manufacturer 3D Systems acquire AI-powered software specialist Oqton for $180 million. By integrating Oqton's Manufacturing Operating System (MOS) into its existing offering, 3D Systems is aiming to create a platform that is "instrumental in advancing AM" and increase its software income to $100 million by 2025.
Oqton's software had attracted considerable interest within the 3D printing industry, after raising $40 million in funding and fostering several commercial partnerships across 3D printing, robotic welding and CNC machining with the likes of Prodways, EOS, Sisma, TRUMPF and Sandvik.
"We are excited about joining with 3D Systems," said Dr. Ben Schrauwen, CEO and Co-founder of Oqton. "At the same time, we bring our deep expertise in AI, automation, robotics and machine learning, which will help our customers and partners to scale and connect different manufacturing processes in a wide range of healthcare, bio-tech and industrial market verticals."
New electronics 3D printing processes
The month of September also saw a partnership bloom between Nano Dimension, a leading manufacturer of industrial 3D printers for additive manufactured electronics (AMEs) and the Fraunhofer Institute for Manufacturing Engineering and Automation (IPA), to develop new freeform 3D printing and assembly processes for the production of electromechanical systems.
By the end of the project, the partners hope that Nano Dimension will be able to integrate the innovations into its proprietary DragonFly LDM 3D printing system, which is specialized to fabricate electronics such as printed circuit boards (PCBs).
Oliver Refle, Head of the Additive Manufacturing Department at Fraunhofer IPA, was optimistic about the partnership: "This brain trust will allow both parties to instantly analyze and improve processes by sharing ideas, data, and expertise, was we develop the next generation of 3D inkjet printing with the goal of creating new and better processes and integrations for the ultra-accurate printing of new high-performance electronic devices (Hi-PEDs)."
New print management software
September also saw the ongoing return of in-person events within the 3D printing sphere with RAPID+TCT 2021, where Markforged announced the launch of its new Eiger Fleet print management software. The cloud software is designed to help manufacturers adopt and scale 3D printing within their existing workflows, while enabling users to supervise and automate their Markforged machines from afar. 
According to Markforged, the latest addition to its Eiger software portfolio will "transform AM from a small-scale operation into a globally-connected, distributed manufacturing fleet."
RAPID+TCT 2021 also saw the unveiling of Roboze's Prometheus 3D printing slicer, new 3D printing materials and software partnerships from Stratasys, and additions to Flashorge USA's "multi-generational" portfolio.
The life-cycle of 3D printed aerospace parts
Midway through the month, the Additive Manufacturer Green Trade Association (AMGTA) launched its latest research project, a life-cycle assessment (LCA) comparing a 3D printed aerospace component to one that is traditionally manufactured. The LCA sought to compare the cradle-to-grave environmental impacts of a jet engine low-pressure turbine (LPT) bracket fabricated via both methods, using 18 different environmental indicators.
Each stage of the LPT bracket's production will be scrutinized by the indicators, which include factors such as material extraction, manufacturing, transportation, use, and eventually, end-of-life.
Returning to the moon?
More space news, and defense contractor Lockheed Martin harnessed Makerbot's METHOD X 3D printer to design and test elements of an AI-powered lunar rover that could be deployed during NASA's mission to return to the moon. The contractor's Advanced Technology Center (ATC) 3D printed prototypes of the vehicle's systems housing and sensor mounts capable of withstanding the harsh realities of space, from searing desert heat to UV or moisture exposure.
"The rover we have at ATC is a testbed that we designed and developed in-house," said Aaron Christian, Senior Mechanical Engineer at Lockheed Martin Space. "This affordable modular testbed allows us to make quick changes using 3D printing to change the design for other applications and just extreme environment autonomy needs."
Printing living brain cells
A study outlining the successful 3D printing of living mouse brain cells also made the headlines in September, conducted by the University of Montreal, Concordia University, and the Federal University of Santa Catarina.
Using their self-developed Laser-Induced Side Transfer (LIST) bioprinting technology, the scientists produced sensory neurons which remained alive two days after printing, during which the team was able to run numerous tests to measure the capacities of the printed cells. The team believes their development is promising for bioprinting's potential regarding disease modeling, drug testing, and implant fabrication.
Another day, another SPAC
September continued the 3D printing Special Purpose Acquisition Company (SPAC) merger trend of 2021 with two major deals reaching completion. First up, 3D printing service provider Shapeways completed its merger with blank check firm Galileo Acquisition, closely followed by 3D printer OEM Velo3D's debut on the New York Stock Exchange following its merger with Jaws Spitfire Acquisition Corporation.
Shapeways deal saw the firm receive $103 million in gross proceeds, including a $75 million common stock PIPE, with the combined company renamed Shapeways Holdings (SHPW). Velo3D's deal, meanwhile, delivered around $274 million in total net proceeds and saw the combined company listed under the ticker "VLD".
The past year has seen a huge surge in SPAC mergers within the 3D printing sector, with the likes of Fast Radius, Fathom Digital Manufacturing, Essentium, Markforged, and Redwire all cashing in on the act.
The return of TCT 2021
Finally, September saw the return of the TCT 3Sixty show to the NEC in Birmingham in a somewhat scaled-down version of previous editions in light of the Covid-19 pandemic. Despite lower exhibitor numbers, there was still plenty to see at this year's show.
For instance, E3D launched its new FFF 3D printer hotend range, RapidChange Revo, Photocentric displayed its recently launched LC Opus LCD 3D printer, and 3D Systems showcased the latest addition to its materials portfolio, VisiJet Wax Jewel Red. Elsewhere, Materialise demonstrated the latest version of its Magics software and its long-awaited Bluesint PA12 technology, while Fillamentum presented its first 100 percent biodegradable filament for 3D printing, NonOilen.
Read more about the key takeaways from the trade show floor, partnership announcements, and applications cases on show at TCT 3Sixty here.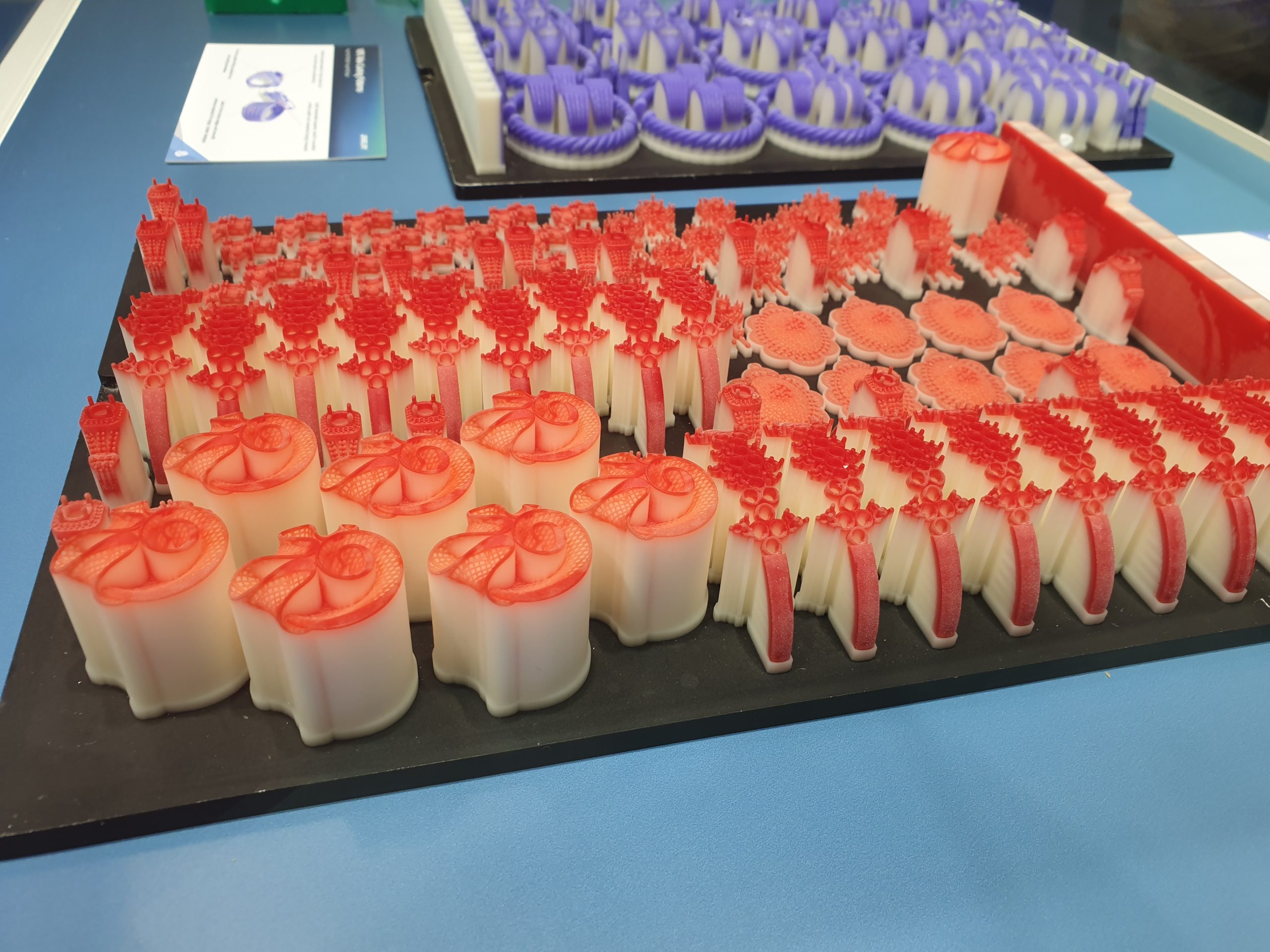 Subscribe to the 3D Printing Industry newsletter for the latest news in additive manufacturing. You can also stay connected by following us on Twitter and liking us on Facebook.
Looking for a career in additive manufacturing? Visit 3D Printing Jobs for a selection of roles in the industry.
Subscribe to our YouTube channel for the latest 3D printing video shorts, reviews and webinar replays.
Featured image shows a rendering of Lockheed Martin's AI-powered lunar rover. Image via MakerBot.