The 2021 3D Printing Industry Awards shortlists are open for voting, have your say now.
As the 2021 TCT 3Sixty show in Birmingham comes to a close, 3D Printing Industry sums up the key takeaways from the trade show floor.
Although a somewhat scaled-down version of previous editions, the event welcomed visitors to the NEC with a professional and well-managed event which, for many, was their first foray back into in-person shows.
Of the hundred or so exhibitors, many of the big names in additive manufacturing were present, and a busy conference schedule of some 80 presentations across the three days inspired discussions around the adoption and optimization of additive manufacturing technology.
Recent launches on display
Despite the lower exhibitor numbers, there was still plenty to see at this year's show. One eye-catcher came from 3D printing hardware manufacturer E3D, which launched its new FFF 3D printer hotend range, RapidChange Revo, on the first day of the event. The system is designed for easy integration into any FFF 3D printer and enables users to switch their 3D printer's nozzles without the need for complex tools or hot tightening.
The RapidChange Revo range initially includes the Revo Micro and Revo Six, with the former weighing only half as much as E3D's widely popular V6 hotend. To change their Revo nozzles, users need only unscrew the old hotend with their fingers and screw a new one in its place.
E3D also unveiled where some of the IP it filed in May is heading – its upcoming Obsidian nozzle – with further details coming soon.
Elsewhere, the recently unveiled LC Opus LCD 3D printer from 3D printer and materials manufacturer Photocentric was on display. Based on the firm's LCD 3D printing technology, the desktop 3D printer is slated to be the company's most rapid LCD machine to date, and is suited to a wide array of applications spanning dental models to turbines.
US 3D printer manufacturer 3D Systems displayed the latest addition to its materials portfolio, VisiJet Wax Jewel Red, at its booth. The material, designed for fine feature jewelry casting, was showcased in a variety of intricate 3D printed wax casting patterns, and is engineered to provide cost, efficiency, and design benefits to jewelry artisans and casting houses.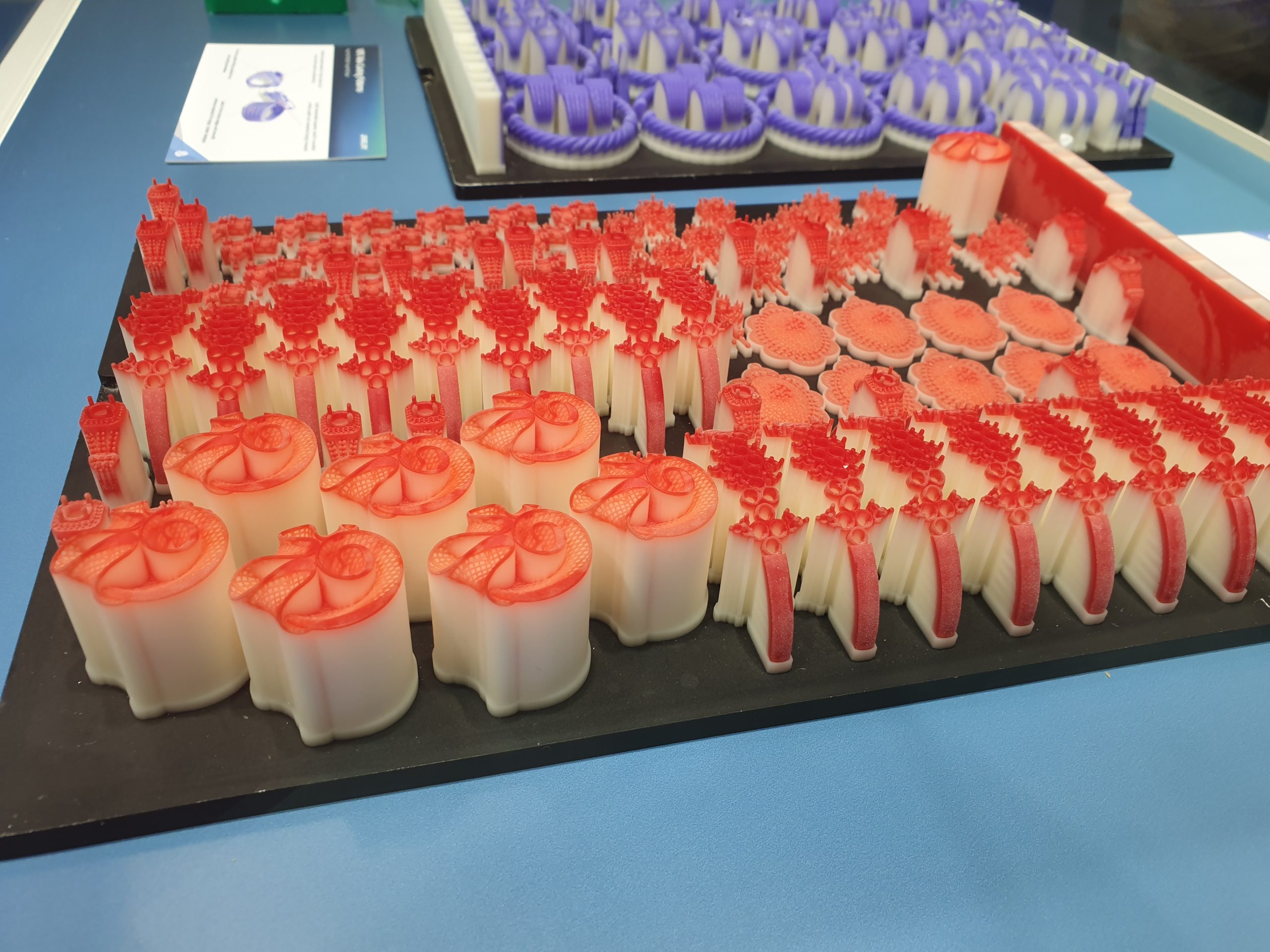 3D printing software developer Materialise showcased the latest version of its Magics software, and also displayed its long-awaited Bluesint PA12 technology that uses 100 percent reused powder for SLS 3D printing.
Meanwhile, Czech 3D printing filament producer Fillamentum showcased its first 100 percent biodegradable filament for 3D printing, NonOilen, at the show, first launched in March this year, and AM Solutions, part of the Rösler Group, demonstrated the capabilities of its next-generation S1 post-processing system.
While not strictly a new launch, it was interesting to see the system's upgrades, offering two-in-one de-powdering and cleaning of 3D printed components.
Also at the show, cleaning and surface finishing systems manufacturer DyeMansion made several UK-based partnership announcements. Laser Lines was designated the firm's newest authorized reseller for the UK, while the UK's Digital Manufacturing Centre (DMC) has added a DyeMansion Powerfuse S industrial vapor polishing system to its post-processing offering.
Laser Lines will offer the full Stratasys and DyeMansion reference architecture, based on the Stratasys H350 and DyeMansion Print-to-Production platform, born out of a strategic alliance between the two companies announced in May and strengthened earlier this month. Laser Lines has become the first DyeMansion reseller in the UK offering both the new Stratasys SAF powder bed technology and full DyeMansion workflow.
Going forwards, the DMC will also be relying heavily on Stratasys' SAF technology, and with the installation of the Powerfuse S will become the first supplier offering the Stratasys-DyeMansion reference architecture, including the H350, Powershot C, Powershot S, Powerfuse S, and DM60 systems.
"With the addition of the H350 and Origin One P3, Stratasys' Additive Manufacturing technology is quickly moving into the true production environment," said Mark Tyrtania, Sales Director at Laser Lines. "To offer a genuinely viable production solution we needed to look at the entire workflow – from the 3D printing of parts through to the finished article.
"By adding the DyeMansion range of products to our portfolio we are now able to offer customers an end-to-end post-processing turnkey solution."
Elsewhere on the TCT show floor, German electronic 3D printing firm Neotech AMT was showcasing the latest applications of its technology. Speaking to Managing Director Martin Hedges, it appears to be a time of innovation at the company with several R&D developments in the works regarding further development of its "fully additive" electronic devices, and developing scalable hybrid 3D printing processes for 4D mechatronic systems as part of the EU-backed AMPERE project.
Hedges also alluded to another interesting development in the pipeline regarding recyclability and circular economy gains within 3D printed electronics, with more details on this project to follow.
Stratasys' Andrew Langfeld on software, market growth, and industry consolidation
Fresh from unveiling a slew of announcements at RAPID + TCT earlier this month and in addition to its alliance update with DyeMansion, Stratasys was also in attendance at TCT3Sixty to discuss the new 3D printing materials for its H350 and Origin One systems and the addition of additive manufacturing software developer AMFG to its GrabCAD Software Partner Program.
I sat down with Andrew Langfeld, President EMEA at Stratasys, at the Birmingham event to discuss the importance the company is placing on materials innovation and software integration, and its plans for growth over the coming year.
"The new materials is one thing, but a significant thing," he says. "With the new technologies, we are trying to work with the big firms and vendors on material partnership programs to accelerate their development and bring more certified parts and materials to the market."
The company's recent expansion of its 3D printing technologies plays a key role in this aim, and in enhancing its customers' options to produce use-case-specific additive manufactured parts.
"Historically, we have been a Polyjet FDM company where we could truthfully claim we are the market leader in the industrial segments," Langfeld explains. "But now we realize that there is the growth potential obviously for Polyjet FDM for prototyping and jigs and fixtures applications, for example, but we needed additional technology in order to also address the manufacturing production orientated market, and that comes with the right technologies."
As such, Stratasys has had a busy time recently on the merger acquisition front, having acquired DLP machine manufacturer Origin at the end of last year, for example. Now, Langfeld feels the firm has the majority of bases covered in terms of product development.
"We have the right solution for every step of the product development lifecycle, from prototype, design and functional prototypes to jigs and fixtures for the production floor, all the way to producing parts additively, certified, which again speaks for the materials we are releasing," he says. "We want to have the right materials for the use cases that are relevant, so we have this product offering across all steps of the product development life cycle and now we need to look for additional improvements for workflow automation and software, so that is what we are focusing on right now."
The addition of AMFG to the GrabCAD partner program is part of this endeavor, and going forwards Stratasys will continue to look for further software partnerships to make it easier for customers to deploy its technologies within their specific production environments.
"Integration is going to be crucial," Langfeld continues. "Because the real breaking point of additive being deployed more and more and adopted for production parts is, on the one hand, you need to have the right technology which brings you the right volumes, time, part quality and cost per part, but you also need to make sure you have the right workflow."
Langfeld also views technologies such as artificial intelligence (AI) and machine learning as being critical to the integration and adoption of 3D printing for production, stating "it is crucial that we integrate as much of the latest technologies outside of additive manufacturing into the workflow of the products we have, in order to make it state-of-the-art."
When asked about the importance of Stratasys' medical division to the firm's future vision going forwards, Langfeld confirmed this remained a big focus, evidenced by the recent release of its J5 MediJet 3D printer.
"And with that comes again the specific focus on relevant materials development, the certifications that are required, and the workflow integration into hospitals, for example," he says. Ultimately, Stratasys is looking to integrate its medical 3D printers into clinical settings much as CT scanners have become a part of the patient-care workflow.
Regarding growth, Langfeld offered that Stratasys' core PolyJet and FDM technologies are still experiencing healthy demand, bolstered by the releases of the F770, J35, and J5 MediJet systems. Regarding the EMEA region, he holds the "reasonable vision to double the business in the coming years", in light of the potential gains the firm could yield from its recently acquired stereolithography and other verticals. "I think it is a no-brainer that we should be able to address many more markets and applications than we have been addressing in the past, that growth would be a natural result," he adds.
Langfeld has recently observed significant ongoing innovation not only within Stratasys but throughout the 3D printing sector that is "outside of the classic additive manufacturing technology", particularly within software, workflow integration, and part identification, that is helping to enhance adoption within production environments. Much of this innovation is driven by new entrants to the market, which he identifies will lead to a consolidation period within the sector.
"It will be very interesting to see if those players in the market that are based on funding, SPACs, or IPOs will deliver the promises they have made," he says. "If they deliver on those promises it will drive additional adoption of additive, but if they do not deliver what they promise we will see a bit of a shake-up in the market.
"I think consolidation will happen, because you have a lot of companies that have good technology but they may not have the go-to-market, for example, or the power to scale," he continues. "Consolidation is healthy for the adoption of additive in the end."
Looking ahead, Langfeld identifies big opportunities for additive manufacturing in sectors such as aerospace, automotive, and consumer goods, citing sustainability, on-demand spare parts, on-site production and customization as the main drivers for greater adoption of the technology for production in these areas. He also emphasizes the importance of Stratasys' new influence as a founding member of the Additive Manufacturer Green Trade Association (AMGTA) in working towards more responsible and sustainable manufacturing models in the future.
"I think there is now a new wave of awareness of large producing companies to really look into how they can produce more locally and also leverage additive manufacturing for their inventory and spare part management," Langfeld concludes. "Those are exactly the applications where we expect both future growth and also a strong sign of sustainable manufacturing."
Returning to (a new?) normal
The TCT 3Sixty trade show floor appeared somewhat quieter than previous years, likely due to a combination of Covid-19 uncertainties, international travel restrictions, and being sandwiched between RAPID + TCT earlier this month and Formnext in November.
Despite this, there appeared to be a shared sentiment among exhibitors and visitors alike that a return to in-person events and face-to-face conversations was warmly welcomed, even if footfall was a little lower than prior editions. For many, the event provided the first in-person chance to get a real look at some of the technologies launched over the last two years.
Made up of more than 80 presentations and panel sessions, the conference aspect of the show prompted discussions across a wide range of topics, with an overarching focus on the evaluation, adoption, and optimization of 3D printing technologies for businesses.
Attention will now turn to Formnext in November, where the majority of upcoming launches are expected to be made. Before that, though, is the return of the much-loved and highly-anticipated 2021 3D Printing Industry Awards, for which voting on shortlists is now open.
Subscribe to the 3D Printing Industry newsletter for the latest news in additive manufacturing. You can also stay connected by following us on Twitter and liking us on Facebook.
Looking for a career in additive manufacturing? Visit 3D Printing Jobs for a selection of roles in the industry.
Subscribe to our YouTube channel for the latest 3D printing video shorts, reviews and webinar replays.
Featured image shows the new Revo Six (left), Revo Micro (right), and four Revo nozzles. Photo by Michael Petch/3D Printing Industry.