3D Printing news in October 2017 including financial updates from leading enterprises and coinciding with this was the publication of a number of 3D printing strategic roadmaps. A number of systems were launched, and 3D Printing Industry was party to vital information on forthcoming products. Stories on business and medical applications continued to the most popular for our readers.
Financial results and roadmaps
The Proto Labs (NYSE:PRLB) update on Q3 of the financial reporting year 2017 showed a quarterly total revenue increase of 12.7%, to a top line revenue of $88.1M.  These revenues were heralded as record-breaking by Proto Labs executives.
Group Gorgé (EPA:GOE) had top-line revenues of 59.3 million, of which €7.1 million came from 3D printing, a 33% increase on the previous year. Prodways, Group Gorgé's 3D printing subsidiary, saw a successful public listing earlier in 2017.
Renishaw PLC (LON:RSW) issued an update for the first quarter of the financial reporting year 2018. This update showed headline revenues of £142.3m, a growth of 26% over the £112.8m for the corresponding period last year. Of particular significance in this quarter was Renishaw's launch of the RenAM 500Q metal 3D printer.
Also within the UK, STEAMhouse, a £3.5 million innovation center, maker space and business incubator was announced by Birmingham City University. Set to include 3D printers, digital design software, and metal/wood processing equipment, the STEAMhouse project would receive a further £22 million from the European Regional Development Fund and the Arts Council England.
October also saw the publication of the Additive Manufacturing National Strategy by AM UK. Featuring contributions from academia, government, finance bodies and over 100 3D printing industry experts, the report made 10 specific aims, 28 recommendations based on these aims, and forecast that additive manufacturing would generate £3.5 billion per year by 2025, supporting 60,000 jobs.
This was followed by the "Made Smarter" independent review of the UK's manufacturing sector led by Jürgen Maier, CEO of Siemens UK. The forecast that Intelligent Digital Technologies (IDTs) could generate an estimated £455 billion for UK manufacturing over the next decade, creating an estimated 175,000 jobs, and boosting industrial productivity by more than 25%
Finally, across the Atlantic, the U.S. Federal Aviation Administration (FAA) published an additive manufacturing roadmap, which focused on safety, funding, business practice, and collaboration with the Army and Navy.
Launches and Announcements
XJet, a printer manufacturer specialising in ceramic and metal 3D printing systems, launched the Carmel 1400 and Carmel 700 3D printing systems in October. XJet concurrently received the first customer for one of its NanoParticle Jetting 3D printers.
Renishaw's metal 3D printing system, the RenAM 500Q metal 3D printer was also announced ahead of its launch at formnext 2017. The new system features four lasers, a melt monitoring system, new materials, and is designed to produce end-use parts.
From 3D printers to patents, global technology company Apple was granted a patent for a method for instructing a 3D printing system. Clues from the patent itself suggest that the new technology aid the detection of a failed or paused print using a structured light 3D scanner, and even improve the visual print texture of the 3D printed object.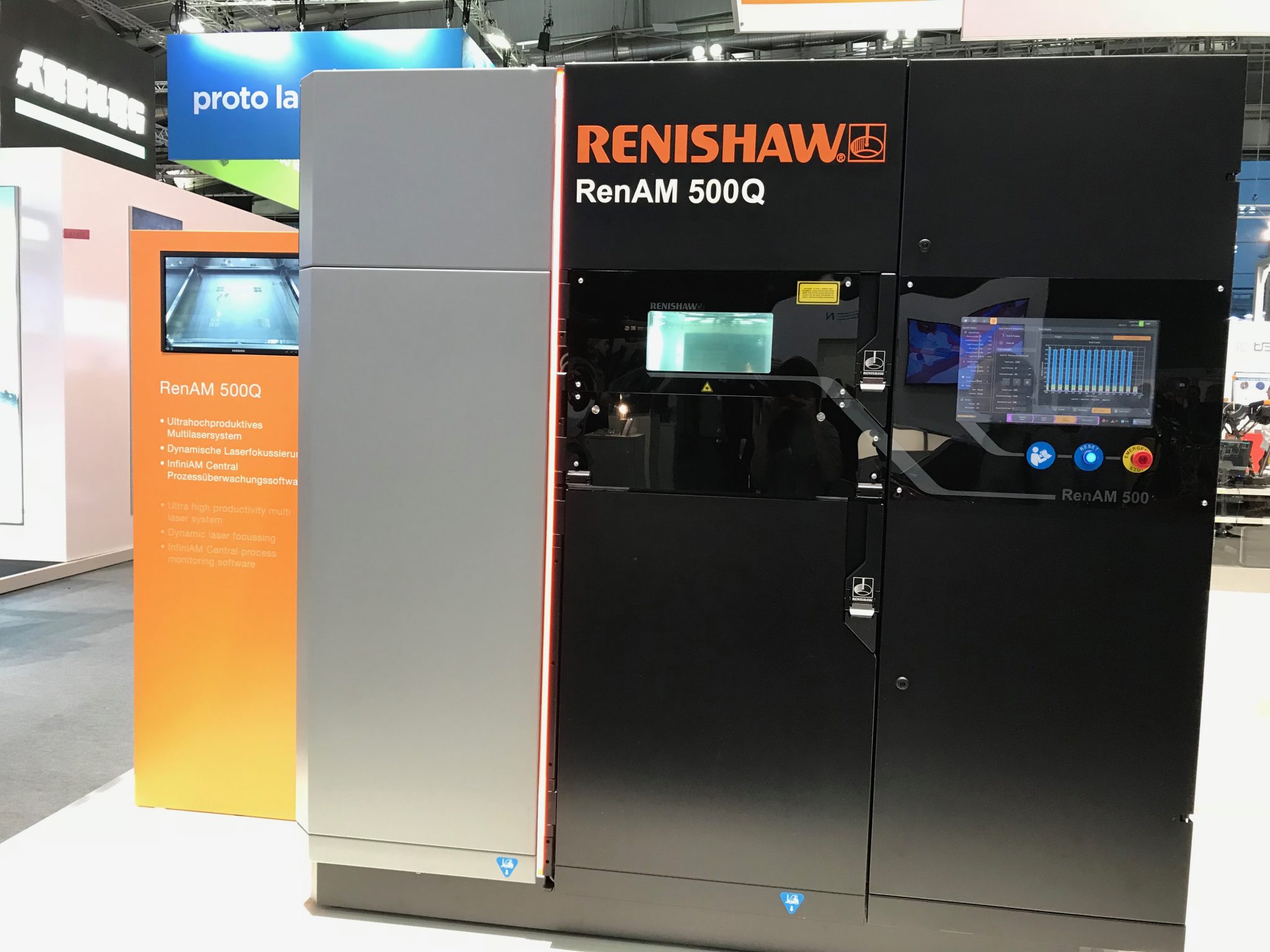 Business beyond the statements
In a period which saw Stratasys have its shares upgraded from a price target of $22 to $31, GE simultaneously slashed its full-year forecast, resulting in a sharp decrease in share prices, which were down 2.9 percent to $22.90. GE CEO John Flannery also warned of over $20 billion in efficiency savings across the company, except in 3D printing, which appeared to remain strong across the board.
October saw companies make significant investments in new locations. iMakr, a global reseller of 3D printers, scanners and services announced a global franchise scheme, with 20 new locations opening worldwide under its banner at the end of 2018 and 2019 respectively.
German chemical and consumer goods company Henkel announced the launch of a multi-million Euro 3D printing facility in Tallaght, Ireland. The site will specialise in adhesives, and accommodate research into light cure adhesive technology and post-processing.
Other 3D printing companies received significant capital injections or made significant amounts from deals. BeAM Machines, a pioneering company in Laser Metal Deposition technology received a €1.6 million capital injection from shareholders, bringing its total capital to over €8 million. German metal additive manufacturing company SLM Solutions broke records by selling 70 SLM280 3D printers for €43 million to an unnamed customer in Asia.
BASF, the largest chemical producer in the world, signed a deal to acquire Solvay's global polyamide business in a €1.6 billion deal. This was a move set to strengthen BASF's 3D printing division, given Solvay's existing 3D printing capabilities.
From cash generation to acquisitions, Belgian 3D printer manufacturer Materialise continued its expansion by acquiring ACTech, a German 3D printing metal company.
Medical and Aeronautical applications
The most popular and significant application stories of the year were predominantly medical or surgical, with significant breakthroughs in aeronautics and construction also catching the attention of our readers.
GE completed the testing of its T901 Black Hawk Turboshaft 3D printed engine, made for the eponymous class of US Army helicopters. Compared to its machined predecessors, the new GE engine had its weight reduced and its shapes enhanced by 3D printers, making it more durable and aerodynamic.
The launch of 'Just in time implants,' a new AUD$12.1 million ($9.29 million USD) project run by the Australian Government, RMIT University, the University of Technology Sydney (UTS), St Vincent's Hospital Melbourne and medical implant specialist Stryker was set to change the on-demand production of custom bone implants for cancer patients.
On the other side of the world, 3D printing was used in a combined bone graft and 3D printed implant surgery at the NHS Morriston Hospital in Swansea. This world-first operation accurately maintained the natural shape of the patient's jawline and would allow dental implants to be inserted later.
Two other firsts in surgery also involved 3D printing. The first US replacement of a sternum with a 3D implant took place at the New York-Presbyterian and Weill Cornell hospitals. The implants were designed by Anatomics and 3D printed by Australia's CSIRO.
From chest to back, surgeons in France successfully performed the world's first robot-guided minimally invasive surgery on a scoliosis-affected child's spine. Med Tech's ROSA robot, which was used in the operation, was first tested on 3D printed guide parts before the carefully supervised surgery took place at Amiens-Picardie Hospital in France.
A first in construction, AMT-SPETSAVIA, a Russian construction company completed continental Europe's first 3D printed house, according to some metrics. the components of the house were 3D printed in concrete and then manually assembled.
3D Printing Industry goes directly to the source
A story that gathered intense interest from our readers was 3D Hubs CEO Bram de Zwart's reaction to a Reddit thread claiming that 3D Hubs was metaphorically dead as a hub. De Zwart told 3D printing Industry that the changes were introduced to improve user experience, and stated his belief that the customer would benefit.
3D printing industry also visited the Codex 2017 event in London to hear "top innovators from the industries of the future" give their insights on 3D printing. Highlights from this event included presentations from Amos C. Breyfogle of Stratasys, Markus Glasser of EOS, and ApisCor's Nikita Chen-Yun Tai.
3D printing Industry also attended the launch of Dassault Systèmes Solidworks 2018, a 3D engineering software with new features such as integration with 3D Experience and Solidworks CAM. The new software appears to give full control to the user so that they may continue to have free reign in designing solutions.
Finally, 3D Printing Industry received some exclusive insights into the technology behind HP's forthcoming metal 3D printer. Based on the company's recent research and recruitment patterns, it seems that metal injection molding (MIM) 3D printing a serious contender, and possibly even the final system with which HP will make its foray into metal additive manufacturing.
Nominations for the second annual 3D Printing Industry Awards are now open. Make your selections now.
For more reflections on 3D printing over the past year, subscribe to our free 3D Printing Industry newsletter, follow us on Twitter, and like us on Facebook.
Featured image shows GE Aviation's T901 Turboshaft engine for use inside the U.S. Army's Apache and Black Hawk helicopters. includes 3D printed parts. Image via GE Aviation.