HP Inc. (NYSE:HPQ) first publicly revealed plans to embark on metal 3D printing at last week's Security Analyst Meeting.
While details given at the event were sparse, 3D Printing Industry has exclusive insights into the technology under development and the team involved – ahead of official announcements scheduled for 2018.
Senior management moves
HP's metal additive manufacturing project will be led by Tim Weber who has held the job title Global Head of 3D Printing Materials and Advanced Applications at HP.
Taking over as Global Head of 3D Fusion Science at HP will be Cheryl MacLeod. Both Weber and MacLeod are based at HP's Corvallis, Oregon site. MacLeod has more than 20 years experience working at HP and will be responsible for the continuing endeavor to bring color to HP's Multi Jet Fusion 3D printing system.
HP provided a number of photo's of 3D prints made with -the as of yet- unnamed process.
Most tellingly, recruitment is currently underway for a Metal Powder Expert/Additive Manufacturing Sintering Expert to "lead HPs investigation into metal 3D printing" at Corvallis.
HP and Metal Injection Molding 3D printing
A posting from early September 2017 on HP's careers website is titled, "MIM Powder Expert". More recently the position, slightly modified, was posted on LinkedIn – providing further support for the oft repeated tale about a shortage of appropriate talent in the 3D printing industry.
While HP will not publicly confirm the details of the metal 3D system, including the expected shipping date and specific technology involved, what is known is that system will target high volume rather than high value manufacturing.
Specifically the aerospace market will not be key to the success of the HP metal 3D printing system. The rigorous qualification and certification processes within aerospace are challenging to OEM's producing metal powder bed fusion 3D printing, furthermore this is not a vertical where MIM based 3D printing methods are likely to find success.
For demanding applications such as aerospace, the quality, strength and geometric complexity of a component made through selective laser melting or sintering is highly valuable. However, in other industries – such metal AM processes can be overkill.
This is where companies such as Desktop Metal, Markforged, 3DEO and most recently Digital Metal have sought to promote their metal injection molding (MIM) powder based 3D printing systems.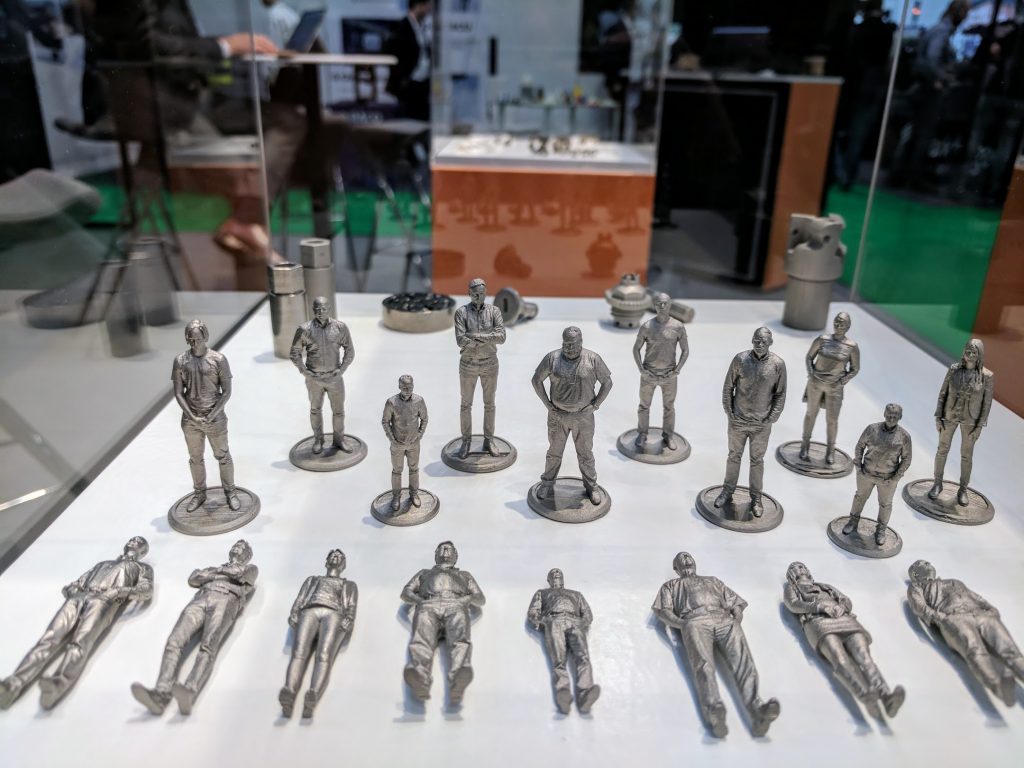 MIM powder based 3D printing
The rapid increase of companies operating in a space previously held by ExOne has seen unicorn status bestowed on a company yet to ship a 3D printer. This is turn has been beneficial to the industry as a whole, as once again external validation via investment has given confidence to what those in the industry have long known – the future is additive!
The MIM powder supply chain is significantly more well established than the smaller market for spherical metal powders used in laser or electron beam 3D printing – powders are also less expensive. Again, for high volume applications MIM powder would seem the likely candidate for HP's metal 3D printer.
MIM powder 3D printing techniques are a multi-stage process, first a binder is applied to the metal powder by an inkjet printhead to produce a green part. A sintering stage, where a furnace is used is then necessary.
It is understood that the HP metal 3D printing process is patented, however it is not clear whether this patent has been granted – or whether the patent is in use under license. It is most probable that when HP makes their announcement in 2018, the term MIM will not be used as the company seeks to differentiate their technology through a combination of technical innovation, but also a degree of marketing.
Market reaction to the news saw HP shares leap by almost 8%. While 3D Systems (NYSE:DDD) stock fell by almost 10%, going from $13.11 before the news, to a current price below $12.
For more insights into the 3D printing industry, sign up to our newsletter and follow our active social media channels. Let us know your thoughts about HP's move in metal 3D printing in the comments below.
Featured image shows HP MultiJet Fusion 3D printed parts in PA12 – not in metal. Photo by Michael Petch.