This year several new entrants to the metal 3D printing sector have appeared. While the precise approach of each varies, a common theme is inkjet based printing technology and a secondary sintering process in a separate furnace.
In the plastics 3D printing market, inkjet is at the core of HP's MultiJet Fusion and also the new technology recently seen from Stratasys subsidiary Evolve Additive Solutions.
The electrophotography-based additive manufacturing from Evolve Additive Solutions claims to be "50 times faster than the next fastest AM plastics technology."
The scalable nature, and speed, of inkjet printing methods make them appealing for those seeking to bring 3D printing into a manufacturing workflow. For those using inkjet 3D printing methods for metal a unifying factor is the use of a material more frequently used in the Metal Injection Molding (MIM) industry – MIM powder.
This year Markforged, Desktop Metal, 3DEO and others still flying below the radar join companies such as ExOne and ZCorp (now 3D Systems) who have long commercialized the binder jetting process developed at MIT in the 1990s.
Material suppliers are also increasingly targeting this segment. For example, PyroGenesis is "seeing a potentially explosive demand" for MIM cut powder.
3D printing with binder jetting
Precision is important both in engineering specifications, but also in terms of language. Several 3D printing OEM's offer metal additive manufacturing systems which on the surface – due to product names – may appear similar.
For example 3D Systems has Direct Metal Printing (DMP), XJET offers NanoParticle Jetting (NPJ) and Vader Systems provides Liquid Metal Jet Printing (LMJP).
Despite some similarity in naming, all of these metal 3D printers are different. The 3D Systems DMP range are power bed fusion 3D printers using lasers to melt metal powder, XJET's expertise is found in the material science that can encapsulate nanomaterials, while Vader Systems uses magnetism to jet their molten metal.
Most recently, Digital Metal AB has commenced commercial production of its 3D metal binder jet printers.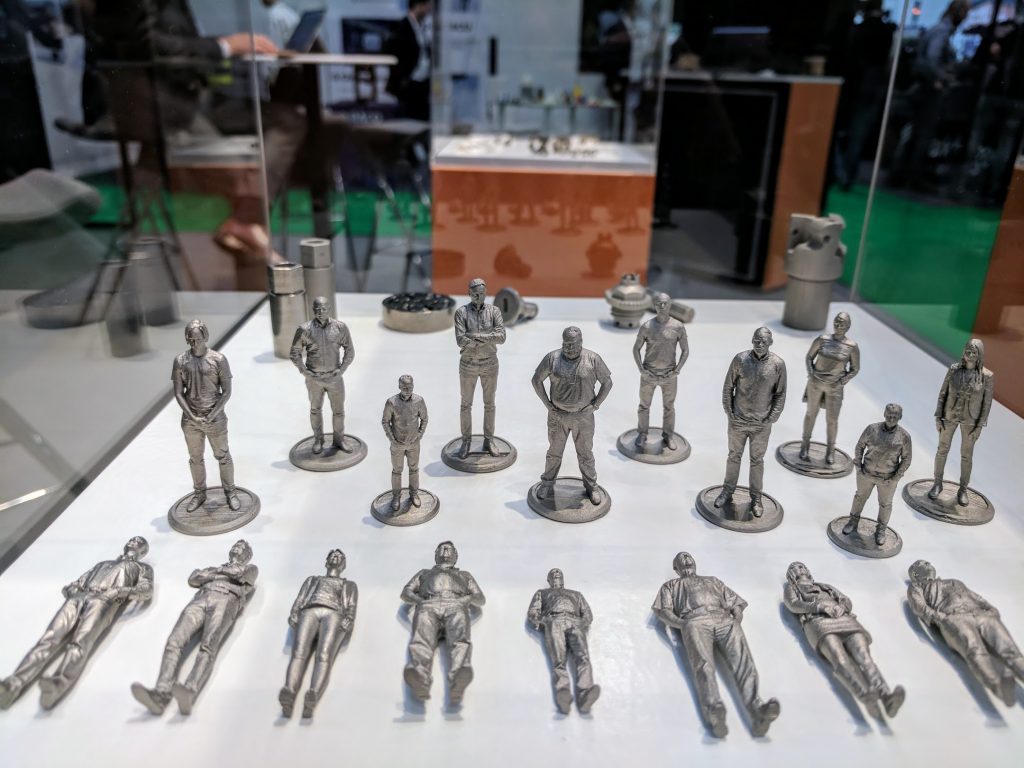 Digital Metal – high precision 3D printed metal
I spoke to Ralf Carlström, General Manager, Digital Metal, to learn more about the Digital Metal DM P2500 metal 3D printer.
The Digital Metal DM P2500 operates at room-temperature and using the ASTM categorization is classified as binder jetting. The binder jetting process applies chemical agents in a precise manner to powder materials. Some binder jetting 3D printers can work with multiple agents and deposit liquid bonding or release agents.
Binder jetting is more frequently used to create sand molds or metal casting cores. The most widely known enterprises offering this technology are ExOne and Voxeljet. More recently Taiwan's Tongtai has entered the market with the AMS-1200 sand binder jetting machine for sand casting molds.
With the Digital Metal DMP P2500, the binder is jetted using a thermal inkjet printhead. Ralf Carlström tells me that Digital Metal decided to develop the technology because of the intrinsic speeds enabled by ink-jet. "Binder jetting is fast," he says.
Metal additive manufacturing for production
As enterprises look towards additive manufacturing for production, throughout becomes increasingly important. One way that productivity is increased is by minimizing the use of supports.
In metal additive manufacturing besides allowing angles below 45° to be printed, supports also serve to act as heat sinks – lessening the impact of cooling. In particular the residual stresses generated as the material obtains equilibrium can be mitigated through intelligent use of support material. Of course, removing these supports takes time and also generates waste material.
"We try to avoid supports" says Carlström. Digital Metal has 12 different geometries aimed at achieving this.
According to Carlström, Digital Metal's process has several advantages over conventional laser based 3D printing methods. Working at a layer height of 42 µm build speeds of 100 cc/hour can be achieved. Once the components have finished 3D printing, unused metal powder is removed and the "green" part is sintered in a separate furnace.
This means that when operating at full capacity a cost of between €1 to €1.5 per cm3 is possible. The dimensions of the print bed are 203 x 180 x 69 mm, which gives a total print volume of 2521 cm3.
Carlström says that the finished parts have a density of 97%. Density can be further increased by using hot isostatic pressing (HIP), micrographs will also be available online.
Of course it is not possible to fully use every millimeter in the print bed – some spaces must be left between components. However, unlike laser based methods ink-jet does not suffer from dead zones towards the perimeter of the build chamber.
Digital Metal has not publicly disclosed the price of the metal 3D printer, "We prefer to have that conversation directly with our customers" says Carlström.
At the moment Digital Metal are working with stainless steel. However, other materials such as titanium, silver and copper will be commercialized. Given the fact that the company is a subsidiary of Swedish metal powder specialists the Höganäs Group this venture into 3D printing is supported by long-term research.
An academic paper co-authored by Carlström describes some of this work. Entitled "Solid State Sintered 3D printing Component by Using Inkjet (Binder) Method" the research documents some of the 6 years of work Digital Metal have put into developing their metal additive manufacturing method.
Trials of 17-4PH Steel, titanium and copper were performed using the same 3D printing process, while the binder material was different.
The research also describes how by using a technique called shell-printing, improvements in density are possible. Obtaining high densities with this method is done by reducing the total printed volume of the component. Here a printed outer wall surrounds an inner core of densely packed, but non-3D printed powder. "Densification is almost on the same level as for HIP," reads the study.
Working at a layer height of 42 µm the level of detail is impressive. The 3D prints on display at the recent TCT show gave visitors an initial impression of what the DMP P2500 is capable of. One sample piece shows how the precision achievable can be used to create threads for a screw.
The Desktop Metal Effect
While it is unlikely that 3D printing a screw thread would be used outside of a sample, it is impressive to see. Also during the TCT show I saw a metal 3D print from the forthcoming Markforged Metal X featuring a similar thread.
At this point it is worth noting that the binder jetting metal systems are not necessarily in direct competition with the metal powder fusion systems. For example, the intricate internal geometry featured by designs such as the classic Rook and double helix.
The Markforged Metal X was originally scheduled for shipping in September 2017. This date appears to have been pushed back – 3D Printing Industry understands this is due to a large order from a customer who is not well known for waiting in line.
The increasing number of metal binder jet 3D printing systems available – or soon to be launched – can only be a good thing for the industry as a whole.
As one of two 3D printing unicorns – a startup company valued at over $1 billion – Desktop Metal has brought a renewed and wider focus to the technology. Much like the market validation provided by GE Additive's purchase of Concept Laser and Arcam, those who may have considered 3D printing as unsuitable for their requirements are now taking a second look.
Illustrating this point clearly is the share price of ExOne (NASDAQ:XONE) that has almost doubled in the past month – going from below $7 in mid-August to currently over $11. When the U.S. company reports Q3 numbers in November it will be interesting to learn if the "Desktop Metal Effect" can be quantified.
Let us know your thoughts in the comments below.
For further insights into 3D printing, subscribe to the most widely read industry newsletter here. You can also follow our active social media accounts.
Featured image shows Alexander Sakratidis, Sales Manager at Digital Metal, holding his 3D printed likeness. Photo by Michael Petch.