In this week's edition of Sliced, the 3D Printing Industry news digest, we answer the following questions: Has 3D printing become the latest band member of Panic! At the Disco? Can additive manufacturing restore a damaged 17th century flute model? And how can Auburn University's football team overcome injuries sidelining their best players? 
We also cover the latest updates in the world of additive manufacturing, including a host of new materials and 3D printer releases, as well as new companies entering the market. Read on for updates from the likes of Stratasys, BigRep, BEAMIT, Zaar, AMFG, EOS, Autodesk, Nano Dimension and more. 
BigRep showcases fully 3D printed LOCI
Last week at Formnext 2019, German large-format 3D printer manufacturer BigRep unveiled its fully 3D printed autonomous electric podcar prototype LOCI. Now, the company has released a video presenting a closer look at the vehicle and its different iterations. 
Alfa Romeo Racing, the Formula One racing team of Swiss motorsport engineering company Sauber Motorsport AG, has chosen Quintus Technologies as its Hot Isostatic Pressing (HIP) partner. Using Quintus' HIP technology, Alfa Romeo Racing aims to improve the performance of its 3D printed components by post-processing them with High Pressure Heat Treatment (HPHT). 
"The partnership with Quintus is an important milestone on Sauber Engineering's Additive Manufacturing journey. The implementation of the Hot Isostatic Pressing process adds massive value in bringing performance to our car as well as for the demanding needs of our customers," comments Christoph Hansen, Head of Technical Development Sauber Engineering AG. 
A host of additive manufacturing material partnerships
A increasing number of material partnerships have been established across the 3D printing industry. For example, Graphmatech, a Swedish graphene nanocomposite materials developer, and Add North 3D, a manufacturer of desktop and industrial use 3D printer filaments, have released their first jointly developed product, named the Koltron G1. Made in part with Graphmatech's Aros Graphene material, the filament is a highly electrically and thermally conductive polymer for additive manufacturing. It is also flame-retardant, and resistant to a range of chemicals, UV light and high continuous working temperatures. 
Initially, the two companies announced their collaboration to develop a new range of materials for use with FFF/FDM technology in 2018. The Koltron G1 is the result of over 12 months of research and development work, which focused on making graphene processable with any FDM 3D printer. Add North 3D CEO Nils Åsheim, explains:
"This material is unique in the way it combines excellent mechanical and resistance properties with high electrical and thermal conductivity. For a 3D filament producer, to bring all these great features into a printed part is extremely exciting."
Ohio-based chemicals and materials company Lubrizol has entered into a partnership with Belgian 3D printing service provider ZiggZagg. Working together, the two companies are exploring applications for a new powder-based TPU grade ESTANE 3D TPU M95A. This TPU is specifically designed for use with HP's Jet Fusion 4200 Series 3D printer. Both companies are developing applications for the material as it will soon see a commercial release. "After fully supporting and heavily investing in HP's Multi Jet Fusion technology from the very beginning, being able to offer Lubrizol's new advanced powder-based TPU is the next step in our development as a global player," says Stijn Paridaens, CEO of ZiggZagg.
Italian additive manufacturing service bureau BEAMIT and Colorado-headquartered additive manufacturing material developer Elementum 3D have signed an agreement to promote each other's specialities. BEAMIT has expanded its services to include AM process set-up, heat treatment and post-processing on materials that include new alloy materials developed by Elementum 3D. The company will support technical developments and act as the European distributor for Elemtum 3D's powder materials. 
Xaar, a UK supplier of inkjet printheads, has partnered with Germany-based adhesives specialist DELO to successfully jet materials with viscosities up to 250 mPa.s at room temperature, using Xaar's Ultra High Viscosity jetting technology. The ability to jet fluids with viscosities greater than 25 mPa.s provides increased flexibility for manufacturers of optical elements in consumer electronics and automotive applications. This can prove beneficial in 3D printing applications when creating single (micro) lenses and whole micro-lens arrays. 
Triple Link Manufacturing, a UK producer of electrical equipment brackets, has changed the bushings of its 3D printers to those manufactured by Vesconite Bearings, a manufacturer of polymer bushings. The company opted to make the switch after it found that the roller bearings on its two Prusa 3D printers wore away the printer rods, and required regular greasing. Triple Link Manufacturing founder Mark Bagnall has installed Vesconite Hilube bushings on one printer, and Vesconite Superlube, the lower-coefficient-of-friction polymer bushing, on the other. 
Wisconsin-based materials design company Infinite Material Solutions has launched a new water-soluble 3D printing support material named Aquasys 120. A composite material, Aquasys 120 is designed to be compatible with a wide range of 3D printing materials. The material is designed to be thermally stable and flexible yet tough enough to form a high-quality filament. 
Keystone Industries, a dental and cosmetic device manufacturer, has announced that it has obtained 510k clearance from the FDA for its KeySplint Soft 3D printing resin. Designed for 3D printing night guards and splints, KeySplint can now be sold in the United States, joining Canada and the EU as territories where KeySplint Soft can be purchased. There are two versions of the resin available: a clear iteration optimized exclusively for the Carbon 3D printing platform, and an open-source violet-tinted version.
New companies and 3D printers launched
Meltio, a company founded by USA-based Additec and Spain-based Sicnova, is a new entry in the 3D printing market. The firm has various 3D printers within its portfolio, ranging from DED to FDM technology, as well as other hybrid systems (CNC/robotic engines or modules). Meltio recently unveiled its first metal 3D printer, the M450, at Formnext 2019. Utilizing a patented process, known as 3E Metal Deposition Technology, the M450 is intended to be an easier solution compared to existing metal 3D printing technology in the market today.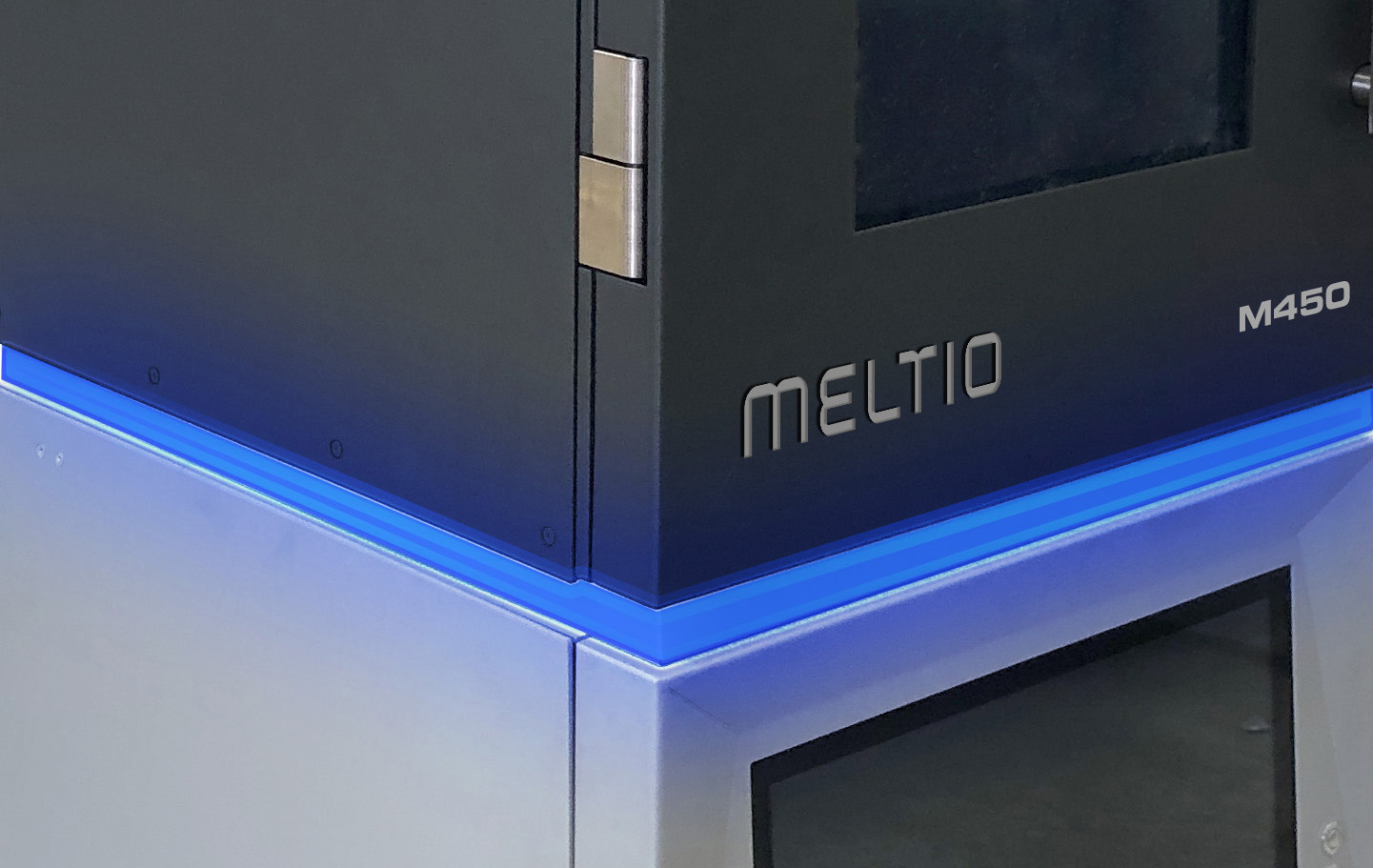 A new 3D printing and design service bureau has launched in the UK, aiming to increase the amount of people "enjoying the benefits of 3D printing." Based in Southsea, Hampshire, Triple Axis offers to 3D print customer's designs, to help them avoid the difficulty of owning a 3D printer. The company also provides a 3D design service promising to take customer's sketches or plans and turn them into a 3D printable file. James Preen, founder of Triple Axis, states:
"I want as many people as possible to experience the benefits of 3D printing because I strongly believe it enables people to innovate more quickly. I believe the way to do this is not for everyone to own a 3D printer but for everyone to have access to one."
Print2Taste, a food 3D printing startup, has begun shipment of its 3D Choco printers, mycusini. Driven by a Kickstarter campaign, mycusini is now available at the company's website for €298.
Accucode, a technology systems integrator and software development firm, has launched a service bureau for 3D printing electronics. The company is focused on serving the market with end-to-end prototyping and low-volume additive manufacturing services for electronics. 3D printed electronics provider Nano Dimension, a partner of Accucode, has revealed it has sold its second DragonFly LDM precision additive manufacturing system to the company. Accucode now has DragonFly 3D printers installed in its Colorado-based facility in Denver and in Richardson, Texas. 
"We have seen increasing growth in the number of businesses looking for functional electrical prototyping and manufacturing solutions. Nano Dimension's technology and expertise helps us provide a direct path to achieve that," said Debra Wilcox, CEO of Accucode 3D and The 3D Printing Store. 
London-based 3D content platform MyMiniFactory (MMF) has partnered with SLA 3D printer manufacturer, Elegoo Mars, to launch a limited edition 3D printer. On sale in limited stock in the U.S., UK and Europe, the Limited Edition MyMiniFactory Elegoo Mars SLA 3D printer is available at £244 in the UK, $274 in the United States, and €274 in Europe. Alongside purchases of the system, customers will also get a 20% MMF premium store discount voucher and 8 premium models. 
3D printing used by Auburn to revive its players
Philadelphia-headquartered 3D bioprinting company Allevi has launched a range of liver and tissue-specific bioinks, in partnership with Xylyx Bio, a US biotech company. Named Allevi dECM, its is comprised of Allevi bioink for patterning as well as Xylyx Bio's liver-specific TissueSpec® ECM, which enhances the biological response of the bioink. By bringing these bioinks into the market, Allevi aims to support the 3D bioprinting of tissue structures with biochemical and mechanical features inherent in human physiology. 
Xylyx Bio's CSO, Dr. John O'Neil, comments "A deeper understanding of the comprehensive nature of tissues and cells and their interaction with the cellular microenvironment – that is, the extracellular matrix – holds great promise to lead to a paradigm shift in 3D bioprinting, allowing researchers to study physiologic activity of cells in vitro towards a better understanding of disease and development of more effective drugs and treatments."
The Biomechanical Engineering lab at Auburn University has used 3D printing and 3D scanning to create personalized orthotics, helping to bring injured college American football players back onto the field. Using the GoScan from Canadian 3D scanner manufacturer Creaform, Michael Zabala, an assistant professor in the Department of Mechanical Engineering, has been able to scan a number of injured players. Then, using 3D printing, Zabala has created orthotic devices that fit perfectly and provide extra protection when worn by the players, allowing them to step back on the field. Zabala and an interdisciplinary group of Auburn engineers and scientists have been able to 3D print these orthotic devices thanks to $1.275 million in research funding provided by Auburn University's Presidential Awards for Interdisciplinary Research (PAIR) program. 
UAE consumer electronics company Jumbo Group has partnered with Modern Bionic Limb Solutions (MOBILIS), a start-up company and a custom on-demand manufacturer and distributor for orthotics, prosthetics and seating systems. Together, the companies are manufacturing medical 3D printed prosthetic covers, orthosis, hand and leg splints, sockets, and other devices for the UAE and GCC region.
Bringing a flute back to life with 3D software
In software this week, AMFG, a 3D printing software company based in the UK, has announced a collaboration with Autodesk, in which its Manufacturing Execution System (MES) program will be linked with Autodesk's design and simulation software, Netfabb. This is designed to allow seamless employment of the two softwares, providing users with a fully integrated, end-to-end digital workflow, from design to production. As such, users will be able to prepare their 3D files for printing in Autodesk's Netfabb, and then easily transfer those files over to AMFG's workflow simulation software for management and integration within the entire process chain. Recently, AMFG also partnered with leading German 3D printer OEM EOS to provide direct machine control and end-to-end workflow automation of EOS' 3D printers in its MES software. 
The Polygonica mesh editing software for 3D models, developed by Sheffield-based MachineWorks, has been used by the Department of Engineering Science at Oxford University to reconstruct a damaged 17th century flute model using 3D printing. The original complex mesh was impossible to 3D print as the CT scan was filled with errors. Peter Walters, 3D printing engineer at Oxford University, explains:
"We tried to rebuild the model of the block using several other mesh software tools without success. However the unique capabilities and specialist knowledge of Polygonica enabled this to be achieved with ease." 
However, using Polygonica's shrink-wrapping algorithms, the team was able to accurately create a 3D model replica of the outer surface of the original flute model, without any errors, resulting in a printable STL file. The 3D printed flute is part of a collaboration between the Department of Engineering Science at Oxford University and the Conservation Department at Oxford's Pitt Rivers Museum, which houses a collection of over 7,000 musical instruments. They are collaborating to create playable replicas of antique instruments using 3D technology. 
Leading 3D printer OEM Stratasys has introduced a new work order management software solution named GrabCAD Shop. Intended for shops that provide centralized 3D printing services, the solution is designed to streamline work order management processes, namely by improving the way 3D printing orders are carried out within a team of engineers, designers, and shop operators.  
"Today, communication of requirements between designers, engineers and shop operators is inefficient and lacks traceability. This results in a loss of productivity," commented Paul Giaconia, vice president of product software for Stratasys. "GrabCAD Shop streamlines 3D printing work order management so that shop operators can focus their valuable time on making and delivering parts to their end users."
Metamorp, a free slicer for DLP and LCD 3D printers, is on the lookout for beta testers in preparation for its global open beta service. The company's software uses AI to automate 6 software processes required for 3D printing. It went through a 4 month closed beta testing period in which over 7,000 tests were conducted with around 60 beta testers. Metamorp is accepting applications for beta testers right now on its homepage, and will launch global open beta services in Jan/Feb of 2020. 
Novel applications using Stratasys technology
Sembcorp Marine, a Singapore-based shipbuilder and repairer, has received certifications qualifying the use of 3D printing for construction and repair projects. Awarded by DNV GL, an international accredited classification society, Sembcorp Marine is now able to use 3D printing to repair non-critical parts such as worn-out metal sleeves used in pumps, and for fabricating bevel gear sets for machinery applications.
More news from Stratasys: the company has collaborated with New York-based fashion house KAIMIN to launch a collection of denim clothing with geometric patterns 3D printed directly onto the pieces. Produced using Stratasys' PolyJet technology, the 3D printed details include patterns at the knees, hips and shoulders of different denim garments. 
Drummer Dan Pawlovich of Panic! At the Disco fame is touring the world with a 3D printed drum. Working with Stratasys, Pawlovich has leveraged 3D printing's ability to manufacture complex geometries to create a patented drum design that reportedly provides better sound compared to its traditionally manufactured counterparts. 
3D printing announcements 
The University of Tennessee (UT), Knoxville, has announced that it will begin offering a graduate certificate in advanced manufacturing in January, which includes a focus on 3D printing. UT is also considering launching a full master's degree program for advanced manufacturing if enough students demonstrate interest. 
"We've had strong interest from some of our key industry partners on doing something like this," said Doug Aaron, assistant head of undergraduate programs in the Department of Mechanical, Aerospace, and Biomedical Engineering (MABE), who is overseeing the new program. "Taking on a full-time master's program is a commitment that a lot of people who are in the workforce can't really afford the time to take. This certificate program is relevant for anyone from recent grads to people who've been working for years that are wishing they could add to their educational experience and maybe improve their employment." 
In an update in the 3D printed gun court debacle, a federal judge in Washington state has deemed a Trump administration settlement last year that allowed groups to distribute online blueprints for manufacturing firearms with 3D printers, as unlawful. U.S. District Judge Robert S. Lasnik stated that the U.S. Department of State "simply abandoned" its previous efforts under the Obama administration to prevent the files from being shared online by Defense Distributed, an online open-source hardware organization founded by Cody Wilson. 
ARMOR 3D launches new Kimya 3D material factory
Kimya, the 3D printing materials brand of ARMOR 3D, has been granted a production site. Named the Kimya Factory, it allows ARMOR 3D to provide companies with small runs of 3D printed parts developed from its own materials. ARMOR 3D states that there is high demand for this service among its partners, as many of them do not wish to incorporate production within their own services. 
Italian hydraulic equipment producer AIDRO is now part of leading 3D printer OEM EOS' ecosystem of additive manufacturing industry partners. Joining the likes of Autodesk, GKN and more in the ecosystem, AIDRO will specifically work with EOS to develop 3D printing solution for the oil & gas industry. An extension of their existing partnership, AIDRO also uses EOS 3D printers to manufacture components for fluid systems.
Amaero, a metal additive manufacturing service provider and offshoot of Monash University in Australia, will soon be listed on the Australian Securities Exchange (ASX). The updates comes as the company closes the book on an oversubscribed $8.0M IPO. 
Finland-based 3D design software company Taika3D has revealed that it has completed a financing round of €360k ($400k) to accelerate business growth. Furthermore, the company has also received €270k ($300k) of R&D investment from Business Finland, a public funding agency. Taika3D creates 3D design automation software for the orthotics and prosthetics Industry.
Titan Robotics named company of the year
UV+EB photopolymer chemistry nonprofit RadTech has announced the conference program for its RadTech UV+EB Technology Expo and Conference 2020. The program will focus on 3D printing, new materials, UV LEDs, and sustainability. RadTech's expo is set to take place March 8-11, 2020 at the Disney Coronado Springs, Orlando, FL. There will be three sessions on 3D printing at the show, providing a deep dive into processes such as formulation, materials and post cure. Recently, RadTech hosted the first Photopolymer Additive Manufacturing Workshop (PAM) with the National Institute of Standards and Technology (NIST), discussing the future of SLA and and inkjet 3D printing. 
The UK's Additive International summit has made a call for presentations for its 2020 event. Taking place from 15 – 16 July 2020, the summit will be in its 15th year. Event organizers have asked for people with a "cutting edge research development or a groundbreaking application using AM" to submit their abstract today. They are looking to select a small number of presentations covering new scientific discoveries in AM processes, or applications where AM is being used as an end-use production solution.
Colorado headquartered 3D printer manufacturer and service provider Titan Robotics has been named the 2019 Company of the Year at the Colorado Springs Chamber & Economic Development Center (EDC) 2019 Annual Gala. Awarded to the firm on Saturday, November 9, 2019, Titan was recognized for its efforts in the advanced manufacturing industry, including its growth and expansion, as well as engagement in the local business community. The company is currently in the process of moving into a new 21,400 square foot facility in Colorado Springs.
"We are honored to be the 2019 Company of the Year! This kind of recognition is possible because of the amazing team we have at Titan, our outstanding customers and a business community that supports us and believes in us," said Titan Robotics CMO, Maddie Guillory.
Subscribe to the 3D Printing Industry newsletter for the latest news in additive manufacturing. You can also stay connected by following us on Twitter and liking us on Facebook.
Looking for a career in additive manufacturing? Visit 3D Printing Jobs for a selection of roles in the industry.
Featured image shows Sliced logo edited on photo of 3D printed LOCI car. Original photo via BigRep.