In this slice of the latest 3D printing news, we feature: Autodesk, Additive Industries, Sauber, 3D Systems, Sicnova 3D, Siemens, Ivory Digital Denture, Stratasys, AbilityMate, EntresD and the University of Amsterdam.
Autodesk appoints Andrew Anagnost as President and CEO
North American software company Autodesk's board of directors have named Andrew Anagnost as President and CEO, effective immediately. Prior to the appointment, Anagnost's role was chief marketing officer and interim co-chief executive officer following the resignation of Carl Bass.
Following the announcement Anagnost said, "This is an exciting time for Autodesk, and I am thrilled to be taking on the CEO role,"
Autodesk transformed the design industry by bringing CAD to the PC 35 years ago, and in the last 10 years became the clear technology leader. We were first to bring design to the cloud and mobile, and now we're bringing construction and manufacturing to the cloud as well. I can't wait to lead Autodesk into our next phase of growth, where we will combine business and product innovation to become an even more customer-focused company.
Additive Industries partners with Sauber F1 team
Dutch metal 3D printer manufacturers Additive Industries has announced a three-year partnership with Swiss Formula One racing team Sauber. Sauber now join a host of F1 teams to partner with 3D printing companies, including Stratasys and McLaren and Willians and EOS. However, Additive Industries will hope to get Sauber ahead with 3D printed metal rather than carbon fiber or plastics.
The announcement came at the Rapid.Tech conference in Erfurt and as a result, Sauber will become the first customer for Additive Industries' MetalFAB1 Process & Application Development Tool. The F1 racing team will invest in two MetalFAB1 additive manufacturing systems over the course of two years and Sauber F1 Team CEO & Team Principal, Monisha Kaltenborn said,
We are delighted to welcome Additive Industries on board as our new technological partner at the Sauber F1 Team. Since this innovative fabrication technology is still in the early stages of industrialisation, it is an ideal moment for us to take on this challenge with our new partner. By doing so, we will gain and develop the necessary know-how in this area. It is our mission to set new standards
Monisha Kaltenborn, who was the first female team boss in Formula One, has since stepped down following a disagreement with the Sauber owners.
3D Systems launches new partner program 
Having recently launched its virtual reality Simbionix SPINE Mentor, U.S 3D printing company 3D Systems has now announced a new medical 3D printing partner program. The first organization to join the supply network is rms Company and the partnership "combines the equipment, process and materials expertise of 3D Systems with the manufacturing expertise of rms and enables medical device companies to efficiently source the development and production of FDA-cleared medical devices under one roof."
Executive Vice President and General Manager of Metals and Healthcare, Kevin McAlea explains the aim of the program,
We want customers to be able to choose among multiple partners with the same level of medical device manufacturing expertise as 3D Systems. With our new certified partner program and our ability to insource models for large medical device companies at our certified partner program and our ability to insource models for large medical device companies at our certified facilities in Denver, CO, and Leuven, Belgium, we are able to offer the same quality experience to a broader set of customers.
Sicnova launches industrial 3D printer and scanning cabin
Spanish 3D printing company Sicnova 3D has launched two new industrial products, the JCR 600 industrial 3D printer and the CloneInspector 3D cabin at the ADDIT3D trade show in Bilbao.
The JCR 600 is an industrial FDM printer with a dual extruder and a 600x400x450 mm build volume. While the CloneInspector 3D is a 3D scanning solution aimed at reverse engineering tasks for its precision measurement.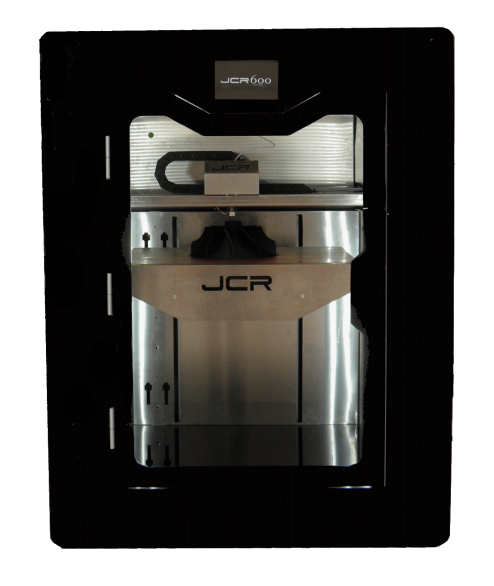 Siemens reveal further details of Online platform 
German manufacturing company Siemens has revealed further details of its online 3D printing platform. Speaking to Design News, Zvi Feuer, senior Vice President of manufacturing engineering software at Siemens PLM explained the system will be three-tiered. The platform will be concerned with additive manufacturing design, part production, and consulting. He explains,
There are three legs to the additive manufacturing platform. One leg is additive manufacturing end-to-end, so we can take a design and bring it to the world of additive manufacturing by reimagining or reshaping the design so it can be put together in a more manageable way. That's the software
Canadian start-up Ivory Digital Denture unveils patent-pending system
Toronto-based startup, Ivory Digital Denture has unveiled its patent-pending 3D scanning, modelling and 3D printing system which promises denture creation in a single two hour appointment. Whereas the standard procedure can take a number of weeks, Ivory Digital Denture aims to provide a same-day service by eliminating the use of a laboratory by going digital.
Ivory Digital Denture founder Shlomo Sharer, who has practised dentistry for more than 20 years says,
The launch of the Ivory Digital Denture system will mark a major step forward in the advancement of 3D printing technology in the oral care industry,
Stratasys supporting German space program 
Stratasys has announced the German Aerospace Centre has created an exploration robot with Stratasys' FDM 3D printer machines. The fully-working prototype of the 'TransRoPorter' (TRP) robot was built at the Institute for Robotics and Mechatronics and is intended to be launched on unmanned missions to Mars within the next five years. Dr. Kaj Fuehrer, Head of System Building Technology South explains the choice of technology,
In the planning of this project, we always preferred 3D printing technology.It became evident to us that using 3D printing for the production of the TransRoPorter was truly the least expensive, fastest and most elegant solution. Everyone involved in the project is delighted with the outcome.
AbilityMate 3D prints 'Magic Shoes' for toddler with cerebral palsy
Australian startup AbilityMate has 3D printed a foot prosthesis for a toddler with cerebral palsy. Eve Darcy was diagnosed with the condition as a baby and has since only been able to walk with the use of a walking frame. Now having 3D scanned and printed the orthotics, Eve Darcy is able to walk freely.
Students 3D print supercapacitors 
Students at the University of Amsterdam's (UvA) Sustainable Chemistry department have utilized 3D printing to create powerful supercapacitors. Using a new hierarchically porous nitrogen-doped carbon material developed by UvA's Dr David Eisenberg and Prof. Gadi Rothenberg, the students were able to create a supercapacitor device with triple capacitance.
The paper has since been published in ChemSusChem.
EntresD showcases 3D printed guitar 
Spanish 3D printing company EntresD has showcased its innovative use of 3D printing at Sonar 2017.
For all the latest 3D printing news, subscribe to the most widely read newsletter in the 3D printing industry, follow us on twitter and like us on Facebook.
Featured image shows Sliced logo over an image of the Sauber F1 Car. Image via Additive Industries.