Metamaterials are materials engineered with properties that allow them to behave outside, or "beyond", their nature. They come in many different forms with varying capabilities, including electric and sonic manipulation, or the way they deform under pressure, i.e. auxetic metamaterials.
At Delft University of Technology (TU Delft), a team led by Professor Amir Zadpoor has applied the concept of auxteic metamateials to create a 3D printed titanium hip implant. The "beyond nature" behaviour of the implant means that patients wearing it could experience a better fit in the lifetime of the hip replacement with less wear and tear to the bone.
Joining Professor Zadpoor on the project at TU Delft are Helena M. A. Kolken, Shahram Janbaz, Sander M. A. Leeflang, Harrie H. Weinan and Karel Lietaert, a PhD student and R&D engineer at 3D Systems.
In the lifetime of a hip implant

With a conventional hip replacement surgeons leave a space in the thigh bone to account for expansion when pressure is applied, i.e. when walking.
Over the average lifespan of a hip prosthesis (normally 20 years) the implant can shed plastic particles from the attached hip cup that inflame the hip and cause further injury. As a result, an implant can become loose and require further corrective operations.
"When someone with a hip implant walks, the prosthesis is subjected to various forces," explains Zadpoor, "If too much pressure develops on one side of the prosthesis, it can become detached from the bone, which is extremely undesirable."
A delicate balance
An auxetic meta-biomaterial has a negative Poisson's ratio. This means that it becomes thicker when stretched. Combined with a traditional implant construction, the negative and positive stresses create an implant which distributes pressural stress more evenly.
"This makes it ideal for use alongside materials that do the opposite," says Zadpoor, "Since there will be fewer unnatural forces at work on the prosthesis, there is a smaller chance of plastic particles wearing off in the hip cup, which can increase the risk of loosening." As result, more hip implants could make, or even exceed, the average 20 year life expectancy.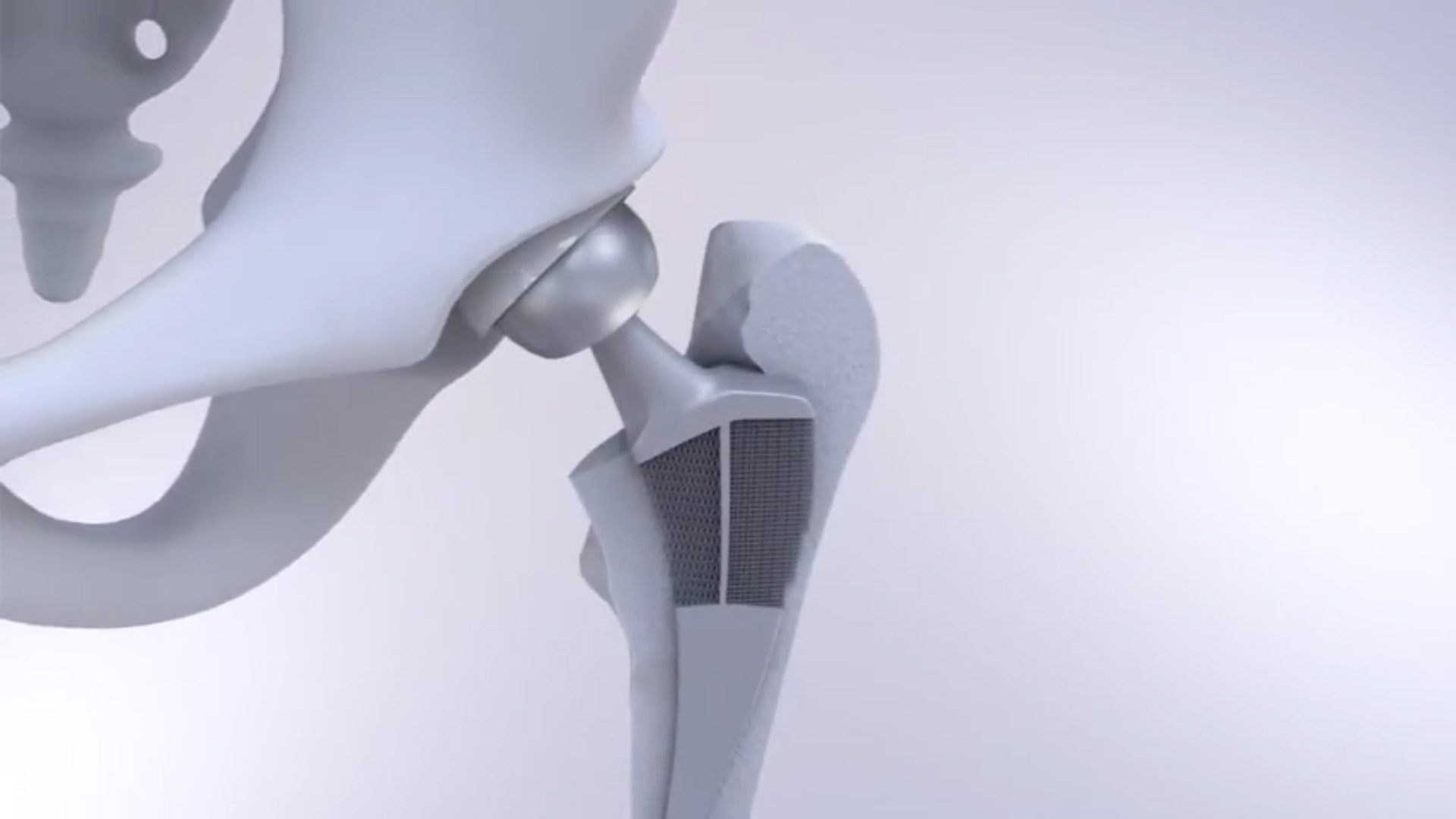 Next steps
The auxetic part of Zadpoor et al's implant has a honeycomb structure, and the other half takes the shape of a more traditional lattice. Proof-of-concept devices were made from titanium using selective laser melting (SLM). In the next step, performance of the design would need to be evaluated in-vivo with animal models and clinical trials.
Rob Nelissen, Medical Delta Professor and orthopaedic surgeon at Leiden University Medical Centre says, "A phased introduction starting with 3D measurements of this implant in patients will be necessary in order to guarantee the safe improvement of quality for patients."
A full report of Zadporr et al's development, 'Rationally designed meta-implants: a combination of auxetic and conventional meta-biomaterials' can be read online in the journal Materials Horizons.
Nominate the leading research teams  in the 2018 3D Printing Industry Awards here.
Subscribe to the 3D Printing Industry newsletter, follow us on Twitter, and like us on Facebook here.
Featured image shows motion of the 3D printed, metamaterial hip. Clip via TU Delft