Water, the most vital human need, is in scarce supply for more than 40% of the global population. In the desert, of course, we couldn't survive without it. However, many other living creatures do.
Through bioinspired design researchers at Ohio State University have 3D printed objects capable of extracting water from air. By scaling-up these objects, the team have also discovered which shapes and textures provide the best conditions maximum water collections: It's beetle versus cactus versus grass.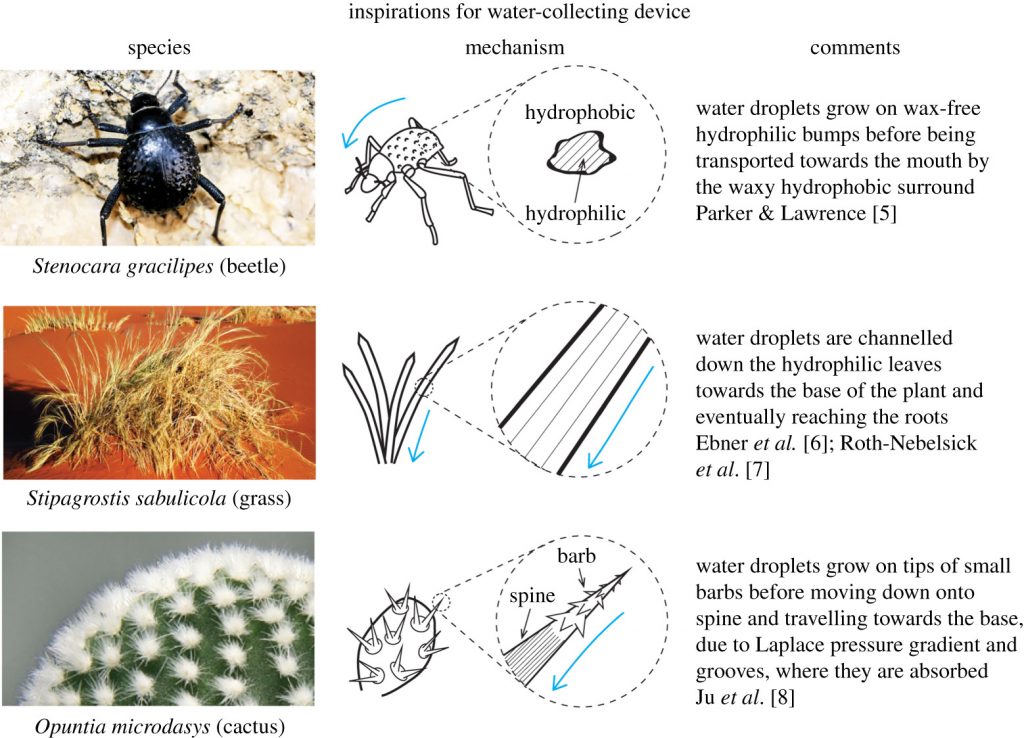 Gathering water from air
Though incredibly dry and scorching hot in the daytime, at night through to the early morning, temperature in the desert plummets, sometimes bringing with it a dense fog. This fog is responsible for supplying most of the moisture desert plants and animals need to survive.
Though the process of extracting the moisture is much the same in each organism, each one has its own unique way of doing things.
In desert beetles, hydrophilic bumps on their shells guide water droplets down their back to the mouth. For cacti, water droplets form on small barbs at the tip of spines and, due to the conical shape of the spines, travel down to the base where they are absorbed. In grasses, water droplets are alternatively channeled into the roots by grooves on the long leaves.
At Ohio State, each of these water extraction systems were replicated in 3D printed arrays and placed in a humidifier to simulate desert fog on a small scale.
Delivering water to those in need 
In these experiments conical shapes, like the cactus spines, proved to gather substantially more water than cylinders. In addition, grooved surfaces collected twice as much water as smooth ones, and at a faster rate. Arrays of these 3D printed spines/tubes also proved more efficient than objects made with structures in isolation. The close space in between each spine allowed droplets to coalesce before dripping down for collection.
Eventually the Ohio State team hopes to be able to create large nets of such structures enabling large quantities of water to be collected from the air and delivered to those in need. Professor Bharat Bhushan, one of two authors on this study, concluded, "Water supply is a critically important issue, especially for people of the most arid parts of the world."
"By using bio-inspired technologies, we can help address the challenge of providing clean water to people around the globe, in as efficient a way as possible."
Designing bioinspired surfaces for water collection from fog is published in Philosophical Transactions of the Royal Society. It is co-authored by Dev Gurera and Bharat Bhushan.
To stay up to date with all the latest research subscribe to our newsletter, like us on Facebook and follow 3D Printing Industry on Twitter.
Get your voice heard in the 2019 3D Printing Industry Awards – nominations are open now. 
For career opportunities, search 3D Printing Jobs.
Featured image shows the Namib desert beetle gathering water droplets from fog. Photo by Martin Harvey/Corbis via Smithsonian Magazine