3D Printing Industry reviews the BCN3D Epsilon W50 3D printer.
Designed and manufactured by Barcelona-based BCN3D, the Epsilon is the latest in the company's long line of IDEX FFF 3D printers. Available in two models, the smaller W27 ($5,995) and the larger W50 ($7,995), the system is suitable for anyone seeking multi-material functional prototyping, including advanced prosumers, design professionals, and even SMEs.
Launched alongside BCN3D's flagship Sigma D25, the Epsilon is at the heart of the company's new 'Workbench Series' – a premium range of professional 3D printers built for the workshop. And, much like the D25, the Epsilon features a whole host of hardware and software upgrades that set the printer apart from the company's older systems.
For the purposes of this review, we'll be working with the larger format Epsilon W50 3D printer.
Putting the work in workshop
BCN3D has clearly taken on the motto 'bigger is better' with its latest machine. The Epsilon W50's simple but sturdy aluminum frame packs an impressive build volume measuring 420 x 300 x 400mm, providing users with a whopping 50.4L of workspace to play around with. Featuring a fully-enclosed body, the system can maintain consistent chamber temperatures of up to 60°C for those high-temperature thermoplastics. To access the build plate, users have a plexiglass door on the front and a view window along the top.
It's worth noting that the frame of the printer itself is also on the larger side, measuring in at 690 x 530 x 900mm. As such, you'll need to clear some space for the behemoth among your other tools. Looking inside, we have a heated glass bed with a maximum temperature of 120°C, which also helps alleviate warping and delamination issues. The build plate is detachable, making part removal a simple procedure.
One very important design feature is the addition of the new silicone thermal pad, which has replaced the conventional PCB heater under the bed for improved heat distribution. This was an issue we picked up on in our review of the company's Sigmax R19 system, so we're glad to see it rectified in the more recent model.
As far as connectivity goes, users have the option between Wi-Fi, ethernet, and SD (a 32gb card is included). The gorgeous 5" full color touchscreen on the front allows users to calibrate the system, load filaments, and manage prints, all packed neatly in a well-designed UI. The Epsilon's new Android firmware is also considerably faster than BCN3D's older machines.
As is the case with any self-respecting workshop printer, the Epsilon W50 houses two filament purge tanks on either side of the bed – a godsend for messy builds. Looking at the spool holders, we have two on the interior and two on the exterior. We used large third-party filament spools without a single hiccup.
Additional quality-of-life features include a set of LED strips to illuminate the interior of the printer, and a pair of handles on either side of the frame for easy carrying. The Epsilon W50 even has an H13 HEPA filter and an active carbon filter – both of which protect the working environment from harmful fumes and particles.
Users also have the option to add a Smart Cabinet to the 3D printer; a humidity control device for filament storage. The Smart Cabinet is designed to complete the Epsilon ecosystem, keeping materials in optimum condition while providing an uninterruptible power supply to protect against blackouts.
IDEX 3D printing, a BCN3D staple
In true BCN3D fashion, the W50 features an independent dual extrusion system, which enables users to utilize both hotends at the same time. With a maximum nozzle temperature of 300°C, the system comes complete with E3D hotends and Bondtech dual drive gear extruders. As such, the printer is compatible with a whole host of technical filaments, including PETG, PP, PA, TPU, and PVA. Users can also opt to substitute in a Hotend X nozzle for carbon fiber filaments.
The extruders themselves are housed on the back of the printer's body, where they are easier to maintain. The unconventional choice of location is also intended to alleviate issues related to overheating, whereby extruders can sometimes have a hard time gripping molten filament. We saw the same setup make a debut on the company's D25 3D printer, and we've found it to work like a charm.
We were also delighted to see the extruders had an integrated filament runout sensor, which saved our larger print jobs on more than one occasion. We did however run into a bug during an eight day print, where the filament ran out after just seven days. By the time we had a replacement spool delivered four days later, the system had frozen and we had to abandon the part. We attributed this to a memory leak causing the RAM to eventually fill up.
The Epsilon's build plate and nozzle calibration processes are semi-automated, whereby users are asked to select the optimal calibration settings from a row of printed test lines. While the calibration workflow itself isn't complicated at all, the sheer number of steps involved makes it extremely laborious and time-consuming. The addition of a distance sensor to streamline the levelling process would do wonders here.
Additionally, on our first calibration attempt, we ran into an issue where the nozzle was printing around 2mm above our chosen setting. It turned out we had a faulty motherboard. Luckily, all of the instructions required to change the motherboard can be found on the BCN3D website, and the company's customer service is very responsive – we had a new board sent out to us within a week.
BCN3D Cura slicing software
Once again, BCN3D provides a reskinned version of the widely-used, open-source Cura slicer with the Epsilon W50. Much like any other FFF slicer, Cura features a basic set of translation, rotation, and rescaling functions, meaning it is easy to pick up with a little trial-and-error.
Seeing as the Epsilon is an IDEX system, the slicer also features four purpose-built dual-extrusion modes: Duplication, Mirror, Multi-material, and Soluble supports. Duplication and Mirror, in particular, are what give the Epsilon its high-throughput production capabilities, enabling users to print two identical parts simultaneously. This makes the machine suitable for high-volume applications with double the production capacity – a major advantage of IDEX printers.
We found both modes to work very well, regardless of part geometry. This feature, paired with the large build volume, makes the Epsilon W50 a great system for serial production opportunities, serving semi-industrial needs.
While the software itself generally works as intended, we found it to be laggy in some of the menus, especially when switching between print modes. This is ultimately a minor gripe, however, as the abundance of advanced expert settings makes for a great jack-of-all-trades slicing tool, even for veteran 3D printing enthusiasts.
It's also worth noting the BCN3D team is currently working on developing a new version of their slicer. This version is intended to be more powerful and should solve the minor problems experienced with the current version.
Benchmarking the Epsilon W50: 81/100
It's time to see what the Epsilon 3D printer is really made of. We start off with 3D Printing Industry's own benchmarking model, which consolidates many of our smaller print tests into one comprehensive part. We usually print this test in PLA to compare results between printers, but we also often try a PETG or ABS variant to see how the machine handles higher temperature filaments.
Printed in ABS, this test really put the W50 through the ringer, but the system held its own admirably. We assign each of the individual sections a weighted score based on factors such as dimensional precision, surface quality, and structural integrity. The W50 earned an overall 3D Printing Industry score of 81/100 – a good professional-grade 3D printer is a 60+.
The overhang portion of the test is designed to determine the angles at which the system is able to print without the use of support structures. The Epsilon clocked in at a limit of 50° with ABS and 60° with PLA, both of which are excellent results.
Similarly, the bridging test is intended to determine a system's horizontal printing capabilities. With ABS, the Epsilon managed to reach the 30mm bridge length successfully, but this was increased to 40mm when printing with PLA. Again, although not perfect, we're very happy with these results.
On a side note, we also found that the right nozzle performed ever so slightly worse than the left nozzle in the bridging test. We've come across discrepancies like this in the past so we thought it probably had something to do with the orientation of the fan ducts. Depending on the part's location on the build plate, the printhead cooling systems can sometimes be ineffective, a problem which can be solved by installing a set of 360° fan ducts.
Finally, we look at the retraction test, which gives us an idea of the 3D printer's extruder capabilities. With high-temperature materials like ABS, it's not uncommon for even the best printers to struggle with this test, and the Epsilon W50 is no exception. Although not catastrophic, our array of ABS spikes was fabricated with significant artifacting, resulting in a failure. When printed in PLA, the retraction test turned out much better, with no artifacts and absolutely no stringing.
We then 3D printed a circular trajectory test to see how the W50 would handle circular structures. By studying the normal distribution of the concentric circles' diameters, we can say that the printer offers sufficient repeatability when the mean of difference is under 0.1mm and the standard deviation is under 0.05mm. Our measurement devices are accurate to ±0.015mm.
The Epsilon showcased excellent repeatability here, with an average offset of just 0.023mm for the X-axis and 0.019mm for the Y-axis, resulting in an average of 0.021mm for all axes. The average standard deviation also came in at 0.027mm, which is far better than the vast majority of 3D printers we've reviewed. For context, industrial FFF 3D printers often boast dimensional accuracies of up to 0.1mm, which qualifies them for applications such as high-precision automotive tooling.
Below you'll find the bell curves for the best and worst circles in the test – Circle two for the X-axis and Circle one for the Y-axis. In the best case, 99.6% of the 65mm circles manufactured by this 3D printer will be between 64.95mm and 65.06mm. In the worst case, 99.6% of the 20mm circles fabricated by this 3D printer will be between 19.88mm and 20.15mm. Overall, a fantastic result.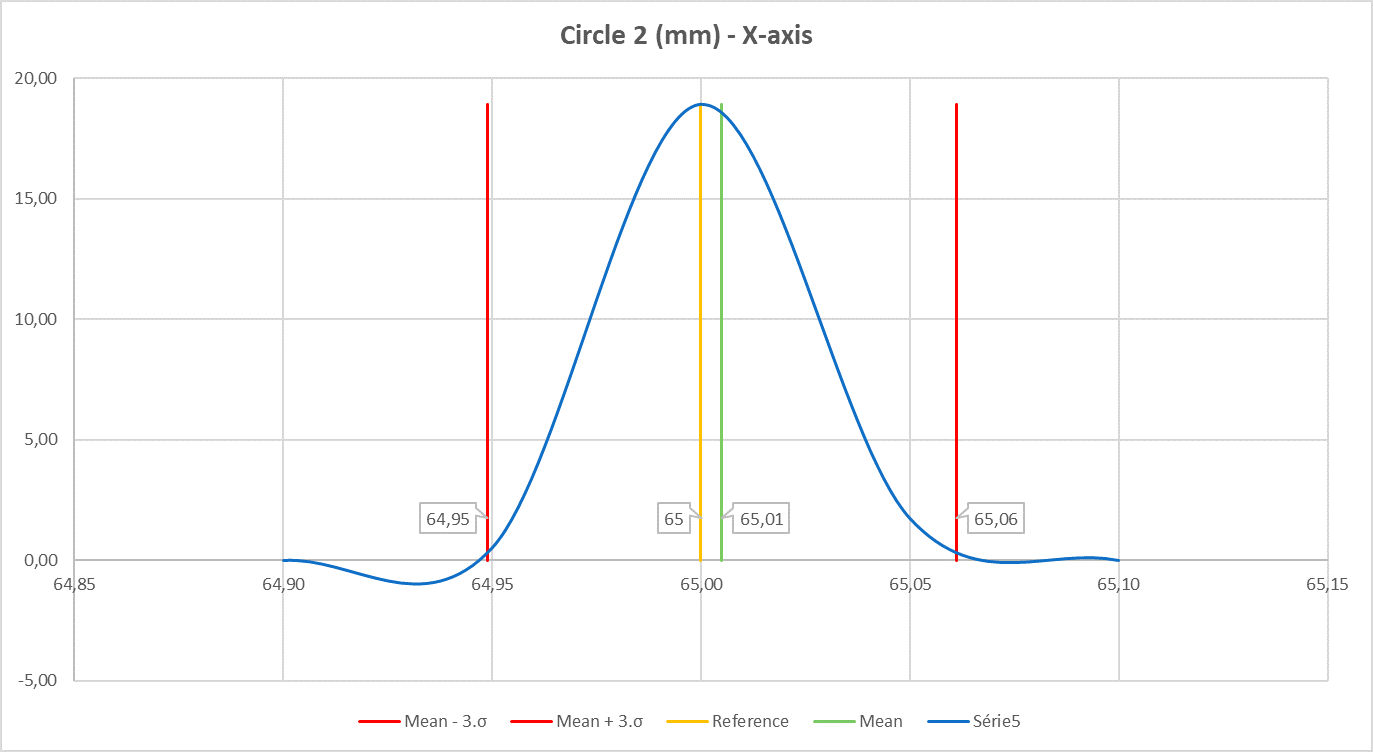 A trip down material lane
BCN3D claims its Epsilon 3D printer has an extensive set of material capabilities, ranging from polyamide and polypropylene to water-soluble support filaments. Naturally, we had to put some of these to the test.
We start off simple with an architectural piece made of PLA. Looking closer at our Birmingham Cathedral model, we see a very impressive surface quality, with many of the fine details preserved with integrity. Apart from a tiny issue with stringing at the top – which can easily be pulled off – the build had absolutely no defects.
Moving on, we decided to print a set of cable ties made of nylon, or polyamide (PA). A staple of the polymer industry, PA is characterized by its toughness and flexibility, making it great for functional parts under high stress.
Our cable ties required no post-processing and work as intended, but we had an issue with the nozzles constantly clogging with filament. Since the printer had to print fine features on the parts, the filament was retracted often, deteriorating the quality of the material. Ultimately, the Epsilon can print with PA, but be prepared for considerable nozzle maintenance.
We then 3D printed a set of travel bottles using polypropylene (PP). The polymer is a semi-rigid, lightweight material known for its excellent chemical resistance. As such, it sees common use in both food and chemical packaging applications.
Due to PP's semi-crystalline structure, it usually warps heavily upon cooling, making it a difficult material to print with. Still, the Epsilon handled the filament with ease, and our travel bottles came out beautifully. The final surface qualities are amazing and none of our parts have any visible defects. Additionally, the lid closing mechanisms work great and all of our bottles are completely airtight and waterproof – a huge success on the PP print test.
Next up was a dual material lizard made of PETG and PLA. Models like this also give us a chance to determine how well the nozzles of an IDEX system are calibrated with respect to each other. We're happy to say our alien-esque reptile was fabricated almost perfectly, with clean material interface zones, smooth surfaces, and no gaps between the white and grey. As expected of BCN3D, the system's dual extrusion setup delivers.
Finally, we had the Epsilon 3D print a PVA soluble support model. PVA, or polyvinyl alcohol, is a flexible and biodegradable polymer that is very sensitive to moisture. When submerged in water, PVA dissolves, making it a great support material for difficult-to-reach places like partially closed cavities and overhangs. The test component, a topologically-optimized automotive piece, was handled masterfully with minimal support scarring and an excellent surface quality.
The verdict
The Epsilon W50 truly is built for the workshop, with a multitude of well-designed components, all the quality-of-life features one could want, and that good old BCN3D feel. You get what you pay for with this machine, both in terms of build volume and print quality, so if you've got the budget and the space it's well worth your time.
However, much like any 3D printer on the market, the Epsilon W50 is not without its faults. The bed calibration process quite simply doesn't deliver; it's arduous and unnecessarily time-consuming. Beyond this, the system is also fairly loud during use, a qualm that can probably be overlooked in a workshop setting.
Ultimately, it's a great choice for advanced users seeking a plug and play manufacturing engine, as it provides all the multi-material and high-throughput production functionality a professional could want. Add to this the incredible material capabilities of the system, and you've got yourself a very potent IDEX 3D printer.
Technical specifications
| | |
| --- | --- |
| Build volume | 420 x 300 x 400mm |
| Extruders | 2 – IDEX |
| Nozzle temperature | 300°C |
| Filament diameter | 2.85mm |
| Layer height | 0.05 – 0.5mm |
| XYZ resolution | 1.25/1.25/1 micron |
| Nozzle diameter | 0.4 – 1mm |
| Bed temperature | 120°C |
| Chamber temperature | 60°C |
| Dimensions | 690 x 530 x 900mm |
| Weight | 87kg |
| Connectivity | SD, Wi-Fi, ethernet |
Buy the BCN3D Epsilon W50 3D printer here. The system is available to order now for €6,995 ($7,995).
Subscribe to the 3D Printing Industry newsletter for the latest news in additive manufacturing. You can also stay connected by following us on Twitter, liking us on Facebook, and tuning into the 3D Printing Industry YouTube Channel.
Looking for a career in additive manufacturing? Visit 3D Printing Jobs for a selection of roles in the industry.
Featured image shows the Epsilon W50 3D printer. Photo via BCN3D.