Researchers at the School of Mechanical Engineering in Southeast University, China, have developed an algorithm for stronger, more efficient, 3D printed objects. The study focuses on the Fused Deposition Modeling (FDM) method that 3D prints consecutive layers of melted plastic, and the criss-cross internal structure that makes 3D printed objects so light.
Identifying the pressure points
Though a consistent infill pattern and size is sufficient for some 3D prints, this parameter can limit the possibilities of other objects. For example, the thinner portions of an object, i.e. the walls in the red component above, could benefit from added structural integrity. Whereas the center of an object, where less pressure is applied, can be less dense to keep the object lightweight.
The algorithm developed by the team at Southeast University takes these low and high intensity areas into account, enabling a varied infill to benefit the whole structure.
2D and 3D testing
The process was first tested using simple 2D shapes, as seen in the images below.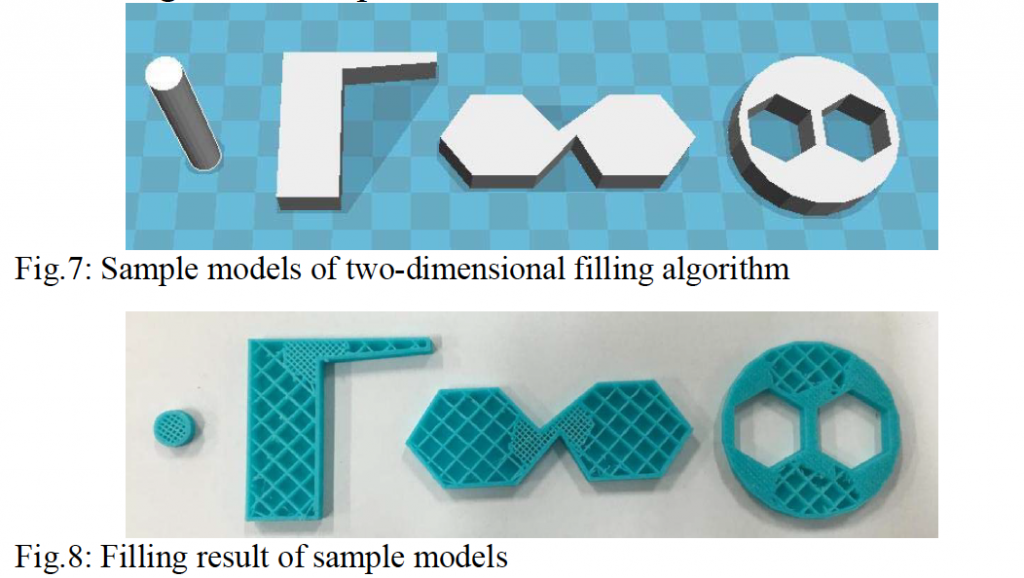 After this, the team tested the process on the more complex 3D shape of a dog that, when sliced for 3D printing, is composed of multiple layers of 2D shapes.
Conclusions show that, by 3D printing using this algorithm, the researchers were able to improve the strength of the objects, and the efficiency of how they perform when pressure is applied. When compared to the alternative method of producing such strength, i.e. a higher percentage of infill for the whole object, the algorithm also saves on time taken to print such dense parts.
A smoother, multimaterial future
Also realizing the barriers of automated 3D print preparation, RepRap 3D printer company Prusa Research added variable layer height to its version of Slic3r software. With this, makers are able to 3D print smoother surfaces to their designs without having to dramatically reduce the speed the process.
Mathematical theory is also one of the key methods of study concerning the structure of 3D printed metal and metamaterials. Researchers in Italy and Poland have used algorithms to predict the behaviour of elastic lattice structures, and the Lawrence Livermore National Laboratory have created mathematical simulation of 3D printed titanium. The theoretical field of study into such materials enables scientists and engineers to understand how they can be used in different applications.
The Southeast University algorithmic infill study was presented at China's 23rd International Conference on Mechatronics and Machine Vision in Practice (M2VIP), from which the supplementary paper has been published online. It is co-authored by Yubo Hu, Min Dai, Zhisheng Zhang and Junqing Zhang.
For more news on the latest 3D printing related research sign up to the 3D Printing Industry newsletter, and follow our active social media sites.
Don't forget to vote in the first annual 3D Printing Industry Awards.
Tickets for the 3D Printing Industry Awards are also now available here.
Featured image shows an infill percent demonstration for 3D printed objects. Object and photo by 3D designer Da-eun Jun, on MyMiniFactory as Eunny