Aurora Labs (ASX:A3D) an Australian company that specializes in the development of metal 3D printers, has announced that it is developing a patent-pending Powder Production Unit (PPU).
With the PPU, Aurora hopes to corner the market for additive alloys by producing materials at a price competitive to other commercial sellers.
Producing up to 5 tonnes per day
In the "first step to commercial powder production," Aurora has created a prototype PPU system that has now entered the testing stages for various parameters. The company has a number of patents pending for the processes used, though it expects it could take "several years to reach a firm conclusion of either rejection or grant."
A single PPU has projected production goals of up to 5 tonnes of powder per day. With more units, the company plans to scale the process to even larger volumes.
Development timeline
If all goes to plan, initially Aurora's alloy powder will begin sales across international markets. After 18 months, the company hopes to scale the process to meet international demand.
Within 2 years, the process will be scaled again to serve an expected demand for materials created by the market introduction of Aurora's Medium Format Printing (MFP) and Large Format Printing (LFP) technology that is currently in-development.
The company will also seeks markets outside of additive manufacturing to make use of the powder.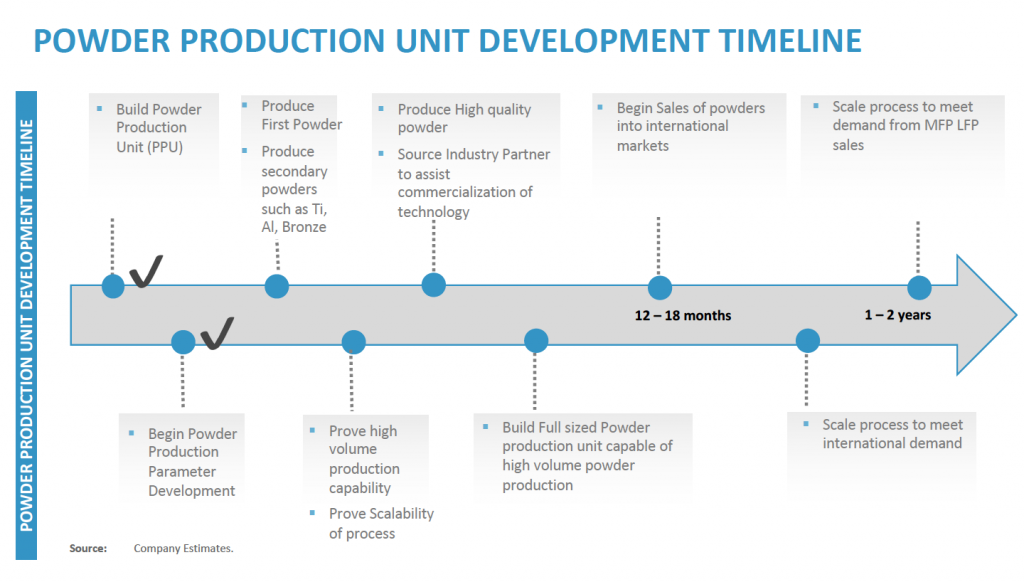 An additive materials boom
Leveraging a noticeable demand for titanium and nickel alloys, high-technology engineering group Sandvik recently invested $25 million USD in a mining and production facility for 3D printing materials.
An increasing number of enterprises hope to supply metal powders for 3D printing. For example, advanced plasma process specialist PyroGenesis made the decision to re-enter the metal powder production market to meet the demands of the 3D printing industry.
According to David Budge, Managing Director of Aurora Labs, "We are progressing very rapidly with our powder development as we see the extensive opportunity here readily available,"
"There are obvious synergies between metal powder production and the potential demand created by additive manufacturing, such as with our Large Format Printer, and we intend to capitalize on this opportunity."
For more business and materials news subscribe to the 3D Printing Industry newsletter, follow us on Twitter, and like us on Facebook.
Looking to get involved in a new additive manufacturing project? Join 3D printing jobs for the latest vacancies from companies in hardware, software, materials and more. 
Vote now in the 2018 3D Printing Industry Awards for your technologies of the year.
Want to design the trophy?  Enter the 2018 3D Printing Industry Awards design competition. sponsored by Protolabs now.
Featured image shows a stainless steel bracket 3D printed by Aurora Labs. Image via Aurora Labs