Though Local Motors has been in the business of selling crowd sourced vehicles for eight years, the firm's large-scale car printing has made it a truly 21st century car company.  And, this year, Local Motors is shifting gears from pure prototyping and marketing of their Direct Digital Manufacturing (DDM) platform to the actual manufacturing of cars.  The company has plans to open two new car printing facilities in 2015, where they will be able to DDM custom cars for customers. To kick off this new car printing era, however, Local Motors required an all-new crowdsourced design with which to start from, leading them to launch Project Redacted.  And, today, the winner of that project has been unveiled, along with the future of car manufacturing.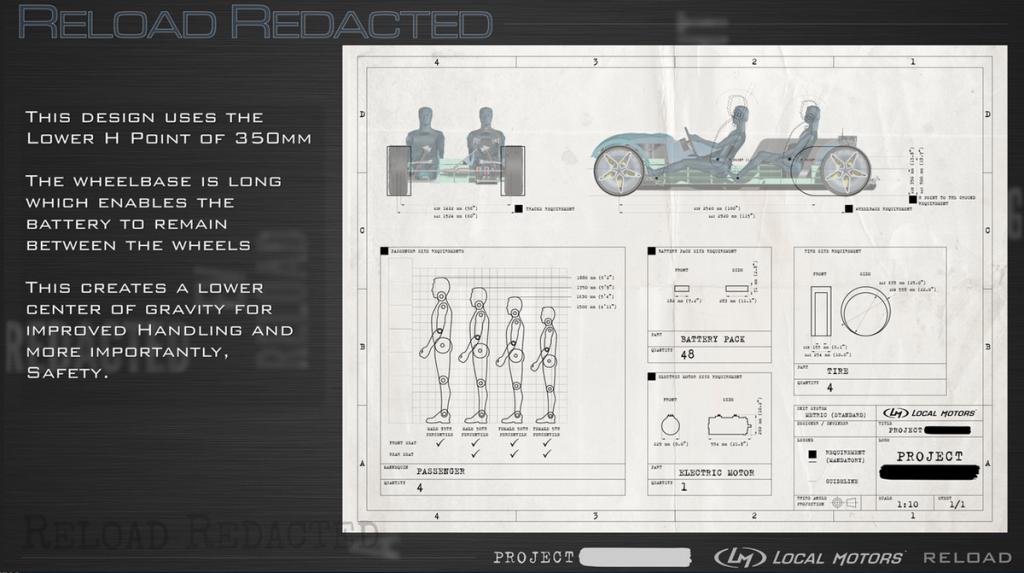 Just as the design for the 3D printed Strati car was selected by the Local Motors community, the firm's new design has been picked from the crowd, as well as judged by talk show host and auto enthusiast Jay Leno, EMA Vice President of Vehicle Technology John Waraniak, and SABIC Senior Manager Geert Jan Schellekens.  The winning design, which will inspire the world's first fleet of 3D printed cars is the "Reload Redacted – Swim/Sport" by Local Motors community member Kevin Lo, who will be awarded $7,500. The vehicle set the groundwork for Local Motors' first road-ready, 3D printed vehicles.  These Low Speed Electric Vehicles (LSEV) will debut in Q1 of next year, while a highway-ready version will be released later on in 2016.
Leno said of the winning design, "You need something that makes you go 'what's that?' My top choice would be Reload Redacted – Swim/Sport because it's sporty, fun, and you can commute in it." Taking a look at the design specs for the Reload, which is offered in Swim or Sport varieties, and it looks like an extrovert's dream, boasting external speakers for beach and tailgate parties and convertible top.  The interior structure is designed to be thick and sturdy enough to protect the electric battery from objects on the road, while the exterior is sleek and modifiable.
On top of the design for the Reload Redacted vehicle, Local Motors also unveiled a new fleet of Local Motors Co-Created (LOCO) University Vehicles. These LOCO University Vehicles will be designed in collaboration with, and for, leading US universities and labs. The firm already has three schools lined up: the University of Michigan (U of M), Arizona State University (ASU) and the University of Nevada at Las Vegas (UNLV). Specifically with U of M, research will focus on making LOCO autos that are autonomous vehicles, where they will drive students around the university's North Campus as a testbed for such on-demand autonomous vehicles. While UNLV LOCO is also looking towards self-driving vehicles, ASU is focusing on researching advanced materials.
Ed Olson, an associate professor of Electrical Engineering and Computer Science at University of Michigan who leads the project, says of their LOCO cars, "Think Uber, but with low-speed, autonomous cars. The goal of this program is for us to begin to understanding the challenges of a transportation-on-demand system built around autonomous cars."
While LOCO projects will see products developed for labs and universities, the Local Motors community will be working towards new technology for the company's 3D printed cars.  Local Motors explains that the community has already built an electric powertrain test platform for creating better batteries for the coming vehicle fleet.  Examples of new chemistries for lithium-based batteries include lithium sulfur battery technology, which, the company says, "creates three times the energy at half the weight of lithium ion technology." With a goal of "leapfrog[ging] current EV technology within the next 12 – 18 months", the company is exploring the powertrain for its new cars.
All of this is meant to take advantage of Local Motors' flexible DDM technology.  John B. Rogers, Jr., CEO and co-founder of Local Motors, says of DDM, "At Local Motors, we are hellbent on revolutionizing manufacturing. Car manufacturers have been stamping parts the same way for more than 100 years. We now have the technology to make the process and products better and faster by linking the online to the offline through DDM. This process will create better and safer products, and we are doing exactly that."
Local Motors, 3D printing, and the crowdsourcing made possible by the Internet have inspired completely new paradigms for manufacturing.  There are an increasing number of firms looking to construct large products, such as automobiles, without the large infrastructure possessed by the huge, bureaucratic companies like auto manufacturers of the past.  As the firm's new fleet hits the market next year, the future of local production will, too.
One question does stick in my mind, though: with all of these community members putting in hours of work to design and brainstorm ideas for the company, is the pay-off merely the experience and social support from their fellow members? Perhaps, as Local Motors ushers in a new manufacturing paradigm, it might consider ushering in a new paradigm for equity, as well, and provide their community members shares in the company's stock?