In what is thought to be a world-first, researchers from the University of British Columbia (UBC) have successfully 3D bioprinted human testicular cells.
Having found some early signs of sperm production potential, the team hopes to one day apply the research to help individuals struggling with male infertility.
According to Dr. Ryan Flannigan, lead author of the research, infertility affects around 15% of couples with male factors being a contributing cause in over half of known cases.
He said, "We're 3D printing these cells into a very specific structure that mimics human anatomy, which we think is our best shot at stimulating sperm production. If successful, this could open the door to new fertility treatments for couples who currently have no other options."
The challenge of male infertility
It's time for a lesson in anatomy. Inside human testicles, there are tiny tubes called seminiferous tubules – this is where sperm is produced at a rate of 1500 cells a second, or over 100,000,000 cells a day.
The most severe form of male infertility is called non-obstructive azoospermia (NOA), where these seminiferous tubule structures fail to produce sufficient amounts of sperm. As a result, the sperm count in a patient's ejaculate may be critically diminished. Dr. Flannigan states that there is a way to find small amounts of sperm for IVF using a surgical approach, but this method is only successful in about 50% of NOA cases.
He adds, "Unfortunately, for the other half of these individuals, they don't have any options because we can't find sperm for them."
It is these difficult-to-treat cases that are expected to benefit the most from the UBC research.
3D bioprinting testicular cells
For the UBC study, the team started off by collecting stem cells from the testicles of a NOA patient via a biopsy. The cells were then cultured and 3D bioprinted onto a petri dish using an RX1™ bioprinter developed by Aspect Biosystems. Crucially, they were printed in the shape of a hollow tube that closely resembled the seminiferous tubules found in humans.
After 12 days in the petri dish, the researchers found that the cells had differentiated into the specialized cells involved in sperm production, all while exhibiting an improvement in spermatogonial stem cell maintenance.
Flannigan said, "It's a huge milestone, seeing these cells survive and begin to differentiate. There's a long road ahead, but this makes our team very hopeful."
Following the success, the UBC team is now attempting to push the 3D bioprinted cells into producing actual sperm cells. This will involve feeding the cells with various nutrients and growth factors to further refine their structural arrangement and enable cell-to-cell interactions. If successful, the petri dish sperm cells could eventually be used to fertilize egg cells in IVF procedures, providing an entirely new form of fertility treatment for affected couples. The research program has also helped the team better understand the genetic and molecular mechanisms behind NOA.
"Increasingly, we're learning that there are likely many different causes of infertility and that each case is very patient specific," concludes Flannigan. "With that in mind, we're taking a personalized, precision medicine approach – we take cells from a patient, try to understand what abnormalities are unique to them, and then 3D print and support the cells in ways that overcome those original deficiencies."
Further details of the study can be found in the paper titled 'Using Clinically Derived Human Tissue to 3D Bioprint Personalized Testicular Tubules For in-Vitro Culturing. First Report.'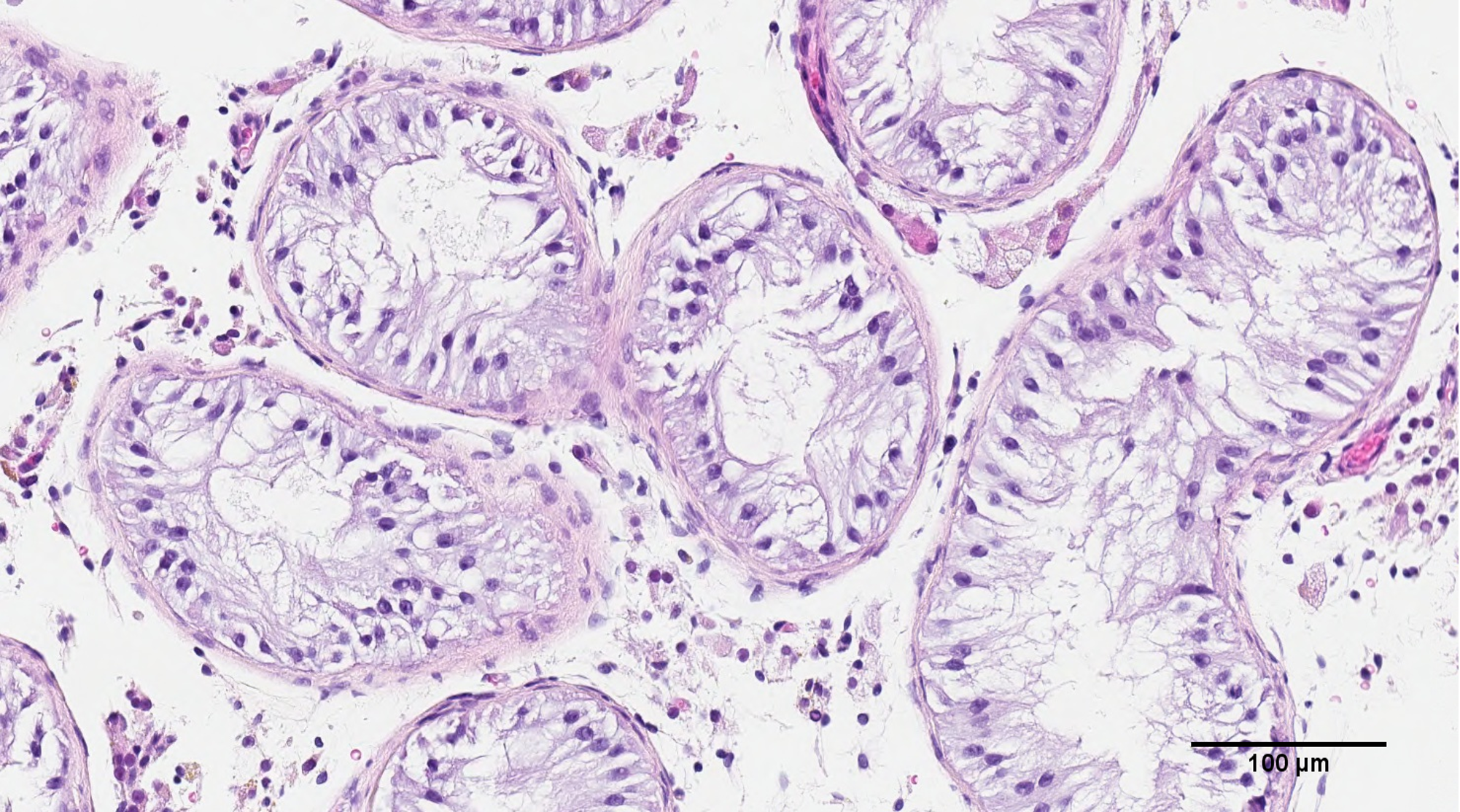 The bioprinting research space is indeed a very exciting one, with all manner of treatments now being developed. Just this month, researchers from Politecnico di Milano and Humanitas University used 3D printed neural tissues to investigate the causes of neural diseases like Pitt-Hopkins syndrome (PTHS). The project was granted €250,000 by Fondazione Cariplo and involves creating an in vitro model of the human cerebral cortex with 3D bioprinted vascularized neural tissues.
Elsewhere, a research team from Utrecht University recently printed working livers using a new, ultrafast volumetric 3D bioprinting method. Printed in less than 20 seconds, the liver units were able to perform key toxin elimination processes mimicking those that natural livers perform in our bodies, and could open new opportunities for regenerative medicine and personalized drug testing.
Subscribe to the 3D Printing Industry newsletter for the latest news in additive manufacturing. You can also stay connected by following us on Twitter, liking us on Facebook, and tuning into the 3D Printing Industry YouTube Channel.
Looking for a career in additive manufacturing? Visit 3D Printing Jobs for a selection of roles in the industry.
Featured image shows the biopsy of testicular cells from the NOA patient in the study. Photo via University of British Columbia.