Colorado-headquartered additive manufacturing material developer Elementum 3D has announced that it has been awarded patents in the U.S., Canada, and Australia for its Reactive Additive Manufacturing (RAM) technology.
The RAM process aims to expand the materials library of additive manufacturing by enabling the 3D printing of previously unprintable materials. With the additive manufacturing industry at the forefront of metal manufacturing, presenting advantageous applications for a number of key industries, the limited selection of printable metal materials constrains wider adoption.
"Our revolutionary technology advances metals development for additive manufacturing at an unprecedented pace. It gives engineers the extra degree of freedom they have never experienced, inspiring them to bring into existence new and innovative applications," explains Dr. Jacob Nuechterlein, President and Founder.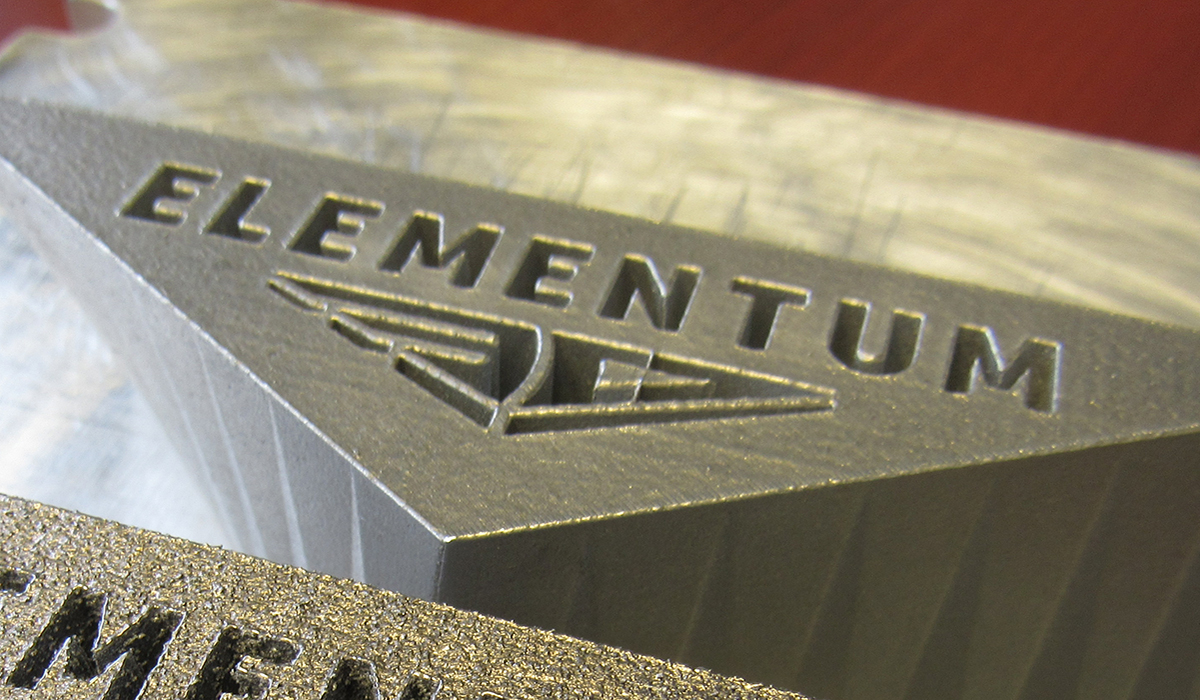 What is Reactive Additive Manufacturing?
Founded in 2014, Elementum 3D, formerly known as Sinter Print, is an additive manufacturing research and development firm focused on the creation of advanced metals, composites, and ceramics. These materials are designed to meet the demand for high-durability, high-strength and lightweight solutions.
The company produces its materials using its patented RAM process, which helps to prevent cracking during the solidification process. RAM technology has allowed Elementum 3D to develop additive manufacturing powders for materials that are usually difficult to 3D print with using Direct Metal Laser Sintering (DMLS) systems. Such materials include high-performance alloy powders based on established wrought alloys, including aluminum 1000, 2024, 6061, 7050, and 7075.
Elementum 3D states that the new 3D printing materials present superior properties compared to previously available additive manufacturing materials and corresponding wrought alloys. High strength wrought aluminum alloys used in a number of industries could not previously be 3D printed because they suffer hot tearing (solidification cracking), leading to parts with poor mechanical properties. 
To combat this, the RAM process forms sub-micron inoculants in the melt pool that creates a nucleus around aluminum grains, producing a fine, even microstructure for improved printability and performance. Elementum 3D hopes that, by fusing 3D printing with innovative new materials and desirable-but-previously unprintable traditional manufacturing materials, the potential applications for additive manufacturing will expand. 
Recent updates from Elementum 3D
The newly issued patents for the RAM process is the latest in a series of updates from the company. Last month, Elementum 3D announced that it had achieved ISO 9001 certification for quality management. Issued via the management certification firm Platinum Registration Inc, the certification includes the design and manufacture of advanced metals, superalloys, and composites, in addition to manufacturing processes and prototype parts.
Earlier in the year, the company also received an investment from Sumitomo Corporation of Americas (SCOA), the U.S. branch of global trading firm Sumitomo Corporation. Using the investment, Elementum 3D will work towards expanding the marketing and sales of its proprietary metal powder. 
In 2019, the firm partnered with North Carolina-based hybrid manufacturing company Keselowski Advanced Manufacturing (KAM) to supply the company with advanced materials such as its A6061- RAM2 powder. The powder is said to be comparable to wrought 6061-T6 aluminum properties, a material that often faces difficulties when processed with additive manufacturing.
The nominations for the 2020 3D Printing Industry Awards are now open. Who do you think should make the shortlists for this year's show? Have your say now. 
Subscribe to the 3D Printing Industry newsletter for the latest news in additive manufacturing. You can also stay connected by following us on Twitter and liking us on Facebook.
Looking for a career in additive manufacturing? Visit 3D Printing Jobs for a selection of roles in the industry. 
Featured image shows Unmodified "standard" 2024 aluminum alloy compared to Elementum 3D's A6061-RAM2 aluminum alloy. Photo via Elementum 3D.