Royal HaskoningDHV, a Netherlands-headquartered engineering consultancy firm, has partnered with global science-based company and material producer DSM, and large-scale 3D printer supplier CEAD to help build a 3D printed bridge. 
The three Dutch companies announced that through their partnership, they have designed a lightweight, fiber-reinforced polymer (FRP) pedestrian bridge constructed using 3D printing and a composite material, reportedly the first structure of its kind. 
"3D printing has evolved dramatically over the years. This 3D printed bridge prototype demonstrates the huge strides that we are making which will transform the future of this industry, not only speeding up construction, but also making the process more cost and time efficient," commented Maarten Logtenberg, CEO of CEAD. 
 "We developed this technology for exactly these industry applications, making them more sustainable and easier to manufacture."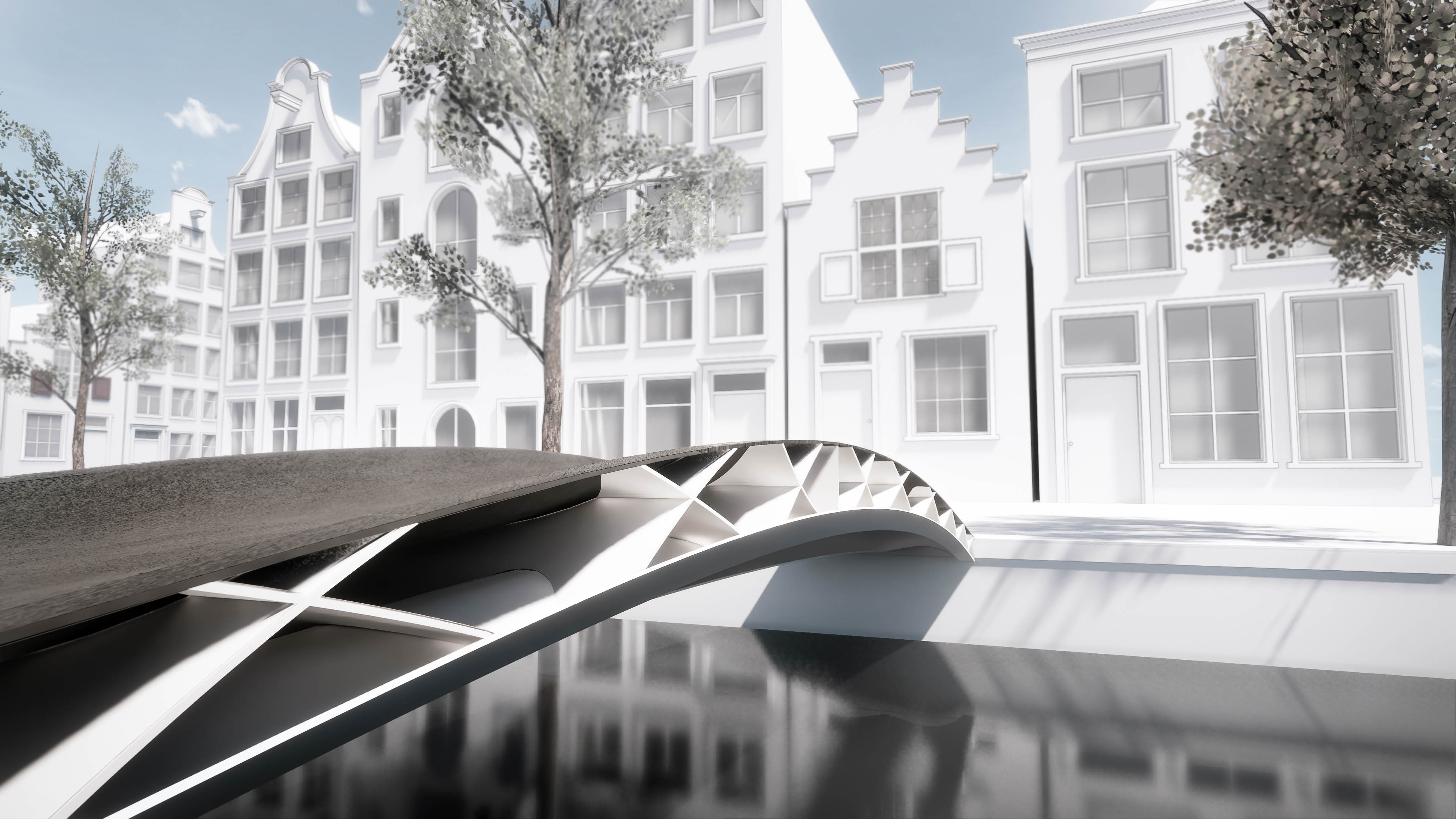 3D printing bridges to the future
FRP bridges offer various advantages over their standard steel counterparts. As well as longer lifetime expectancy and lower life cycle costs, FRP bridges are also said to be lightweight, strong and durable with little maintenance needed. 
Royal HaskoningDHV sought the services of DSM and CEAD as it wanted to imbue FRP bridge construction with their combined 3D printing, material, generative design and predictive modelling expertise for greater design freedom. The technologies allow the bridge to be designed and built efficiently using large scale continuous fibre reinforced thermoplastic parts, as only the precise amount of material required is used. 3D printing helps to provide a sustainable approach with less material wastage, as well as improved mechanical performance of the bridge components. 
Royal HaskoningDHV handled the bridge's design, whereas CEAD is providing the large-scale composite 3D printer and DSM is delivering its Arnite composite material. The design of the bridge included sensors, allowing Royal HaskoningDHV to create a digital twin of the structure. Using sensors, maintenance for the bridge can be predicted and optimized, helping to ensure its safety for pedestrians and extend its life span. Maurice Kardas, Business Development Manager at Royal HaskoningDHV, suggests that the sensors can also lead to new functionalities, like monitoring the environment or providing dynamic real-time reports on the condition of the bridge. 
"This partnership is bringing about a paradigm shift in the way we think about the form and function of bridges in our society. FRP bridges are already well known for having a longer lifetime expectancy with lower life cycle costs compared to steel bridges. What's new here is the use of a new 3D printing technology, enabling us to print large scale continuous fibre reinforced thermoplastic parts," explained Kardas.
DSM's Arnite material is a glass filled thermoplastic PET, which was combined with continuous glass fibres during CEAD's 3D printing process. Arnite not only offers high strength properties, but it is a recyclable material as well, therefore improving the sustainability and versatility of the bridge design. "Using a material such as Arnite has huge benefits for the construction of bridges. Rather than using traditional materials such as steel or concrete, these bridges can be much more sustainable and offer greater flexibility in design using recyclable materials," added Patrick Duis, Segment Leader Additive Manufacturing at DSM. 
"We know that designs previously deemed challenging or impossible to produce with other manufacturing methods are now possible with 3D printing, and we're excited to be playing our part in this partnership."
Royal HaskoningDHV will be speaking at the 2019 IABSE Congress taking place from 4-6 September in New York City, where the company will be sharing its insights and the latest developments in 3D printed FRP bridges.
CEAD Continuous Fiber Additive Manufacturing 
Continuous fiber 3D printing has been commercially available since 2015, with the release of the Markforged Mark One. CEAD revealed it was developing its own Continuous Fiber Additive Manufacturing (CFAM) machine for industrial applications in April 2018. 
Later during the year in November, the company officially launched the CFAM system with the support of two industry partners, Marine engineering company Royal Roos, based in Rotterdam, and fiberglass reinforcement specialist Poly Products.
Recently, in May 2019, CEAD and DSM entered into a partnership of their own. The two companies are pursuing the development of new feedstock, tooling and end-use applications, focusing in particular on Fused Granulate Fabrication (FGF), a type of material extrusion. 
Subscribe to the 3D Printing Industry newsletter for the latest news in additive manufacturing. You can also stay connected by following us on Twitter and liking us on Facebook.
Looking for a career in additive manufacturing? Visit 3D Printing Jobs for a selection of roles in the industry.