The nominations for the 2021 3D Printing Industry Awards are now open. Who do you think should make the shortlists for this year's show? Have your say now.
CELLINK has challenged accusations that it contravened the patents of fellow 3D bioprinting firm Organovo, labelling the company's claims "invalid" and saying that it has not infringed on its Intellectual Property (IP).
Organovo is reportedly seeking royalties after alleging that CELLINK sold technologies relating to the '3D printing of tissues and drug development,' which relied upon its IP. The move ramps up tensions between the firms, after CELLINK filed a similar suit last month, claiming that no fewer than five of Organovo's patents infringe upon its own, as well as those of its acquired subsidiaries.
For its part, CELLINK has stated that "while it respects valid IP, Organovo's patent claims are invalid," and if its lawsuit is successful, this "could lead to the cancellation of the challenged claims in Organovo's patents." The firm adds that court cases aside, it remains "committed to evolving the future of medicine."
Organovo did not provide a comment for this article when contacted by 3D Printing Industry.
A 3D bioprinting brawl
CELLINK first made its case against Organovo on June 3 2021, but details about the proceedings are only emerging now, due to an earlier non-disclosure agreement (NDA) between the firms. In what therefore marks the companies' latest in a series of disputes, CELLINK has opted to file a patent infringement suit against Organovo before the Delaware District Court, under case number '1:21-cv-00832.'
Through its lawsuit, the company is effectively alleging that Organovo's US9149952B2, US9855369B2, US8931880B2, US9227339B2, US9315043B2 bioprinting patents are in breach of its own. The five legal documents in question are (like many patents) broad in scope, and cover "bioprinters comprising one or more printer heads," including the "devices, systems and methods" of fabricating tissues.
Interestingly, the latter IP makes reference to automation, a trend that's swept the bioprinting industry in recent months, and "potential improvements" that can be made to achieve this, while CELLINK also claims that Clemson University's US7051654B2 patent regarding the "ink-jet printing of viable cells," and University of Missouri's US9752116B2 on "self assembling cell aggregates," encroach on its IP.
At present, the case remains ongoing, thus there's little in the public realm to suggest how it's likely to pan out. However, it's known that CELLINK is being represented by Morris, Nichols, Arsht & Tunnell, and Ropes & Gray in the case, and that it's seeking to instigate IPR proceedings against Organovo's patents, essentially challenging their very patentability.
CELLINK's complaint also makes reference to its recently-acquired MatTek Corporation and Visikol Inc subsidiaries, both of which have substantial biotechnology portfolios, thus the case's scope may well extend beyond the patents owned directly by the firm itself.
Organovo's troubled past
Although Organovo's bioprinting footprint is significantly smaller than that of CELLINK, it does have a storied history in the sector. After unveiling its first bioprinted kidney tissue back in 2015, the firm went public on the NASDAQ exchange under the ticker 'ONVO,' before making further drug testing and regenerative tissue advances with its technology.
However, in August 2019, Organovo was forced to explore "strategic alternatives" when it discovered that its approach to fabricating liver tissue required significant redevelopment, and the company has since made efforts to preserve cash, but its website has remained devoid of any updates on the progress of its technologies for the last two years.
In an effort to revive the firm's fortunes, Organovo's leadership later announced a merger with Tarveda Therapeutics in December 2019. However, the company's ex-CEO Keith Murphy published a scathing letter at the time, criticizing the board's record, saying that they "couldn't be trusted at all," and encouraged stockholders not to vote for the plan.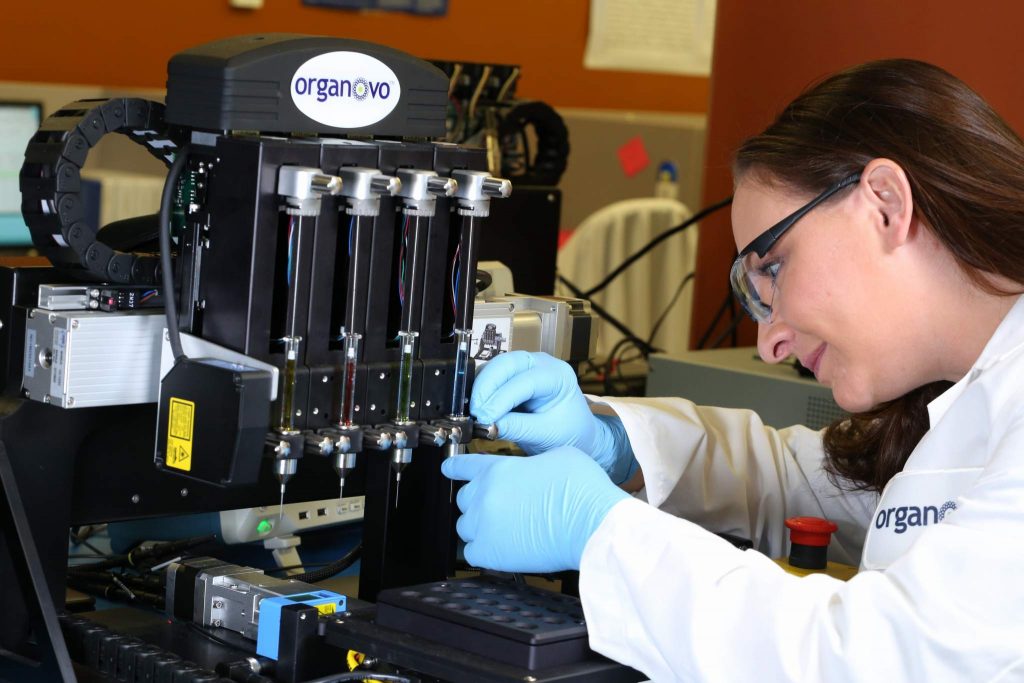 Duly answering Murphy's call to action, shareholders then chose to vote down the merger, and it has since been called-off entirely. In the past, Organovo has also fought to salvage its reputation in Delaware's courtrooms, and the firm won a high-profile case against investor Georgi Dimitrov, in which he was found guilty of carrying out a 'smear campaign,' and received a $38 million default judgment.
Now, with its legal action against CELLINK, Organovo is seeking to challenge perceived infringements on three patents of its own, which are said to be relevant to the BIO X 3D bioprinter, in addition to another it has exclusively licensed from the University of Missouri. Given that the latter is also mentioned in CELLINK's lawsuit, it's possible that Organovo's claim therefore represents an indirect rebuttal.
Either way, according to a complaint filed on July 27 2021 in a federal court in Waco, Texas, Organovo is seeking cash compensation for the patents CELLINK is alleged to have infringed upon, as well as a court order blocking the further use of its IP.
Bioprinting's growing allure
While bioprinting entire organs still remains some way away, the technology is increasingly showing end-use potential, thus its future applications and probable profitability has begun to attract the attention of the industry's biggest firms. 3D Systems, for instance, has made significant progress in its Print to Perfusion regenerative medicine program, and acquired bioprinting firm Allevi in May 2021.
Desktop Metal has also begun to show considerable interest in bioprinting technologies, first launching Desktop Health in March 2021, and its subsidiary later bought Beacon Bio. In doing so, the company acquired the rights to Beacon Bio's 'Phonograft' 3D bioprinting technology, which is designed to enable the regeneration of the human eardrum.
Elsewhere, the EU has backed EPFL spin-out Readily3D's attempts to 3D print a living model of the human pancreas. Working as part of the broader 'Enlight' program, the company has reportedly developed its technology to the point that it's now capable of fabricating stem cell-based biological tissues inside just 30 seconds.
The nominations for the 2021 3D Printing Industry Awards are now open. Who do you think should make the shortlists for this year's show? Have your say now.
To stay up to date with the latest 3D printing news, don't forget to subscribe to the 3D Printing Industry newsletter or follow us on Twitter or liking our page on Facebook.
For a deeper-dive into additive manufacturing, you can now subscribe to our Youtube channel, featuring discussion, de-briefs and shots of 3D printing in-action.
Are you looking for a job in the additive manufacturing industry? Visit 3D Printing Jobs for a selection of roles in the industry.
Featured image shows a CELLINK BIO X 3D bioprinter, the machine which is reportedly the main subject of Organovo's legal appeal. Image via CELLINK.